The Panthers' Potential Pro Bowl Surprise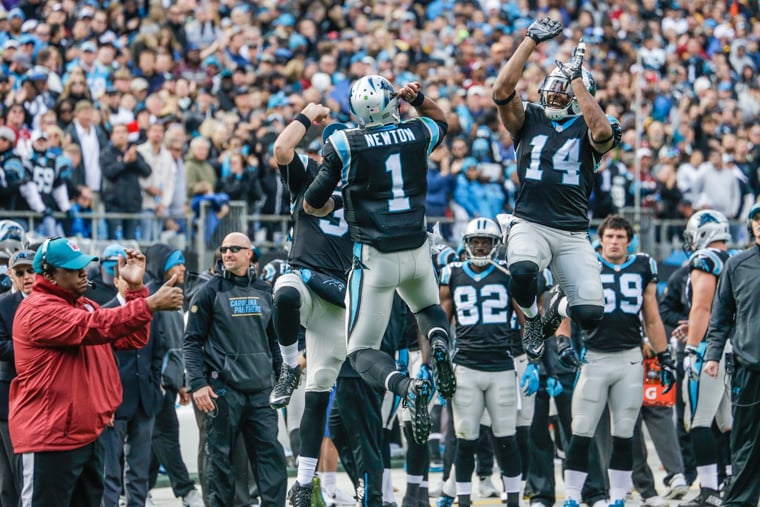 It's not a shock that arguably the most popular player in the Panthers' locker room is a quarterback.
But this isn't about Cam Newton, even though most of his teammates appreciate his goofy personality. Derek Anderson is well-liked, too, but this isn't about him, either. Instead, it's about a quarterback who's never attempted a regular-season pass for the Panthers.
In fact, Joe Webb hasn't thrown a pass in a real NFL game since 2011, when he was with the Vikings. But ask a Panther about him and the initial response is usually a smile. Or text a teammate, like I did while working on this piece to have my inkling confirmed:
Before signing with the Panthers in the spring of 2014, Webb spent his first four seasons with the Vikings. For three of those, he was teammates with Jared Allen.
"Joe's awesome! Joe's my guy," says the defensive end, who came to Carolina in a September trade. "I was so excited when I got here and he was still here.
"Joe's one of those guys that has a relationship with everybody in the locker room. He's always upbeat, always happy and you just can't help but smile. He's just a genuine human being."
He's also a pretty good football player, good enough to be leading a position group in Pro Bowl votes. Yes, without even attempting a pass.
How?
According to the Panthers' roster, Webb is technically a quarterback. And if you ask him what position he plays, he says, "Quarterback. Quarterback and everything else."
Well, "everything else" is why he's a potential Pro Bowler.
Webb is the only NFL quarterback who plays on special teams, an experiment the Panthers started late last season.
"He was tremendous," coach Ron Rivera says. "All of a sudden, we began to realize we've got somebody there."
Originally signed as insurance for Newton, who was coming off ankle surgery in 2014, the Panthers have converted Webb into a Swiss Army knife. In the preseason, he mopped up every game at quarterback. In practice, he plays the top opposing receiver on scout team. On game day, he's Carolina's special teams leader with 12 tackles.
"Wide receiver, quarterback, four-phase special teams player, returner, gunner, personal protector," says tight end Greg Olsen, listing Webb's responsibilities. "You add up all the things he does in any given week, it's pretty amazing."
And it's a lot of pages in the playbook.
So, Joe, how many plays do you know?
"Well … "
Is it in the hundreds?
"I can't even count myself, man," he says. "If I'm at quarterback, I have to know the reads, protection, read the defense. At receiver, I have to know formation, my split, the routes. And special teams, of course, you have to know all four phases."
Learning just one NFL position is tough enough, especially when that position is quarterback. Webb knows that and two others, so besides being most well-liked, perhaps he's also the smartest.
"Smartest?" Anderson asks back. "He's probably one of the best athletes that we have on the team."
Yeah, I'm wondering if Webb could lead the locker room in smarts.
"He's definitely the most athletic guy in the building," center Ryan Kalil says.
"No one's going to say the smartest," Webb says with a laugh. "You're not going to get that out of this locker room."
Fine, but most athletic is a nice admission. By some, at least.
"I do not agree with that," Newton says. "He knows the truth, you know the truth, we all know the truth."
The truth, according to Newton, is if the Panthers didn't need him at quarterback, he could do what Webb does.
Newton and Webb find an equal playing field after practice when they face off in Nerf basketball.
"That quarterback room is pretty competitive and I owe a lot of my success on the field this year because of intense P.I.G. games," Newton says.
So who's winning the season?
"Me," says Webb, while Newton suddenly stops talking.
And where's Derek?
"His jersey number," blurts Newton, looking over at Anderson as he stands next to the No. 3 jersey hanging in his locker.
Webb is most comfortable next to his quarterback colleagues, but just like on the field, he can float around the locker room and fit in with multiple groups.
Webb never envisioned he'd have a shot to go to the Pro Bowl as a special teams player. But his willingness and ability to be a utility guy has likely allowed him to carve out a longer career.
"Going into the season, my mindset was just to give it all I've got in that role and it looks like it's paying off," Webb said. "Any time you can go to the Pro Bowl in any position, that's a big deal."
The fan voting, which ends next week, counts for just one-third of the total votes at each position. Coaches and players each also get one-third.
So a player–and fan–like Allen, can have his voice heard twice.
"How cool is that?" Allen says of Webb's lead in the ballots.
"Heck, I'm going to go home and vote for him tonight."