The People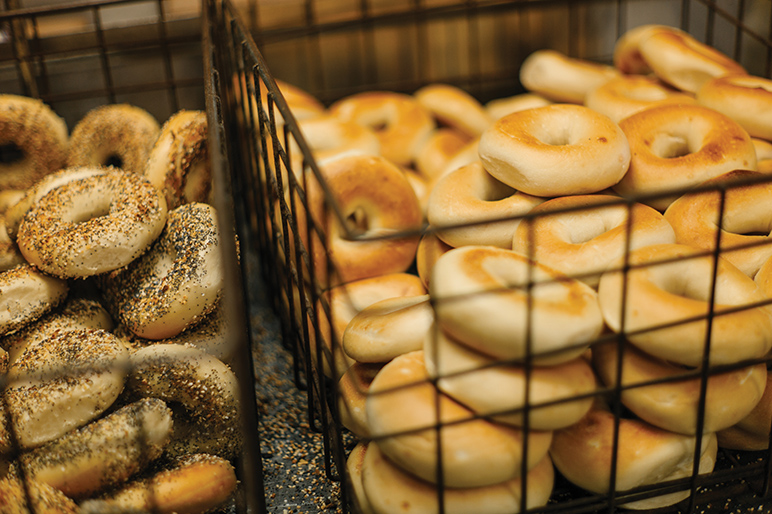 Three Questions With The Bagel Man
Long Island native John Cadolino, owner of The Bagel Bin, on the bagel-making process, a typical day, and how he gets
that authentic taste
By Keia Mastrianni
The Bagel Bin opened in Huntersville in November 1995, a lifetime ago for a small shop in an indiscriminate strip off N.C. Highway 73. Back then, the no-frills bagel shop and deli was one of the few businesses to grace the underdeveloped area, which is now the Northcross Shopping Center, a booming suburban hub.
New York transplants and brothers John and Silvio Cadolino started the shop in response to a running joke, John says. "You couldn't find a good bagel down here."
When the brothers decided to get serious, a friend and bagel-shop owner on their native Long Island taught them how to make bagels the old-fashioned way: kettle-boiled and then baked. It worked. The brothers have created a cult following among bagel lovers. The sound of the "Bagel Bin Girls" shouting out each order is a trademark of the Huntersville institution, and on the weekends, a line extends out the door.
But this year brought a new challenge to the 19-year-old bagel shop when 61-year-old Silvio was killed in a car accident in May. It hasn't been easy, but John is carrying on. Every day, he gets up early to make his bagels, and he slides them into the case that sits under a display of Silvio's favorite NASCAR hats.
What was important to you when you started the business?
We wanted to do it a certain way. We wanted to do it the way we were used to on Long Island. There's different ways to do the bagels. But we wanted to do it from soup to nuts. So we make [the bagels] from scratch and do it the old-fashioned way and boil them, then bake them. It's longer, and it's more time-consuming, but that's the way.
Can you walk us through a typical day?
My alarm goes off about 3:05 in the morning, and I get here about a quarter to 4. I light the kettle up, and then I work the muffins and Danish before I start working the first round of bagels. We open up at 6 a.m., so it's timed to get it all out by then. We go through close to 1,000 bagels a day, Monday through Thursday. More on the weekends.
Tell us the truth. Is there something to be said for the type of water used in the bagel-making process? Specifically, New York water?
It's a myth. Some people claim some filtration system, but if you think about it, the water in New York is different from county to county. It's the recipe.
---
The Legacy
Jimmy Margiotis, John's Country Kitchen
John's Country Kitchen, the former soda shop turned breakfast institution, sits on the corner of Central Avenue and Thomas Street, sewn into the fabric of Plaza Midwood. Jimmy Margiotis, 48, has been working the flattop grill here since he was 13 years old.
Jimmy's parents, John and Margaret Margiotis, opened the place in 1977. Margaret is still the soul of the restaurant, running the register, bidding customers adieu in her Greek accent, and flashing a smile before returning to the breakfast rush. After his father's death in 1989, Jimmy decided to stay on and continue his parents' legacy. "If I'm not here, it's not open," he says.
Today, a diverse crowd of regulars frequents the small restaurant, which hasn't changed much. Jimmy still works the flattop, churning out plates of eggs and bacon with country sides like Neese's livermush, sausage, bacon, and flapjacks. "I can't remember people's names," he says, "but I remember their orders." —K.M.
---
The Breakfast Master
Halle Cochran, Luna's Living Kitchen
Halle Cochran is soft-spoken and gentle, with piercing blue eyes and a soft-knit black beanie on her head. At 21 years old, she has already worked in a handful of kitchens, including at Healthy Home Market, where she learned about raw, vegan cuisine; and Riverside Grocery & Grill in Lancaster, South Carolina, her hometown. At Luna's Living Kitchen, she's earned the nickname "breakfast master."
For the past five months, she has poured herself into the breakfast shift at Luna's. In the clean, open space, Cochran creates works of art on the plate—from the chia seed porridge to the buckwheat blaster. "I love the cuisine and the atmosphere here," Cochran says. "It's my second family."
Halle is working to create new recipes for the restaurant's breakfast menu, including vegan cinnamon rolls. Her favorite breakfast item: Luna's living bagel, a raw blend of almonds, flax, zucchini, and rosemary, dehydrated into a bagel shape and topped with onions, avocado, jalapeño, tomato, basil, sprouts, and cashew sour cream. —K.M.
---
The Waitress
Myra Pendry, Liberty East Restaurant
A small woman with a raspy voice calls out an order to a line cook who's busy flipping omelets, creating the smell of morning.
Liberty East Restaurant on Independence Boulevard is a "two eggs, any style" kind of place, with four rows of red booths and brown laminate tables reminiscent of 1977, the year the restaurant opened. Shelves are filled with tiny boxes of Raisin Bran and bottles of Heinz ketchup.
Pendry has waitressed here for 21 years, running eggs and bacon since 1993. She has kind eyes and not-quite-gray hair spiked up on all sides.
"We get lots of regulars and repeats," Pendry says. "That's what's kept us in business for so long." For years, the restaurant was open 24 hours, seven days a week. Then, a barrier went up in the middle of Independence Boulevard, making it nearly impossible to get to the restaurant if you're headed toward the city. Now, the hours are from 6 a.m. to 4 p.m.
Pendry is a native Charlottean. She attended Garinger High School, and her mother was a waitress for 45 years at The Oriental Restaurant, an Independence mainstay for decades. Before waiting tables, Pendry spent 15 years working for a fence company.
"I got tired of sitting at the desk all day—looking at the same chair and the same calculator," she says, making a circular "on and on" motion with her hand as she speaks. "I love it here because it's different every day."
She hops up to check on one of her regulars. "I'll be right back, honey," she tells me.
She doesn't stop. She wears a black, long-sleeved T-shirt and jeans with comfortable shoes, and she flits around, topping off water glasses, asking if her customers are OK. She takes care of everyone. —V.B.