The Player
Gregg McCraw doesn't sing and he doesn't play in a band. But he may be the most important person in Charlotte's music scene.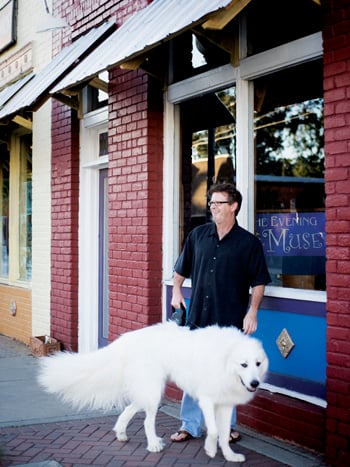 It's a Monday night at Visulite Theatre in early June, and critically acclaimed songwriter Jessica Lea Mayfield is bridging haunting folk and blazing psychedelia for an audience of 150 or so. The diminutive singer's hypnotic voice is backed by a charismatic crew of stylistic misfits—her brother David, a bearded bluegrass player who resembles Hangover comedian/actor Zach Galifianakis, straddling his upright bass; a hot blonde drummer in leopard print; and a rugged electric guitarist. Hidden in the shadows at the back of the club, leaning an elbow on the bar and trading whispers with the bartender, stands Gregg McCraw. With his shorts, sandals, glasses, and shaggy brown hair, he looks like a typical music fan. And he is, except that he also booked the indie darling, whose hype suggests a tour that might have skipped Charlotte in favor of hipper cities like Chapel Hill and Asheville.
Thanks to McCraw, who promotes live music at multiple Charlotte venues, and Mayfield's association with the Avett Brothers, the buzz band is building a following here.
"She's a perfect example of what I love to see with musicians who grow in this town and start to build an audience," says McCraw, fifty-one. Charlotte has much more to thank McCraw for than nurturing fledging indie artists. If you've seen Lucinda Williams, John Hiatt, or Todd Snider perform in Charlotte over the past decade it's likely that he had a hand in bringing them here.
"If you go back ten years [when] he started booking, there just wasn't that kind of music in town on a regular basis. [It was], 'Gee whiz, why we don't get the same shows other cities get?' Now I don't think you can say that," says longtime local musician Bill Noonan. "If you look at Maxx's monthly flier, there's an amazing variety of people, not just commercial headliners but really hip, eclectic artists. Ten years ago maybe they played in Chapel Hill, Raleigh, or Atlanta, but you wouldn't have seen them in Charlotte."
That's exactly what led McCraw from fandom to mini local music mogul. In late September, he had more than seventy concerts listed at his Web site, MaxxMusic.com.
"When I moved back to Charlotte [in 1993] a lot of us were going to Asheville and Chapel Hill to see shows," McCraw says. "After driving to Asheville to see Robert Earl Keen, I decided to track down his agent." McCraw is sitting outside Starbucks at Cotswold on a sunny Saturday afternoon in August. Nash, his polar bear-like Great Pyrenees, curls up under the table. "I called his [booking] agent. It was pure luck that I got him on the phone. I asked him, 'Why doesn't Robert Earl Keen play Charlotte?' He said, 'There's no one there to promote the show.' "
Barely blinking, McCraw stepped up. "I'll do it," he said. "What do I have to do?"
He booked Keen at the Sound Factory, a short-lived venue near UNC-Charlotte. McCraw wasn't completely green though. After working some with Noonan's band the Rank Outsiders, he started organizing weekly roots music showcases at The Double Door in the 1990s. The showcases, which tapped into the area's rich acoustic music history and the growing popularity of alternative country, gained a reputation as a Tuesday-night stop for low- to mid-level national artists such as Robbie Fulks, The Gourds, and Amy Rigby. So when he took on the Keen gig, McCraw knew he'd have to fork over cash, procure a venue, and paper the city with fliers. "You have to figure out which venue makes the most sense, see if that venue's open, negotiate with the agent, agree on a payment plan, usually 50 percent of the guarantee up front. You have to take out advertising. For me I have my Web site, my e-mail list, posters … ."
McCraw grew up in a tiny community in Cleveland County between Boiling Springs and Gaffney with the hum of Elvis and the Everly Brothers emanating from his mother's record player.
"My first concert was Glen Campbell at the Coliseum," he shrugs. McCraw went to UNC-Chapel Hill before moving to Los Angeles to acquire his PhD in chemistry. He relocated again to Montreal to work for the Sandoz Chemical Company, the creators of LSD. In 1990 work took the father of two to Switzerland for three and a half years. When work brought him back to Charlotte, he began promoting shows.
Noonan recalls the night Gregg with three g's became Maxx with two x's. An older gentleman who was heckling his band took to McCraw late in the set. "This guy who looked like the Monopoly man was super obnoxious. He starts hitting on Gregg. … You don't look like a Gregg, you look like a Shane or a Maxx,' " Noonan laughs hoarsely.
The latter stuck. McCraw, who now runs new business development for Clariant Chemical Company in North America, adds, "There's people that only know me as Maxx."
With the growing popularity of MerleFest and Spindale's WNCW 88.7 feeding a steady stream of folk, new acoustic, blues, bluegrass, and the like to listeners in Charlotte, Asheville, Boone, and Greenville, S.C., there was certainly a market for what McCraw was selling. Charlotte's Record Exchange sold more copies of Lucinda Williams's Car Wheels on a Gravel Road, Son Volt's Trace, and Alison Krauss's Now That I've Found You than the hot new No Doubt, Britney, or Biggie discs.
"We even started getting our own local alt-country scene," recalls Wes Grasty, who managed two Record Exchange stores in the 1990s. "It seemed like that stuff started in the South and then went nationwide with Ryan Adams and Whiskeytown and those acts."
It seems like a smart, calculated strategy to book No Depression magazine's 1990s artist of the decade, Alejandro Escovedo; a post-O Brother, Where Art Thou? Dan Tyminski; and Keen, who was receiving airplay on John Boy & Billy.
"I'd like to tell you yes, but the answer is really no," McCraw says. "Maybe that's changed as MaxxMusic has grown, but I don't get involved to make money. I'm fortunate enough that I still have a day job and I don't have to depend on MaxxMusic financially. It was just what I liked."
Luckily others liked it, too.
"When I found out about Guy Clark and Jerry Jeff Walker in the mid-'80s, I never saw them coming to Charlotte. I was traveling to Chapel Hill," says Dolph Ramseur, the Avett Brothers' manager and owner of Ramseur Records. "Gregg filled a void where those bands started to see Charlotte as [a viable market]."
However, promoting isn't without its disappointments.
"We had Dale Watson at The [Evening] Muse last night and there were only fifty people there," says McCraw. "Sometimes Charlotte audiences don't come out for things that I think they really should know about and appreciate."
At least MaxxMusic's bombs tend to be small scale.
"In general if it's a high-dollar show those tend to be artists that are more well known, so people are going to come out. It's the ones that teeter on the lower end that can be a problem," says McCraw, who occasionally offers his guest bedroom to artists on the tightest of budgets. "I'm disappointed in the [public's] lack of risk taking. People will spend a lot of money on an artist that gets a lot of radio play, but audiences here are reluctant to spend $5 on someone they haven't heard much from. I've even done shows where I've offered a money-back guarantee."
MaxxMusic shares some of the burden with copromoters Visulite Theatre owner Bernie Brown and the Blumenthal Performing Arts Center.
"Gregg brought me a show that he thought would fit the Visulite," says Brown, forty-one. "Now we book five or six rooms together."
Those rooms include Blumenthal's Belk, McGlohon, Stage Door, and Knight theaters as well the Visulite. McCraw works with The Evening Muse's Lea and Joe Kuhlmann on smaller shows as well.
"He's a fan, and to me that's one of the biggest keys," says Ramseur. "I applaud him," says musician Mike Strauss, whom McCraw has booked to open for several touring artists. "The thing I'm grateful for is oftentimes he'll have local people opening. It creates that sense of community."
McCraw once toyed with club ownership. He even corralled a backer. But after the backer shadowed him on a show day, he asked McCraw what he liked about what he did. McCraw, who balks at some aspects of owning a club, like cleaning bathrooms and stocking beer, says that single question convinced him that owning a club wasn't what he wanted to do.
"I like to stand in the back of the room and watch people enjoy the show," says McCraw. "And watch them walk out talking about the show they just saw."
Courtney Devores wrote about the The Milestone Club for this magazine's October issue. E-mail: editor@charlottemagazine.com