The Problem with Media Sharing
The new media model of content sharing is a work in progress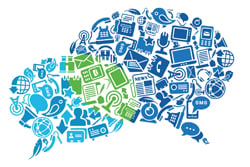 In local news, content is currency, and seemingly everyone's running short these days. So in this age of severe newsroom cutbacks, a new model has emerged: "networked journalism," in which large, established corporate media outlets exchange content with smaller websites and blogs. The big guys get stories for free; the little guys get more Web traffic. That's the idea, anyway. Charlotte is one of eight cities—others include Pittsburgh, Miami, Seattle, and Asheville—where the daily newspaper has used grant money to launch content-sharing arrangements.
In Charlotte, it has worked better for some partners than others. For now, it's called the Charlotte News Alliance, an agreement among The Charlotte Observer and sixteen partners specializing in community—or, in the buzzword du jour, "hyperlocal"—news. The Observer had run a pilot program with half as many partners for about a year before it established CNA in the spring. Some early partners—like QCityMetro.com, founded by former Observer editor Glenn Burkins—signed up for the new endeavor. DavidsonNews.net chose to bow out, and the reasons behind that decision illustrate how tricky the partnership world can be.
David Boraks, another former Observer staffer, founded DavidsonNews.net in late 2006 to cover Davidson community news. Boraks says he partnered with the Observer in 2009 because he saw potential for developing new media models and his brand. A year later, he decided it wasn't working. The Observer, he says, would run his site's stories online, with a separate link to the DavidsonNews home page, but wouldn't attach hyperlinked headlines to the DavidsonNews site. That minimized his page-view gains. "We didn't feel like it was a two-way street," says Boraks.
How motivated can your reporter be to scoop the competition when the competition shares stories with you?
Boraks left before the launch of CNA, which has reserved space at the bottom of the charlotteobserver.com home page for stories the partners produce, complete with hyperlinked headlines. The paper's editor, Rick Thames, acknowledges that the previous effort was a rough draft. He says he's committed to developing the project to everyone's satisfaction.
News partnerships are nothing new in Charlotte, where WSOC-TV has long shared content with numerous regional newspapers and the Observer has nurtured a partnership with WCNC-TV since 2004.
One obvious risk in all this partnering is too little of the competition that makes for a vigorous news market. How motivated can your reporter be to scoop the competition when the competition shares stories with you? Thames rejects the idea, saying that the CNA partners are producing mainly community news, not investigative stories or aggressive local government coverage, and that every member of the partnership retains its editorial independence.
News organizations everywhere will continue to pool increasingly scant resources. But in the context of still more cutbacks at the Observer one has to wonder whether these alliances represent a model for the future or just, under the circumstances, the best anybody can do.