The Quixotic Conductor
Two years ago, the Charlotte Symphony Orchestra was struggling when it hired Christopher Warren-Green as music director. Before the renowned conductor even started, things got worse. But don't tell him that, because more than anything else, he believes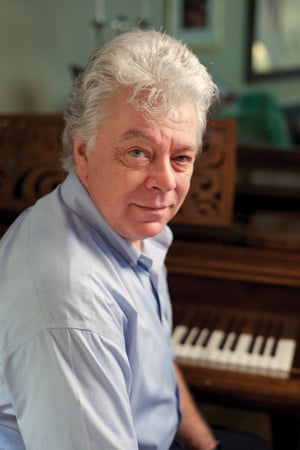 When Christopher Warren-Green stepped onstage in front of the Charlotte Symphony Orchestra in September 2010, it was a familiar scene to the musicians and many patrons. The dynamic Brit had guest-conducted on several occasions, receiving warm welcomes and rave reviews each time.
But now the orchestra was his. And this time, he was performing to audiences far beyond the almost-sold-out crowd in the Belk Theater. Listeners to the live broadcast on local public radio station WDAV, the Charlotte media who would pass judgment on his debut, and perhaps most importantly, the philanthropic community—all were paying close attention.
For the occasion, Warren-Green brought in star American cellist Alisa Weilerstein as soloist, and, paying homage to his homeland, the orchestra turned in a solid and stylish interpretation of music by British composer Edward Elgar. All audiences responded enthusiastically, and it was a good night for the eleventh conductor of the CSO.
But long days were ahead, and remain so. Warren-Green, fifty-seven, was hired to invigorate the struggling orchestra, raise its profile, and become its community ambassador. As symphonies across the country fold or exist on life support, Warren-Green's mission may seem quixotic. But he revels in it. He makes the case that we need the arts now more than ever, and that our investment in them should not be linked to the city's fortunes or the ups and downs of the stock market. He has spent the two years since his arrival telling Charlotte, in essence, "I won't give up on this orchestra if you don't."
One of the first things you notice about Warren-Green is how perfectly he fits his role. He greets people with a kiss on each cheek. He has a deep baritone voice, an upper-crust British accent, and a mane of curly white hair that sways in perfect time with the music during a performance. Born in Gloucestershire, England, and raised in London, Warren-Green's artistic aspirations date back as far as he can recall. He began singing in the church choir at seven. "I wanted to sing—opera, rock, it really didn't matter, I just wanted to sing," he says. When his voice broke at thirteen, he picked up the violin. "I thought, 'I can't sing anymore,' because my voice was in my boots. Nobody told me that you could be trained through it."
During his three years at the Royal Academy of Music, he busked in the London Underground. He left the Academy to work professionally in the recording studios in Tin Pan Alley, where in the late 1970s and early 1980s he played with artists like Bing Crosby, Frank Sinatra, and Perry Como. By twenty-four, he was first concertmaster and first chair violin for the London Philharmonic Orchestra. In 1988, he was named music director and principal conductor of the London Chamber Orchestra, a position he continues to hold.
Like most internationally renowned conductors, Warren-Green traveled the world extensively. However, he never considered living abroad until he came to Charlotte as guest conductor in 2007. He was impressed by the orchestra and the city. "I went home and told my wife, 'I really like that orchestra!' She said, 'If you get an orchestra like that and an offer, we can move there.'"
Not long after, music director Christof Perick announced that the 2009-10 season, his ninth with the orchestra, would be his last. During his tenure, Perick came to town for performances but lived in his native Germany and simultaneously served as conductor for several European orchestras. The board wanted more of a commitment from his successor.
"There wasn't really a tie to the community," says double bassist Jeffrey Ferdon, who also served on the committee that recommended Warren-Green. "We needed somebody who was going to be here, to be the face of the orchestra at this critical time."
The committee interviewed and auditioned a half dozen or so conductors from around the world. "It was clear that there was something that set Christopher apart from the other folks," says Executive Director Jonathan Martin. "One is just his own innate personality. The other is that he comes out of a performance background himself. He was one of the world's great concertmasters of a big orchestra."
Ferdon agrees with that assessment. "Because Christopher is a very good musician in his own right, he knows what it takes to turn an orchestra into a high-level organization and how to work in a cooperative, inclusive spirit. Musically, he's very willing to take risks and has enough trust in the musicians to allow us freedom."
Landing Warren-Green as music director was a coup, but it met only one of the symphony's challenges. The organization has struggled financially for more than a decade. Corporate donations shrank by almost $700,000 from 2007 to 2012. The Arts & Science Council has helped to fund the symphony since 1958, including $27.9 million in grants over the past seventeen years. A week before the symphony's introduction of Warren-Green as music director, the ASC said it would trim $1 million from its previous-year grant of $1.9 million (the orchestra's annual budget is $8.7 million). If the symphony could present a viable turnaround plan, the ASC said, it would restore the $1 million.
"Jonathan rang my manager before the signing, saying, 'You may not have a job to come to,'" recalls Warren-Green. "I got in touch with him straight away and said, 'Give me the contract; I'll sign it.' I knew that if I signed, it would send out the right message to the community."
Three months after Warren-Green's selection, the C.D. Spangler Foundation and Hugh and Jane McColl each stepped forward with $1 million gifts. The symphony also did its part. Martin and the board devised a plan to close the funding gap while working to increase individual giving and earned revenue through ticket sales. The plan included charging for the popular summer concerts at SouthPark that had always been free.
Today, there are some green shoots on the ground. Revenue from ticket sales has increased 35 percent since 2006, and a new, ten-year, $40 million fundraising campaign is underway. Yet the symphony endowment is only $5 million, about one-fifth of what is needed to operate comfortably. "The wolf remains at the door and, in fact, never left," Martin told board members at the annual meeting in June. "We need transformational change, not incremental change."
On the city's top performing arts groups: "We are committed to bringing all of us into one big parcel so that this city becomes internationally renowned. It truly has that potential."
Martin thinks the orchestra needs to shift its perspective. "We need to pivot to an outward-facing organization by delivering programs, services, and education activities that expands our reach to a broader constituency, versus the white, affluent audience," he explains. "We've got to remake ourselves to use music in the broadest possible way."
Martin believes that Warren-Green is the man for that job. "If a midsize orchestra like this is going to succeed, you need directors like Christopher, who can execute at a high level from the podium and is also good at building philanthropic relationships and making the case for the value of the organization."
Warren-Green's task became more difficult with the announcement that Martin is leaving his post this month to become president and CEO of the Dallas Symphony Orchestra. Until his replacement is named, the conductor's responsibility to lead the symphony is magnified.
During Warren-Green's tenure, the orchestra's most successful innovation has been the KnightSounds series, a shorter program preceded by drinks that is designed to attract a younger, more diverse audience. The series usually fills the 1,200-seat Knight Theater.
He also aggressively pushed for more collaboration with North Carolina Dance Theatre and Opera Carolina. So far, the symphony has played for Opera Carolina performances and the NC Dance Theatre's main-stage performances of The Nutcracker. In a joint collaboration on the "To Tchaikovsky with Love" KnightSounds program, dancers performed a pas de deux, Opera Carolina provided a soloist, and Warren-Green and Opera Carolina Director James Meena each conducted segments of the program.
"It's crucial that we work together and not in competition," says Warren-Green. "We are committed to bringing all of us into one big parcel so that this city becomes internationally renowned. It truly has that potential."
While he talks enthusiastically about bringing top guest conductors and soloists to work with the symphony, not all of his ideas are of the highbrow variety. He has a framed picture of himself surrounded by the TopCats dancers from the day he conducted the national anthem at a Carolina Panthers game against the Chicago Bears. Following the Bears' 23-6 win, it was likely the only bright spot for the home team.
These changes may seem more incremental than transformational, but Scott Provancher, president of the Arts & Science Council, points out that they have helped address the symphony's two biggest challenges—broadening the audience and reducing the deficit. "It's not an immediate fix, but ASC feels they're moving in the right direction and are well-positioned to find success."
Since trading in their 600-year-old cottage outside of London, Warren-Green, his wife, Rosemary Furniss, and their twelve-year-old son, Jamie, have turned a few acres in south Charlotte into a small piece of English countryside, complete with one English cocker spaniel and two huge cats. It's July 1 and they are just back from another hop across the pond, where Warren-Green conducted concerts in London and Armenia. Despite his plans to spend the summer in Charlotte, he has just one week in town before darting off to Europe again for more performances.
He is determined that the family will spend Independence Day in Charlotte. "I do love my country, but my home is here now," he says. "We're going to the lake for the Fourth of July. We want to do things the American way."
Warren-Green has a connection to England that few Brits can claim—a three-decade relationship with the royals. "My association with the royal family goes back a long time, but it's still a surprise when someone gets on the phone and says, 'The Prince of Wales would like to talk to you.'"
One such call came following the engagement of Prince William and Catherine Middleton, when Prince Charles asked Warren-Green to conduct the music for the wedding. He had conducted music for the Prince's sixtieth birthday, Queen Elizabeth's eightieth birthday, and Prince Charles's marriage to Camilla Parker Bowles, who also serves as patron to the London Chamber Orchestra.
Although London is known as a major hub for classical music, the conductor says he was impressed by Charlotte's arts scene. "I was a bit of a kid in a sweet shop when I first arrived. There was already an orchestra, a wonderful ballet, and wonderful opera company with a fantastic conductor. It was all here."
Charlotte essentially got a two-for-one with Warren-Green. Furniss is an artistic director and concertmaster for the London Chamber Orchestra, a well-established violin teacher, and one of the most respected violinists in the world. She continues to play concerts in Europe and has played on many major movie soundtracks, including the Harry Potter, The Dark Night, and Twilight series. As artist-in-residence at Davidson College, she teaches several hours each week and performs many annual concerts.
"Christopher and Rosemary brought with them a love of using music to teach kids and involve them in learning," says Martin. "They're changing lives by using classical music not just to expose kids through one concert a year but to get into their schools."
Their philosophy of integrating the orchestra into the broader community dovetails with the symphony's desire to expand its reach. Between education concerts and in-school performances, the symphony is involved in Charlotte-area schools. The centerpiece of its community outreach program is the After-School Strings program at Winterfield Elementary, an ethnically diverse, high-poverty school in east Charlotte. Warren-Green started similar programs in London and Brazil. When they arrived in Charlotte, the couple became involved with the Winterfield project. Furniss provides instruction to the students about once a week.
"Wherever I've done this all over the world, the teachers are reporting that the children's grades have gone up, the serial suspendees haven't been suspended once," says Warren-Green.
"We need to study the arts along with the sciences to enhance learning ability. Doubters will say 'there's a recession' but that's the absolute worst time to start cutting the arts. By putting a little bit more in, they will get so much more out. That's the guarantee I made when I came to live here."
Last season, the Winterfield Strings took to the Belk Theater stage for two nights with the symphony. After the audience's enthusiastic response, Warren-Green pronounced: "This is not the future of classical music, ladies and gentlemen. This is the future of humanity."
Melba Newsome is a Charlotte-based freelance writer.