The Real Bully in the CMS-Suburbs Debate
It's time for the adults to grow up when talking about HB 514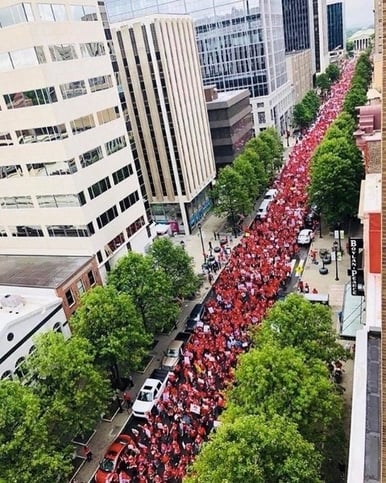 In late summer 2011, after a rousing first session as North Carolina's Speaker of the House, Thom Tillis met with a group of charter school advocates in Raleigh to tell them he'd only begun to deliver on school choice.
The new legislature had finally lifted a 100-school cap that had been in place since the state first approved the publicly funded, privately run schools in the mid-1990s. Back then, believe it or not, there was bipartisan support. Over time, though, campaign contributions and lobbying groups fixed the inconveniences of unity and consensus, and throughout the 2000s Democrats and Republicans argued over the charter school limit. Pro-public school political action committees, such as one for the National Education Association, became big donors to Democrats, while Republicans like Tillis began receiving contributions from PACs such as Parents for Educational Freedom. It came as no surprise to anybody, then, that one of the first things legislative Republicans did after routing the Democrats in the November 2010 election was eliminate the cap.
But forgotten to time, it seems, is the fact that they wanted to do far more. They'd compromised on two controversial points to avoid a veto from then-Governor Bev Perdue, a Democrat. In one, they'd hoped to devote capital funding to charters, and in the other, they'd hoped to establish a charter board independent from the State Board of Education. So at that meeting with charter school advocates in August 2011, Tillis suggested that the legislature would soon achieve these two things and more by passing a series of local bills, county by county. Under North Carolina law, governors can't veto local bills.
"Don't be surprised," Tillis said in the meeting, according to a story in the Independent Weekly in August 2011, "if we don't have charter school legislation in 50 counties that'll do whatever the hell we want it to do."
Seven years later, Tillis is a U.S. Senator, and there's high-drama around Charlotte-Mecklenburg Schools and HB 514, which authorizes four suburban towns to break away from the school system and build their own charter schools. The legislature passed the bill in June, and, because Representative Bill Brawley of Matthews introduced it as a local bill, it skipped the desk of Democratic Governor Roy Cooper and an almost certain veto to become law.
School board members spent the summer trying to craft a response, trading secret-but-not-so-secret emails and meeting when they probably shouldn't have been meeting, before ultimately fumbling a surprise announcement in late August. In it, they said they'd no longer approve construction projects in the four suburban towns unless those towns agreed to a 15-year moratorium on charters.
The backlash to their response came from everywhere, even allies and local institutions that oppose HB 514. One particular headline shaped the perception of the response more than any other, and it came from The Charlotte Observer's editorial board: "A reckless school board tries to bully the suburbs."
But it's important to remember that state Republicans have worked toward doing "whatever the hell we want" with North Carolina's education system for nearly a decade. And most often that's involved steps toward publicly funded private schools. Faced with that looming possibility, honestly, no matter how badly the school board blundered its counterpunch to HB 514, any counterpunch at all was a long time coming.
Here's what remains true through the fog of childishness we've seen from the adults in charge these past few months: The current public schools in the towns of Cornelius, Huntersville, Matthews, and Mint Hill are, according to a map of the most recent school report cards, excellent. Regardless, the town boards voted to support a bill that allows them to break away from CMS because they believe they've been neglected. And the legislature hopped in to give those towns the ability to create the first municipal charter schools in North Carolina history—opening the door to publicly funded private schools just for the children of those towns and nobody else in our county.
Each suburb in question is more than three-quarters white. If all students in those towns were to leave CMS, a school system whose current demographics are 38 percent black, 28 percent white, and 24 percent Hispanic would become 41 percent black, 26 percent Hispanic, and 24 percent white.
No matter the reasons, and no matter how some white people will fight harder against being labeled racist than they do against racist policies, the numbers show that HB 514 is another step toward completing the white flight of CMS that began in 1999, when a federal judge ended the district's widely praised busing program.
What makes this more complicated than that, though, is that many, many suburban residents are not in favor of this. In Matthews this spring, local people lined up to voice their opposition to HB 514 in town hall-style meetings. Still, the all-white town council supported it. And in May at Huntersville Elementary, the school board gave an obviously biased presentation, but few people in the room objected. In fact, several in the crowd voiced displeasure with their own neighbors. Still, the local councils in Huntersville and Cornelius voted to support HB 514—with one exception, Thurman Ross, the only black person on either board.
It takes a lack of awareness, at best, for these elected bodies to watch the only person of color among them vote against HB 514, and then still fight for it.
"We've stopped talking about public schools as a common good," the renowned writer Nikole Hannah-Jones said earlier this month in a talk at Duke University, according to an Observer story by Ann Doss Helms, who's covered every step of this debate and deserves a raise and a vacation. "Instead," Hannah-Jones continued, "we started talking about them as an individual good."
Here in Charlotte, those words should hit hard. After our own Opportunity Task Force report instructed us reverse resegregation this minute, the idea that we're even arguing about building special public schools in areas where excellent public schools already exist raises questions about our commitment to fixing our status as the worst-ranked city in America for economic mobility.
It's going to be "hard work," we all said in the weeks after the 2016 protests that broke out in response to the Keith Lamont Scott shooting, and "not always pretty."
In this case, the hard work is recognizing that bullying is when a small segment of the population plays keep-away with the whole system's future, and it's when those same officials stop listening to their constituents at meetings, and it's when they pass something that will adversely affect children of color who are already in failing schools.
And reckless? Well, reckless would be failing to warn those same suburban officials that a child who graduates from an all-white school in 2035 will be unprepared for the next half-century in a more diverse America.
Yes, after years of being poked and prodded, CMS retaliated, and yes, that retaliation left a lot to be desired. But we're about to watch our school system be dismantled, and if it takes a sloppy response to get people listening, well, let's remind them: Mecklenburg County's future will be far richer if your kids are in our school system, if children from Beatties Ford Road are being invited to birthday parties in Huntersville, and children from Eastway Drive are packing up for sleepovers in Matthews.
And vice versa.