The Real Housewives of Charlotte
We cast our own Real Housewives of Charlotte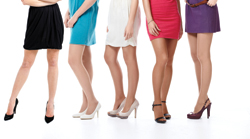 From NYC to Atlanta to Beverly Hills, these table-flipping, free-spending, fast-talking women of Bravo's hit series are a guilty pleasure, even if they don't show their cities in the best light. We decided to cast our own Real Housewives of Charlotte and show the world the South can be entertaining and have some class.
Chandra Johnson
The stunning new mom and former model is the wife of NASCAR champ (and hottie) Jimmie Johnson.
Laura Vinroot Poole
The fashionista daughter of former mayor and gubernatorial candidate Richard Vinroot has graced the pages of Vogue and Town & Country. She's also close with Johnson.
Mimi Sebates-Fitz
Sebates-Fitz's ties to NASCAR run deep—her ex-husband, Armando Fitz, was a driver; she was once a team co-owner; and her car-dealership-owning dad, Felix, is a minority shareholder in Chip Ganassi Racing.
Amy Levine
The youngest of Leon and Sandra Levine's children went into the family business of giving. Levine, who married last fall at the Ritz-Carlton, runs the family's philanthropic branch of Family Dollar.
Sunny Harris Hutchinson
The daughter of developer Johnny Harris—he built parts of Ballantyne and SouthPark—joined the family business and works for her father.