The Region's Top Music Festivals
With relentless sunshine, delicious local beer, and an upstanding musical heritage, we can't think of a better place for music festivals than Carolina country. Spring through fall, from the Blue Ridge to the coast, North Carolina has music bonanzas for folk, rock, and even electronic lovers—all within driving distance from Charlotte.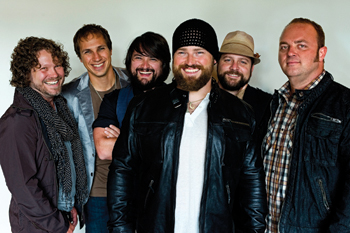 Cherokee Bluegrass Festival
June 16-18, 2011
Located on a large campground in Cherokee (a Native American reservation an hour west of Asheville), this three-day celebration of all things bluegrass has the vibe of a 5,000-person tailgate party—minus the jocks. Tickets are $30 per day ($85 for a full festival pass), with six bands performing each day including old-time favorites like Doyle Lawson & Quicksilver and the James King Band, who are on board this year. cherokeebluegrass.com
Bele Chere
July 29-31, 2011
This year marks the thirty-third Bele Chere, and with more than seventy bands on four stages over three days, you're bound to find your groove somewhere. More than half the bands are regional, but Rusted Root and the Gin Blossoms have made appearances. Grab a local microbrew and catch a show at the central Battery Park stage, or wander through the 400-plus vendors and art exhibits lining downtown sidewalks. Plus, it's free! belecherefestival.com
Carrboro Music Festival
September 25, 2011
Last year, close to 180 regional and national acts took over no fewer than twenty-five indoor and outdoor venues throughout Carrboro and Chapel Hill, drawing nearly 10,000 visitors to hear free jazz, folk, rock, and funk concerts. Visitors can catch a smaller acoustic show at the Armadillo Grill with a beer and burger, enjoy a jazz trio at the ArtsCenter's auditorium a couple blocks down, or take in an outdoor bluegrass set at Weaver Street Market. carrboromusicfestival.com
Moog Fest
October 28-30, 2011
For three days, bands and fans pay homage to Robert Moog, inventor of the Moog synthesizer, an instrument that paved the way for sonic and electronic music for generations after. Last year's acts included Girl Talk, Big Boi, and MGMT, who performed at spots like the Orange Peel and the Thomas Wolf Auditorium. This year, Asheville adds the Moog Music Factory to its list of hip music venues. moogfest.com
Merlefest
April 26-29, 2012
MerleFest has one of the most impressive lineups of any festival in the country. This year's performers included names like the Zac Brown Band, the Del McCoury Band, the Wailin' Jennys, Lyle Lovett, and Robert Plant. While the thirteen stages of more than ninety artists is, of course, the main draw, don't miss shopping at the Shoppes at MerleFest for local crafts and souvenirs. merlefest.org

Cape Fear Blues Festival
July 29-31, 2011
The lineup at this fest is downright scary, with legends like Delbert McClinton, Mac Arnold & Plate Full O' Blues, and Shirley King (daughter of B. B.). The festival kicks off with a Friday blues cruise down the Cape Fear River, continues with a blues workshop on Saturday, and ends with an all-day blues jam at downtown Wilmington's rustic Rusty Nail Bar. capefearblues.org
L.E.A.F.
Octber 20-23, 2011
Four days of contra dancing, massage booths, handmade jewelry, and poetry slams sounds almost too eclectic, but morning trail runs through Black Mountain's Camp Rockmont or an early tai chi class might put you in just the right frame of mind. Plus, this sixteen-year-old festival draws some of music's most fascinating performers to its stages (and tents). The spring festival (there's two per year) included bluegrass icon Ricky Skaggs, West African songstress Angélique Kidjo, and Tab Benoit's Voice of the Wetland All-Stars. Drop in for a day ($42-$52) or stay for the whole camp experience in a cabin or camper ($151-$174 not including cabin rental fees). theleaf.org
Festival in the Park
September 23-25, 2011
This annual Freedom Park extravaganza, wherein Charlotte collectively celebrates the end of our muggiest season, usually draws passersby and families for local art tents, face painting, and popcorn, but it's also a great chance to hear the Q.C.'s best local acts. Hear local rock bands like Crisis or the Spongetones on the Main Stage, see student jazz performances on the Jazz Stage, or hear international music sessions from the Charlotte Folk Society. festivalinthepark.org
Alive After Five
Through September, 2011
Summer just isn't summer in Charlotte until the city's twenty- and thirty-somethings jump from their desks for this citywide happy hour. A handful of local groups, like Simplified, make appearances at the Thursday-night event, but it's the cover bands (tributes from the Rolling Stones to Guns N' Roses) that go best with the Bud Lights. For a more low-key scene, try the Wednesday-night event at Piedmont Town Center. aliveafterfives.com
Lexington Avenue Arts & Fun Festival
September 3-4, 2011
To see Asheville in true, colorful character, there's no better opportunity than this all-local Labor Day weekend arts festival. The city's bluegrass bands, vaudeville shows, African drummers, and even brass bands take the stage in downtown Asheville each year, performing for up to 20,000 people over the weekend. Tents with regional artwork, food, and beer line the streets, too, but make sure to catch a round of the bicycle jousts. lexfestasheville.com
Eastern Music Festival
June 25-July 30, 2011
For fifty years, world-renowned musicians and promising music students have traveled to be a part of this five-week institute and festival at Guilford College. In addition to select chamber concerts and bluegrass shows, two student orchestras perform each week under the direction of top-notch conductors and soloists, including Gerard Schwartz of the Seattle Symphony Orchestra. On Saturday nights, the faculty orchestra (made up of musicians from international symphonies and philharmonics) features a solo artist; the July 16 performance will present pianist André Watts. There are nearly 100 concerts and events each year, both on-campus and in downtown Greensboro, and past guest artists have included Wynton Marsalis, Yo-Yo Ma, and Mark O'Connor. easternmusicfestival.org