The Restaurants on Our '50 Best' List Offering Curbside, Delivery Options
Options across the city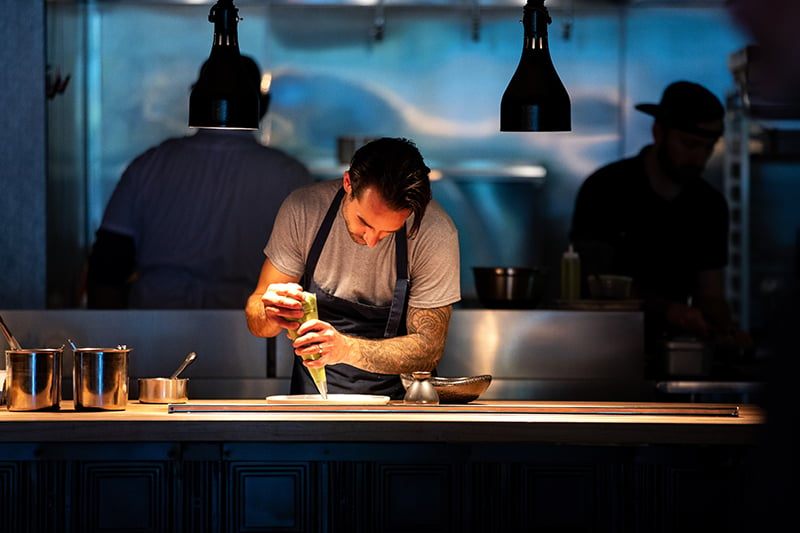 A NOTE FROM THE EDITOR: All restaurants are challenged by the Coronavirus pandemic. This roundup looks specifically at the spots on the "50 Best" list that are maintaining some type of service, whether it's takeout, curbside, or delivery. Every business you love is worth investing into right now, whether it's on this list or not. Some may not be open, but offer giftcard options to help keep them afloat. For those that follow our ongoing list of the city's best, we thought we'd provide a guide on how you can still try these beloved menus:
UPTOWN
Aria Tuscan Grill
100 N. Tryon Street (entrance on E. Trade Street between N. Tryon & N. College)
704-376-8880
Options:  Front-door pickup, Monday-Saturday, 4 p.m.-7 PM (entrance on E. Trade Street between N. Tryon and N. College). Call to order.
This restaurant serves up an extensive Italian menu in an elegant, modern space.
South End/Dilworth
Bardo
1508 S. Mint St.
980-585-2433
Options: Curbside pickup, Mon-Sat, 4:30 p.m.-7:30 p.m. (They're also offering to-go cocktail kits for $8 that make two cocktails and include instructions.)
This foodie destination serves seasonal small plates and creative cocktails. The dining room looks into a big, open kitchen where diners can watch the chefs at work.
Copper
311 East Blvd.
704-333-0063
Options: Take out and curbside pickup during regular hours. The restaurant also has free delivery with a minimum order of $40 within a 5-mile radius.
Ease into Indian cuisine with standard dishes like chicken tikka masala, or be more adventurous with the seafood medley "anjeeri" and dial up the spice.
300 East
300 East Blvd.
704-332-6507
Options: Curbside pickup, with regular menu options and new family-style options. Owners say hours vary based on demands, but typically, the business is open 11 a.m.-7:30 p.m. right now.
The interior of this old house-turned-restaurant is welcoming, as is the menu of familiar and surprising sandwiches, salads, and entrées. Save room for dessert by pastry chef Laney Jahkel-Parrish.
Bonterra
1829 Cleveland Ave.
704-333-9463
Options: Takeout, curbside pick-up, and delivery (within 3 miles) are available. Hours are 4 p.m-8 p.m. right now.
Its setting may be a historic Southern church, but Bonterra serves up modern Southern flavors with top-notch service. Wine lovers will be impressed by the more than 200 wines by the glass.
Futo Buta
222 E. Bland St.
704-376-8400
Options: Takeout and curbside pick-up daily until 9 p.m.
This ramen house promises authenticity, irreverence, and delightful, salty bowls of the hot noodle soup.
West Charlotte
Noble Smoke
1508 S. Mint St.
980-585-2433
Options: Takeout at the To-Go counter (look for the yellow door and To-Go parking spots out front) from 11 a.m. – 8 p.m.
Feast on Carolina-style pork and Texas-style brisket, and grab a drink at the "Legends Counter" with custom plaques for Southern barbecue icons.
Heirloom
88470 Bellhaven Blvd.
704-595-7710
Options: Order take-and-bake meals online anytime, and choose pick up or delivery service from 12–8 p.m.
The spot's menu is sourced almost exclusively from North Carolina, and his tasting menu includes options like fried chicken and pork and beans.
NoDa/North of Charlotte
Haberdish
3106 N. Davidson St.
704-817-1084
Options: Order online and pick up to-go orders on the patio or curbside 4-8 p.m.
Southern appetizers, fried chicken, and apothecary cocktails from Colleen Hughes draw a hip crowd to this mill town southern kitchen.
Kindred
131 N. Main St.
980-231-5000
Options: Curbside pick-up or delivery. (The $5 delivery fee and any gratuity goes to the hourly team whose income has been eliminated.)
Every meal at the Davidson restaurant starts the same way: with cloud-like milk bread, an appetizer with such a following, Kindred made T-shirts. The subsequent dishes are just as beautiful, and they've earned chef and co-owner Joe Kindred a James Beard nod for the past four years.
Hello, Sailor
20210 Henderson Rd.
704-997-5365
Options: Hello, Sailor has closed and shifted to curbside pick-up and delivery services at Kindred restaurant.
Davidson's sweethearts, Joe and Katy Kindred, opened this lakefront spot. Expect Carolina classics like fried catfish and seafood platters, as well as tiki drinks.
Plaza Midwood/Elizabeth
Midwood Smokehouse
1401 Central Ave.
704-295-4227
Options: Curbside pick-up for online orders. (Service temporarily discontinued at Cross Hill and Birkdale locations)
With North Carolina pulled pork, beef brisket, smoked chicken, and dry or sauced ribs, there's a 'cue for everyone—and traditional sides to pair. The restaurant has a number of Charlotte locations including Ballantyne and Park Road Shopping Center, but the Plaza Midwood spot is its flagship post.
Intermezzo
1427 E. 10th St.
704-347-2626
Even the pickiest eater can find something to order at this fusion spot, with menu options ranging from burgers and pizzas to cabbage rolls and stuffed peppers.
Soul Gastrolounge
1500 Central Ave.
704-348-1848
Options: Takeout or curbside pickup 5-10 p.m. daily, or limited delivery to 28202, 28203, 28204 and 28205 zip codes.
Expect to wait a while at this no-reservations spot, known for small plates like pork belly tacos with compressed watermelon, and a rotating list of craft cocktails.
Bistro La Bon
1322 Central Ave.
704-333-4646
Options: Takeout or free delivery in a five-mile radius.
This Plaza Midwood favorite recently expanded to a second location in Cotswold. Dinner favorites include the Swedish meatballs, lavender chicken, and other tapas-style selections.
Sweet Lew's BBQ
923 Belmont Ave.
980-224-7584
Options: Limited menu items available for curbside pick-up, Thursday-Saturday
Demand for Lewis Donald's barbecue hasn't wavered since the "shack" opened last year; it's not uncommon for Sweet Lew's to sell out of its brisket and chopped pork shoulder.
Pizzeria Omaggio
1055 Metropolitan Ave., Ste. 130
704-370-0777
Options: Takeout and curbside pick-up until 9 p.m.
Among a sea of by-the-slice joints, owner Daniel Siragusa sticks by his Italian roots with personal pizzas. Some think they can't possibly eat the whole pie, but they do. And then they order dessert.
South Charlotte
Stagioni
715 Providence Rd.
704-372-8110
Options: Takeout, noon-8 p.m. Tues-Sat. Limited menu, including "Stags Night At Home" options for families.
Meaning "seasons," this concept from Bruce Moffett serves Italian standards. A must-visit for Chef Eric Ferguson's delicious, handmade pastas, wood-fired pizzas, and slow-roasted meats.
Good Food on Montford
1701 Montford Dr.
704-525-0881
Options: Takeout only, noon-8 p.m. daily.
Bruce Moffett's small-plates bistro unites a variety of influences and flavors onto one menu, and each dish is worth ordering.
Rooster's Wood-Fired Kitchen
6601 Morrison Blvd.
704-366-8688
Options: Orders can be placed online from 11 a.m.-8 p.m. Guests can park in one of the designated Rooster's To-Go parking spaces outside of the restaurant and pick up at the hostess stand.
Chef Jim Noble's menu features gussied-up, Southern-tinged American and European peasant fare, like hand-tossed pizzas and roasted chicken. A second location is in uptown.
Barrington's
7822 Fairview Rd.
704-364-5755
Options: Through March 21, Barrington's will offer its full menu for takeout only from 5-8 p.m. until items run out. Starting March 23, it will serve a limited takeout menu from noon-8 p.m. Tues-Sat.
Bruce Moffett's first restaurant is one of the best in town, with a classic menu and stellar service.
Aqua e Vino
4219 Providence Rd.
704-364-4445
Options: Takeout and delivery for select items. On the website, click on the "Take-Away & Delivery" tab for details.
This Italian restaurant has one of the smallest dining rooms in town, which means it can be hard to nab a reservation without planning. It also means chef Gabriele Grigolon can serve each dish, from pastas to composed plates, with textbook precision.