The Return of Hooch in North Carolina
Decades removed from the moonshine-runnin' days, local distilleries are bringing back liquor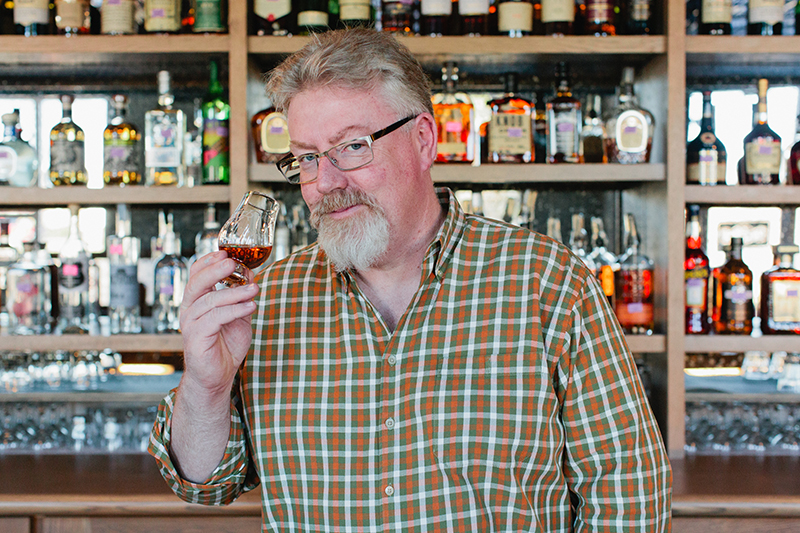 IN DECEMBER 1953, an Irishman named Patrick Quinn had a taste for moonshine. He kept it in his house in Drumlish, a town in County Longford in the central part of the country, but he often shared it with his neighbors. One day, Quinn went out to get a wet cell battery recharged in the nearby town of Longford, and while he was out, police raided his house. Nobody knows who turned him in, but Quinn was fined 36 pounds, and his liquor stash was no more.
When the parish priest visited Quinn's upset wife, however, he made light of the situation, saying, "Didn't the Lord turn water into wine?"
The newspaper article about Quinn's day in court is now part of a government-approved label on a new brand of Irish whiskey, Drumlish, which is made at Great Wagon Road distillery in South End. Quinn's grandson, Ollie Mulligan, opened the distillery late last year. The article details what the police seized from the Quinn family: a large quantity of poteen (or Irish moonshine), malt, a still, and other equipment. What the article doesn't explain is that community members used to share the equipment. "It was a traditional thing he did," Mulligan says. "He just got caught."
Like their Irish counterparts, America's liquor distillers have long fought to make liquor on their own terms. North Carolina has a special and tumultuous relationship with intoxicating spirits, one that birthed NASCAR as moonshine was transported at top speed over backwoods roads in the dark of night. The illegal runners and the government were at odds, of course, over tax money.
After the Revolutionary War, the United States government taxed distillers in an effort to pay war debts. That gave rise to the country's first moonshine outlaws and the Whiskey Rebellion of 1794. After the Civil War, the temperance movement intensified as activists pushed for a national prohibition, which led to less tax revenue, unemployment, and violence as organized crime bosses became major players in the liquor trade. North Carolina was one of the first states to criminalize the manufacture and sale of liquor, and one of the last to allow measures that would bring alcohol sales back. The state's default law is still, in fact, prohibition, but in 1937 North Carolina established a control plan that allowed voters in cities and counties to determine if they want liquor sold where they live. That was four years after the 21st Amendment to the United States Constitution repealed federal prohibition.
Eighty years after Prohibition was lifted in North Carolina, three distilleries, including Great Wagon Road, have navigated licensing, permitting, and approval to get started in Charlotte. Thirty-nine others have opened throughout the state, from Asheville to the Outer Banks. And as of October 2015, a new state law enables consumers to buy one bottle per person, per distillery, per year at the end of distillery tours. Restrictive as that sounds—especially when consumers can buy up to 80 liters of beer in kegs and up to 50 liters of wine in a single trip—distillery owners say that being able to sell something is better than nothing.
***
NORTH CAROLINA is one of 17 states that controls the sale of liquor, meaning you can buy it from an ABC store or at a bar or restaurant, but you better not make it at home—as you can with beer or wine—unless you want trouble from the "revenuers." That's the old name for United States Internal Revenue Service employees who dramatically smash illegal barrels of hooch when they find them. But the craft distilleries opening in Charlotte shouldn't have to worry about raids, since they're giving the government its cut.
Local ABC boards, commissions, and stores are operated without state funds, and they generate approximately $935 million annually. A good portion of that money goes to the state's general fund.
Charlotte has three distilleries that have opened or are close to opening, and all of the owners say they were lured into the industry by the dream of working for themselves while doing something they enjoy. But it's an arduous and expensive journey to take, thanks to regulatory hurdles and the expenses they must incur for years before they're able to make their first sales.
Mulligan estimates that he invested $1.5 million just to open his distillery and the bar and restaurant. "I wouldn't say it was easy," he says, speaking with an Irish brogue. "It's not a difficult process, but it is a long process." He pauses to laugh. "I've forgotten all of the pain. … Once the first customer came in and bought a drink, all of those stressors disappeared."
His bar, The Broken Spoke, is separated from Great Wagon Road Distillery by only a locking door, and it serves the craft liquors he makes. For $15 per person, customers can tour Great Wagon Road for insight into the distilling process and to sample the distillery's Rúa (an unfiltered single malt whiskey), Bán (a vodka), and Drumlish (the poteen based on his grandfather's recipe). If visitors are lucky, Mulligan might also play a song for them on his guitar or tell one of his many travel stories, perhaps the one about the bartender in Ireland who poured him his first beer, the one who still pours his beer when he returns home to visit his family.
Great Wagon Road and The Broken Spoke, both of which opened in December, are located a few hundred feet from Olde Mecklenburg Brewery, which produces the mash Mulligan distills into liquor. He dreams of his bar becoming a community hangout, like OMB's beer garden. At The Broken Spoke, customers can relax on soft leather furniture and not only order shots and cocktails made with his craft liquors, but also other locally made beers and spirits and what he calls "a lot of hearty Irish fare: meat pies, Cornish pasties, sausage rolls, and we will make some sauces from the single malts, too." For his customers, he dreams of a place where the bartender not only knows their names, but also what they'd like to drink and where they want to sit.
Mulligan grew up in Ireland, about 90 minutes from where his grandfather got in trouble years ago, but he decided to make Charlotte his home after years spent traveling the world while working in the cell phone industry. When he befriended John Marrino, the founder of OMB, the two dreamed of creating a local distillery, too. Marrino is an investor in Great Wagon Road, though he prefers to let Mulligan take the spotlight. "His product is excellent and the distillery is beautiful," Marrino says.
***
RICK LAVIN leans back in his chair one day last fall and stares at the ceiling of Dragon Moonshine, a distillery he's opening with Chris Wagner in NoDa's Area 15. They're still several months away from a 2016 opening, and the space is being remodeled and looks mostly barren, except for a counter covered in mason jars, half-full with golden or clear liquids, notes on the lids made with a black marker.
Lavin cuts his eyes to Wagner, then looks down at his hands. I've asked him about the process of trying to get the distillery open. "I don't want to say anything negative," he says, adding that the state government is new to licensing, and the county is especially new to permitting distilleries.
But it's been difficult. Dragon Moonshine is struggling to open. Late last fall, Lavin and Wagner were still mired in bureaucratic redundancies and fretting about the time and expense they'd already invested. As they work to become fully operational, the bills mount. For example: Requirements for licenses and permits include the purchase or rental of manufacturing space, and they must hire an architect to redesign the distillery to suit county building codes. Those building requirements must be met months and sometimes years before they can sell their first bottle of liquor, and they must pay taxes on every ounce of liquor they produce, even during research and development.
Although his military-style haircut makes him appear somewhat formidable at first, Lavin's a jokester and usually quick to laugh at the difficulties. He, like so many of the distillery owners interviewed for this story, describes the budding industry as a sort of brotherhood, each person helping another. "We're paving the way for those who come after us, so things will be less bumpy for them," his partner, Wagner, interjects.
While Wagner hones their recipes, Lavin keeps his day job as a project manager for Duke Energy. In fact, every other distiller I talked to has kept his or her day job. Lavin and Wagner moonlight as Uber drivers and even experimented with crowdfunding, all in an effort to realize a dream, they say. Like many other distillery owners, they've borrowed and leveraged as much as they can to fund their businesses.
The men, middle-aged suburban dads who continually chide each other as if they're brothers, hope Dragon Moonshine will open in the first quarter of 2016 and quickly expand distribution into other states. The distillery will offer a Silver Rum, an Apple Pie Moonshine, and an oak-aged whiskey called Full Metal Jacket Whiskey. Half of the profits from their whiskey will be donated to veteran's charities. But first they have to finish untangling the red tape and develop a following for their products.
"Distillers face the same challenges that other producers of other products face, which is to create awareness and demand," says Agnes Stevens, the public affairs director for the North Carolina ABC Commission. "Just having a permit and product doesn't mean every ABC store will have it on their shelves. The local board stocks what they think is going to appeal in their local market."
One way distillers can increase demand for their products is to convince restaurateurs in their areas to create a signature drink that lands their product names on drink menus. Some distillers even distill for national and international brands on the side, or they rent event space to generate additional income. And, like Wagner and Lavin, many distillers in North Carolina plan to eventually boost sales by distributing their products in other states, where laws may be less stringent and markets more open.
***
DESPITE THE regulations and hurdles, the craft liquor business in North Carolina is growing. "We've gone from five to 42 distilleries [in North Carolina] since 2012," say Scott Maitland, a distiller who helped found the Distillery Association of North Carolina, which has more than 30 members and successfully lobbied for the new state law that allows distillers to sell one bottle of their spirits during tours.
Maitland owns Top of the Hill Distillery and Top of the Hill Restaurant & Brewery in Chapel Hill. "I've seen firsthand what beer has done for the economy and for the community," he says. "I suspect we'll have a hundred distillers by late 2017." His spirits—a vodka, Piedmont Gin, Carolina Moonshine Whiskey, and Eight Oak Carolina Whiskey—are already available in most state liquor stores.
The Distillery Association of North Carolina estimates the state's new liquor law, which became effective in October, will lead to an increase in sales for North Carolina's agricultural products, including wheat and corn. It also estimates the new law will result in 235 percent more staff on site at distilleries around the state, and a more than 400 percent increase in tours.
All of the owners of the three distilleries in Charlotte say that they're hoping to enrich Charlotte as members of the business community, drawing tourists and creating jobs. All three companies have sourced most of their ingredients and bottling supplies locally, too. They're hoping that through the distillery association, they can build upon state law and encourage local ABC stores to make their state-mandated, locally made spirit sections more prominent.
***
AT 28, Andrew Porter is the youngest of Charlotte's distillers, and the most hipster-looking, with his scruffy, blond beard and plaid shirt. He studied chemical engineering at Clemson and works at the distillery during time off from his engineering job. A former home beer brewer, he's now focused on making vodka and a high-wheat bourbon that will age for about two years in oak barrels before it's ready to sell. The distillery he co-owns with his wife, Liz, is named Doc Porter's after Andrew's grandfather, the first scientist of many in the family. Located near OMB in South End, Doc Porter's has been offering tours and tastings since November.
Liz Porter describes their vodka as "farm to glass." They buy their wheat from a farmer in Marshville, about 45 minutes east of Charlotte. They say taking the step of buying local grain, along with their process, gives their vodka more character than a traditional vodka and a nice creamy smell.
During research and development, they asked friends and family members to sample their spirits.
"I did a blind tasting with them in October," says friend Chris Madigan. "I was relieved—I guess that is the word to use—when they told me which one was Doc Porter's and I realized that it was one of the ones that was so good."
The interior of Doc Porter's is striking. A glass wall allows tasters to witness the distilling process. Chalkboard paint on the doors is adorned with a speakeasy-style script and borders. Within a month after they opened for tours, Liz Porter says, not only did their distillery tours sell out, their vodka also sold out in several Mecklenburg County ABC stores.
Liz manages Doc Porter's marketing and decorating efforts and is pregnant with the couple's second child, due this March. "After three years of getting this distillery off the ground, I can't wait to taste the vodka," she says, gesturing to her belly. "To finally see the distillery up and running and to actually be able to control our success now feels really great." For now, though, she too has kept her day job, which has her doing marketing for, ironically, the racing industry.
Rhiannon Fionn is an independent journalist and accidental filmmaker responsible for "Coal Ash Chronicles." She's written about a variety of topics for Charlotte magazine.
---
This article appears in the March 2016 issue of Charlotte Magazine
Did you like what you read here? Subscribe to Charlotte Magazine »
---