The Rise of Antisemitism in Charlotte
Here and everywhere else, it grows as Jews and gentiles alike stand against it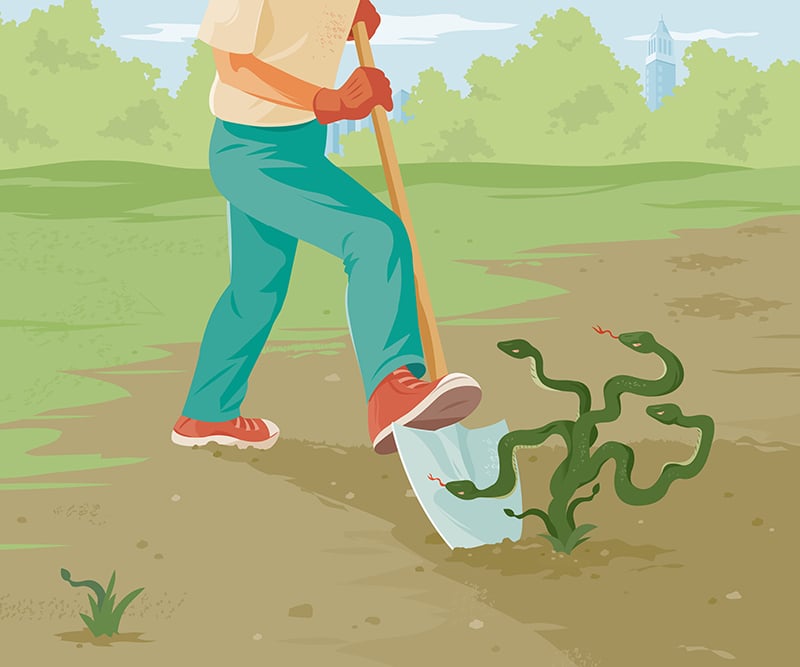 No amount of scrubbing removes a swastika inked into a wood door.
It was Athena Strickland's final lesson of freshman year, learned on the Friday before the last day of classes in April. Strickland, who uses they/them pronouns, became the third Jewish student in two days at Queens University of Charlotte to find a swastika scrawled on their dorm room door. Beside each swastika, a threat.
When Strickland first saw the swastika, their body shook in fear. They took pictures to document it and called campus police, who took more. Strickland and a friend tried to scrub off the swastika and threat, but it only faded. (At press time in July, the university was withholding details of the threat as police continued to investigate.) The friend covered it with masking tape so Strickland could go to bed.
Strickland had a restless night. It's hard to sleep with a swastika on the door and the person who drew it somewhere beyond it. By the next morning, Strickland's phone was filled with messages from friends, family, and professors, extending support and denouncing the act. Three days later, more than 200 members of the Queens community filled Trexler Courtyard on campus to support the three students in a vigil against antisemitism.
"I'm not as worried now because I know there's people who have my back and people are looking out for us," Strickland says. "But there is a small part of me who is worrying, who's always going to be worried from now on—maybe, possibly—because of this."
In both number and intensity, acts of antisemitism are rising in Charlotte, as they are around the country and world—and, as at the Queens vigil, people across the city are uniting to stand against it. As awareness increases, however, the extent and effects of antisemitism often aren't fully grasped beyond the Jewish community.
Strickland says some media coverage of the swastikas at Queens missed the point. They covered the incident as a mere act of vandalism, as if the crime was ink on wood rather than a threat against a human.
"The news didn't emphasize how bad this was. … They framed it as an unfortunate incident," Strickland says. "This was a hate crime."
***
"Why?" is a common first question about antisemitism. Why is this still happening? Why has this ever happened?
Antisemitism is a very light sleeper, wrote the historian Conor Cruise O'Brien. Recent events have woken it. For millennia, antisemitism—often called "the world's oldest hatred"—has increased during times of upheaval, and we're amid almost every kind: political, economic, social, health. Old tropes evolve into new conspiracy theories. In the 14th century, people blamed Jews for creating the Black Death plague to kill Christians, a lie that led to a massacre of Jews in Europe. Today, baseless conspiracy theories blame Jews for inventing COVID-19 to control the world and kill gentiles.
At the turn of the 20th century, people blamed Jews for the threat of "white extinction" that later fueled the Nazi regime. Today's "great replacement" conspiracy theory pushes the myth that Jews import immigrants to outnumber and repress whites. People say history doesn't repeat, but it often rhymes. Here, it loops.
"You keep wondering, this is the year 2022? Are we really dealing with these issues in the year 2022? And in America?" says Tair Giudice, the Jewish Federation of Greater Charlotte's chief impact officer. "These types of allegations and conspiracy theories we know from the Middle Ages, but they are somehow making a reappearance."
Rabbi Judith Schindler believes that asking "Why?" is a hard place to start. She leads the Stan Greenspon Holocaust and Social Education Center at Queens. "Why?" is the subject of a dissertation, she says. She believes the better question is: What can we do to make antisemitism stop?
"Let hate not be the last word," Schindler says.
***
When people call the Jewish Federation to report antisemitism, Giudice answers the calls. These incidents have changed over the past two years. First, they're more frequent. In 2021, reports to the Federation more than tripled. Second, they're escalating. Previously, Giudice would hear reports of swastikas drawn in bathrooms or someone saying that they want "to finish what Hitler started."
"Now it's also, 'I want to go get a gun, I want to go get a weapon, I want to go kill a Jew,'" she says. Third, they're happening to younger and younger people. "We're seeing these types of direct threats to members of the Jewish community to people as young as elementary school," she says. "2021 was a really awful year."
Giudice encourages callers to report these incidents to the Anti-Defamation League, too, an organization that investigates and tracks antisemitic acts. In 2021, reports to the ADL hit a 42-year high. They included the following in Charlotte: a swastika spray-painted on the wall of a high school; Instagram comments in response to a post about Israel that included death threats, slurs, and "Six million weren't enough"; propaganda distributed by a neo-Nazi group with a swastika and: "Secure your future—Destroy nonwhites and other parasites."
All in Charlotte. All in 2021. A really awful year. Giudice is getting even more reports this year, and they're becoming "a little more brazen." Another really awful year.
This isn't just Charlotte. Antisemitic incidents doubled in the United States between 2015 and 2018, a growing percentage associated with extremist groups. Many incidents would've seemed unthinkable a decade before. In 2017, hundreds of white nationalists and neo-Nazis chanted "Jews will not replace us" during a right-wing rally in Charlottesville, Virginia, where a neo-Nazi drove into a crowd of counter-protesters, murdering one.
In 2018, a neo-Nazi and white supremacist murdered 11 worshippers at Tree of Life synagogue in Pittsburgh in the deadliest antisemitic attack ever on U.S. soil. In 2019, two attackers fueled by antisemitism shot into a kosher deli in Jersey City, New Jersey, murdering three. This year, an armed man with a history of antisemitic rants took a rabbi and three worshippers hostage at a synagogue in Colleyville, Texas.
ADL explains this escalation with the Pyramid of Hate, a model that illustrates how seemingly minor acts of hate can evolve into mass violence. At the base of the pyramid are biased attitudes (stereotypes, fear of differences). The next level includes acts of bias (belittling jokes, bullying); then systemic discrimination (criminal justice disparities, inequitable job opportunities); then bias-motivated violence (vandalism, assault); then, up top, genocide (systematically killing a group of people). Hate builds. When one level becomes normalized, hate creeps into the next. We don't need to look back far to remember that hate escalates to the top.
"It starts with a symbol, and it starts with a word," Schindler says. "And it advances with actions and vandalism and violence and policies that exclude and, sadly, can progress to genocide."
Such escalation is why synagogues take security seriously. Giudice, understandably, doesn't share details about security measures. But after the Tree of Life massacre, security personnel and training have become standard features in local synagogues and Jewish community centers.
At just 15, Asher Yesowitch of Charlotte reflects on how much has changed during his lifetime. As a little kid, he didn't see security at his synagogue. "Everyone has their guard up more. When I was younger, I didn't have to worry. We weren't in as much fear as we are now," Yesowitch says. "It reminds us of what's going on."
His 13-year-old sister, Nora Yesowitch, worries, too. She recalls a day when a classmate came to school wearing a swastika on his arm. When students asked him to take it off, he kept it on, saying he was just being funny, it was no big deal.
"I got a little scared," she says.
***
A swastika scrawled on a dorm room door. Someone who thought wearing a swastika was funny.
A hate crime excused as vandalism. Antisemitism disguised as a joke.
For many, it's easier to blame victims of antisemitism for taking attacks too seriously—or, worse, for their failure to laugh—than acknowledge their malice. A classmate advised Strickland to be careful with their assumptions, that perhaps the symbol on their door was the Hindu symbol for prosperity and peace, a use of the swastika that predates the Nazis by centuries. Symbols of prosperity and peace don't get scrawled onto doors of Jewish students next to threats, Strickland responded, "in the calmest way I possibly could." Still, some saw it as no big deal.
It is a big deal. To understand why, consider Schindler and her great aunt Judith Schindler Steinberg. She never got to meet her namesake, but she has a picture of a brass plaque with her name on it in Berlin. It's a Stolpersteine, a stumbling stone. It's one of tens of thousands of such plaques, each of which marks the last known address of a person murdered by the Nazi regime. The marker keeps heartbreaking company: Plaques for her husband and five children join hers on the sidewalk by their family home. Stumbling stones—each just four inches square—collectively represent the largest decentralized Holocaust memorial in the world.
A swastika scrawled on a dorm room door. Someone who thought wearing a swastika was funny. A young family, among roughly 6 million Jews murdered by the Nazis, who returned home as seven brass plaques. To understand why the first two induce pain and trauma, know that the third happened.
"So many of our Jewish students and staff have relatives who were murdered in the Holocaust, so this triggers that generational trauma for us," Schindler says. "Some of us literally carry the names of those murdered by the Nazis."
That's why organizations across Charlotte have come together for a coordinated response to antisemitism. Outshine Hate, launched in April and led by the Jewish Federation of Greater Charlotte, combines the efforts of Jewish organizations, including the Butterfly Project of the Levine Jewish Community Center, the Stan Greenspon Center, and the North Carolina Council on the Holocaust. The initiative hopes to partner with non-Jewish organizations, too, including civic, religious, and corporate groups. Outshine Hate offers resources and workshops to teach how to recognize and fight antisemitism, to empower people to report antisemitic acts, and to promote Jewish pride.
"We want to address all types of hate directed to any type of group, whether it's based on religion, race, color, skin, gender, sexuality," Giudice says. "But we understand that there's a particularity to antisemitism that needs to be understood to be addressed effectively."
A Greenspon Center program, Becoming One Human Family, aims to help schools respond to antisemitism and educate against it. It teaches about language—the context and power of the words we use—and the stereotypes that lurk in our own blind spots. It teaches students how to confront injustice when they see it. The leaders design the program to be positive, not punitive.
"There's a stigma that if (a school) reports an act of antisemitism, that it's somehow a hotbed of hate. And I don't think that's necessarily true," says Talli Dippold, Greenspon Center's former associate director, who now leads the Holocaust Memorial Resource & Education Center of Florida. "How the incidents are handled is what makes a really big difference in what happens in the future of that school—if there's a permissive attitude versus, 'We are a school where there's no place for hate.'"
***
As of this writing, Queens campus police hadn't charged anyone for etching the swastikas onto the dorm room doors in April. Schindler hopes their punishment, if it comes, includes education.
"I would hope to be able to communicate (to the person) the extent of harm and pain that was caused by that action to so many, the profound and painful implications that the scrawling on a door has for our community and beyond," Schindler says. "And I would want the consequence to communicate clearly to everybody who has contact with Queens and beyond that this is unacceptable."
About 15% of Jewish college students in the United States have hidden their Jewish identities on campus amid the increase in antisemitism, a 2021 ADL survey found. Strickland, however, refuses. Joining Hillel, the campus Jewish organization, encouraged Strickland to take pride in being Jewish. When they return to campus as a sophomore, Strickland will be more than a member: They'll be on Hillel's board.
"Having that steady, stable community has really helped boost my confidence not only in my Jewish identity," Strickland says, "but in my identity as a queer person being out and proud and showing off my Jewishness and my queerness around campus."
To Giudice, this is the point. She hopes these programs empower everyone to be their full selves, to feel safe and supported by their communities, and to denounce acts of hate. While Giudice hopes that Outshine Hate's success will eventually stop her phone from ringing with reports of antisemitism, she's heartened by what she's seen already. Hate will not be the last word, and Giudice offers a much better one.
"There is a spark in many of our community. It's not diminished. It's not going away. Many are feeling proud of being Jewish; they love being Jewish. When we reach out to the greater community, there seems to be a willingness to partner with us in this work," Giudice says. "The good really does outweigh the evil, and if we can all work together in addressing this effectively, we will come out of this stronger and more united. And that gives me hope."
Jen Tota McGivney is a writer in Charlotte.
---
The Anti-Defamation League uses the Pyramid of Hate (above) to illustrate how prejudice can escalate to mass violence against a perceived "other."
Rabbi Judith Schindler of Charlotte never had a chance to meet her great aunt and namesake, Judith Steinberg, née Schindler. In September 1942, the Nazis took Steinberg, her husband, and their five children from their home in Berlin and loaded them onto a train to occupied Latvia, where they were marched into a forest and shot to death. The family's stolpersteine, or memorial stumbling stones (above), are embedded into a sidewalk in Berlin. Judith Schindler Steinberg was 32; her husband, Eli, was 34, and their children ranged in age from 2 to 10.