The Rise of the RETROsexual
'Styled in America' Event at Taylor Richards & Conger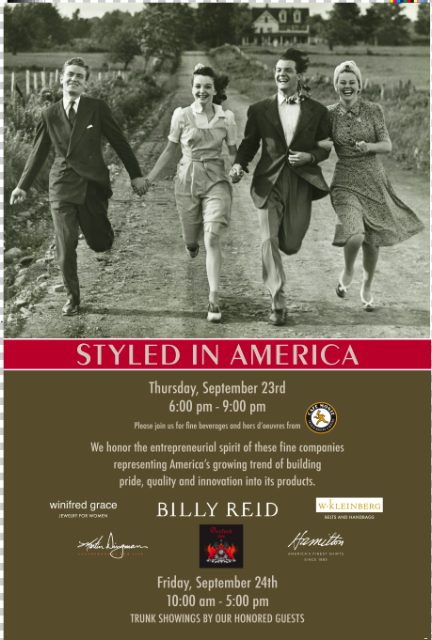 Euro-slick, manscaped metrosexuals have had a good, long run. Now it's time for some thing new… and elite men's clothing store Taylor Richards & Conger has it.
This fall, they're setting aside the trends that have dominated menswear for the last few seasons and bringing back looks that are refreshingly all-American. Simplicity, practicality, comfort, and character are words you might hear to describe the designs that will dominate TRC's racks this season, and I am personally loving every last stitch of it.
To celebrate this new aesthetic, TRC is hosting Styled In America, this Thursday, September 24 from 6 p.m. to 9 p.m. This one-of-a-kind event features trunk shows and meet-and-greets with some of the very designers who have inspired this new, American-made, collective style direction, including Billy Reid, who recently opened up a store-within-a-store at TRC's Phillips Place location. Other distinguished design guests include Martin Dingman, Winifred Grace Gundeck, Kelly Hamilton, Lauren Sheats, and Chris Brueckner.
If you ask me, it's no surprise that there are a few female names on that list. After all, we women know what we like in a man. We like him to be distinguished and well dressed without taking more time in the bathroom than we do. We like a guy who isn't afraid to play with pattern and who doesn't take him self too seriously when it comes to clothes, but one who, at the same time, can put on a blazer, cardigan and a button up and look like a million bucks when he's on our arm. We like a man with a good, decent hair cut that didn't cost him $200 and isn't full of product, and we love a man who values a quality, long-lasting, relationship… whether it be with us or with a well-made pair of Hush Puppies that will stay in his wardrobe for years and never go out of style.
Let me put it to you this way, ladies. If he's at this event and dressing the part of the Retrosexual, there's a good chance he's a catch worth reeling in and holding on to!
Long live the revolution of the retrosexual!