The Roasting Company Adds Full Bar
Nightlife now on the menu at popular Montford Drive food spot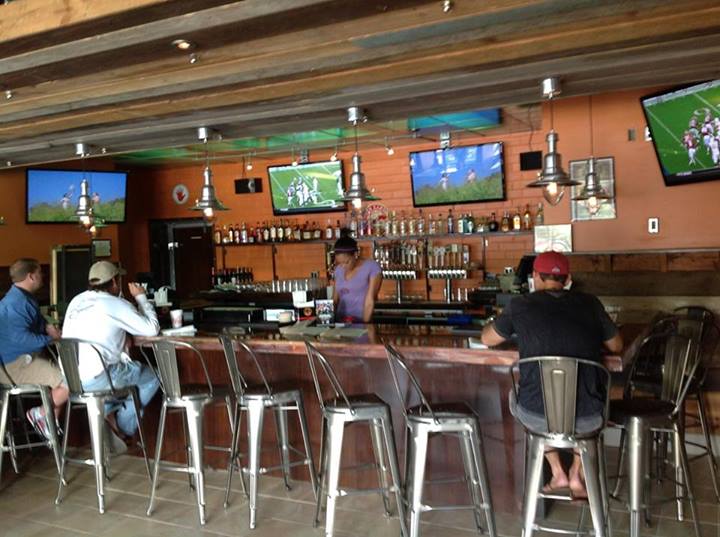 Among the several great dining and nightlife options along Montford Drive,
The Roasting Company
has been a longtime favorite of many looking for savory lunch and dinner meals. It serves up some of the best chicken and veggies dishes around, and customers know they can usually get there food fresh, fast, and hot. But if you dined in, there wasn't much of a reason for you to hang around once your belly was full. Until now, with the opening of a new bar.
After about a month and a half of renovation, last week The Roasting Company opened a full bar, adjoined to its dining room. It fits into the no-frills, sort of industrial look of the restaurant, but does add a little frill. The bar counter is fronted by about a dozen high-back stools, while four 50-inch flatscreen TVs hang above (there are six 50-inch screens in all). The addition of the televisions have come right on time for the start of the NFL and college football seasons, and games, including the Carolina Panthers, will be shown here regularly.
The restaurant had already offered a respectable selection of local craft beers by the bottle. Now with the new bar, they're serving 22 beers on tap, along with a standard variety of cocktails (there are daily drink specials). The bar is open nightly until 2 a.m., and most of the food items are available until then as well.
The Roasting Company is clearly meeting the demand of the growing appeal of Montford Drive, which in my opinion is one of the top-five neighborhood destinations for dining and nightlife in Charlotte (the others being Uptown, Plaza Midwood, South End, and NoDa). You'll find Montford Drive—and its more than one dozen restaurants and bars—packed with people and cars at least five nights a week (making it harder and harder to find parking). It's long overdue for someone to put together a Montford Drive website highlighting these hotspots. And it's time for The Roasting Company to expand its website to more than just its food menu. But hey, they've gotten this far primarily from word-of-mouth.
Be sure to bookmark www.charlottemagazine.com/Blogs/Dusk-Till-Dawn to stay plugged into Charlotte nightlife. Follow me on Twitter @HollidayInk; email me at jarvish@grownpeopletalking.com.