The Saloon Has a New Patio on Deck
Elaborate patios seem to be all the rage at Charlotte bars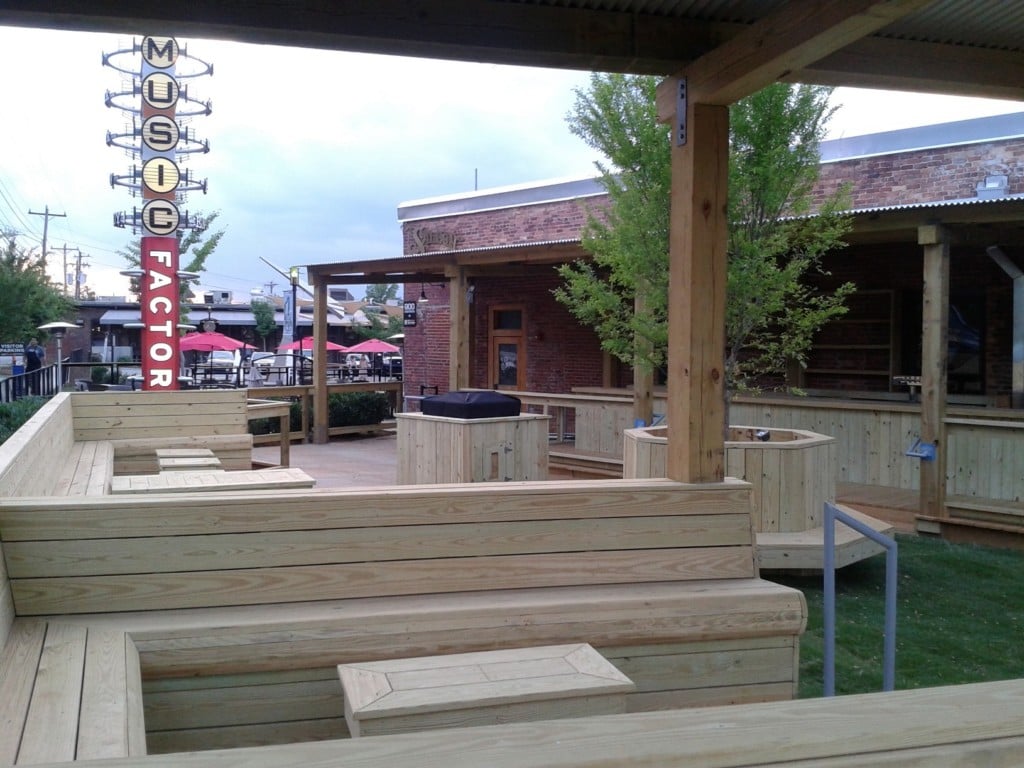 If you've visited NC Music Factory within the past month or so then you've likely noticed that The Saloon is building a new patio. I've gone over to the Music Factory several times in the last few weeks and have seen the progression with the construction, and while heading to an event last evening at Osso, it appeared to me that the new patio is nearly complete.
The Saloon already has a patio, you might say, located on the front side next to Wet Willie's and facing the Fountain Plaza. That patio, with several tables and chairs, is similar to what you'd find outside of a typical restaurant or bar in Charlotte. The new patio, however, will undoubtedly take on a (night)life of its own.
It looks like a patio you'd find at a bar on the beach, instead it faces the main street leading to the Music Factory. Nearly everything is made of wood, from the built-in benches, tables, and support beams holding the roofs that cover many of the seats to the floors with even a splash of grass. There's an outdoor bar, so patrons won't have to go inside for drinks.
All of that is what I gleaned from the naked eye. Then I talked to assistant general manager Matthew Marshall this afternoon and he provided further details. He said there's a DJ booth where a DJ will play, likely on Friday and Saturday nights. And that you can expect to enjoy live acoustic sets from bands on select nights as well.
Marshall says The Saloon is planning to hold a grand opening for the new patio next Friday, June 15. That would coincide with the weekly Friday Live at the Factory party and concert series, which continues at the Music Factory through the end of this month.
Elaborate patios seem to be all the rage in Charlotte: when VBGB Beer Hall & Garden opened at NC Music Factory last year it brought with it what I believe is the largest patio in the city, at 6,500 square feet; last summer, Whiskey Warehouse, in Plaza Midwood, opened its impressive Top Shelf rooftop bar and patio; and Kennedy's Premium Bar & Grill, in Elizabeth, renovated and expanded its patio, resulting in a win for Best Patio in Charlotte magazine's 2012 Best of the Best (BOB) Awards; just to name a few.
The Saloon at the NC Music Factory, 900 NC Music Factory Blvd., 704-716-2327, thesalooncharlotte.com.
Be sure to bookmark www.charlottemagazine.com/Blogs/Dusk-Till-Dawn to stay plugged into Charlotte nightlife.