The Sanford Conundrum
Philanderer. Disgrace. Weirdo. Front-runner. Human being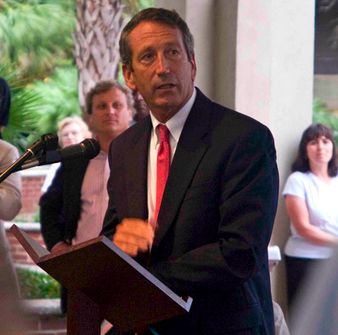 OK, it's weird — Mark Sanford asked his ex-wife, Jenny, the woman he cheated on with the Argentinian lady in the Appalachian Trail incident of 2009, to manage his campaign for the now-open First Congressional District seat. He also — even weirder — asked Jenny for advice on how to handle the now-infamous post-"hike" press conference, in which he came sort of clean about what he'd been doing, and with whom.
They're the most click-inducing nuggets of information from Jason Zengerle's New York Magazine profile of the man now most commonly referred to as "the disgraced former South Carolina governor." Later this year, you'll probably be referring to him as "Congressman." Sanford has 15 opponents in the GOP primary, all nobodies; he's almost certain, in the general in May, to face Elizabeth Colbert Busch, "whose main selling point is that she's Stephen Colbert's sister," Zengerle writes. That's a bit harsh, but it's certainly true that the good people of South Carolina would sooner elect to Congress an iguana that opposes tax increases than a Democrat.
So it's all a big Palmetto State farce, isn't it, another guy-screws-a-horse yuk from this most laughably regressive of states, an Edwin Edwards-caliber greaseball rolling back into the trough with a smile on his face and all the shame of a pickpocket?
Or is it?
But once his term ended, Sanford went into a deep funk. He found it painful to go out to restaurants in Charleston: Diners who once approached him to shake his hand now just gawked. And his phone stopped ringing, as the aides and donors who'd flocked to him before the scandal were now focused on the Republicans who were actually running for president. Jon Lerner, Sanford's former pollster, and Nick Ayers, the young strategist Sanford had been wooing to be his campaign manager, both wound up working for Tim Pawlenty.
Sanford retreated to Coosaw. "You're wounded and you step away from life and you want that time alone. It becomes a very spiritual time, a very quiet time. A lot of introspection," he says. "It's not very productive in terms of the outer journey but incredibly productive on the inner journey." Most mornings, he'd wake before sunrise and, at first light, swim in the river that runs beside the plantation. To fill his days, he undertook a host of construction projects on the property, including a bridge and a barn. "After so much destruction, it was really, in psychological terms, emotional terms—I don't know what you want to call it, but it was really helpful to be building something," he explains. His most significant construction project was a cottage. When Sanford was in college, his father died of Lou Gehrig's disease and Sanford hand-built a pine coffin that is buried under an oak tree at Coosaw. Now, not far from the spot where he told his own sons he wanted to be buried one day, he built a pine cottage to house twenty years' worth of accumulated political mementos and memorabilia—a mausoleum for his political career. His friends feared for his well-being and maybe his sanity. "He was just sort of out there by himself," says Tom Davis, a state senator and Sanford's former chief of staff, "almost Thoreau-ing."
But, Sanford says, "life starts coming back at you." After a year and a half, he left Coosaw and moved to an apartment in Charleston. He did some commercial-real-estate deals and joined a couple of corporate boards. He popped up on Fox News to offer some political analysis. Then last summer, he took the plunge and traveled to Tampa for the Republican National Convention. He was nervous, even frightened, about how he might be received. On the first day of the convention, he was walking into the main hall when a reporter spotted him. "I'm scared to death, some press guy grabbing me," Sanford recalls. "And this guy goes, 'I just want you to know that was the most honest press conference I've ever seen in my life.'"
I'm not saying Sanford's comeback is a good or noble thing, necessarily, or that asking the ex-wife you cheated on to manage your Congressional campaign isn't just loopy as all hell. But this is politics, and specifically South Carolina politics, and even more specifically South Carolina Republican politics, and one must grade these matters on a very sharp curve. We're not talking about normal people doing normal-type things; this is a state that has gifted us with Jim DeMint, Lindsey Graham and Alvin Greene, not to mention Strom Thurmond and John C. Calhoun, so maybe it's worth re-examining whatever contempt we might have for poor Mark Sanford.
As the article notes, Sanford and Maria Belén Chapur appear to be genuinely in love, and Jenny had (d)evolved into the kind of business-strategic-partner wife common in medieval Europe. Meanwhile, since 2009, Sanford himself seems to have done some growing, some genuine evolving, maybe even finding a measure of something approaching grace. In any event, it's an indication of how warped a state South Carolina is that the man formally censured as having brought "ridicule, dishonor, shame, and disgrace" to the commonwealth might turn out to be the most genuine and even decent political figure we've seen in the Palmetto State in a long time.