The Secret Charities
As most of the city focuses on the big-name nonprofits, dozens of largely unknown charities provide critical services while fighting for their own survival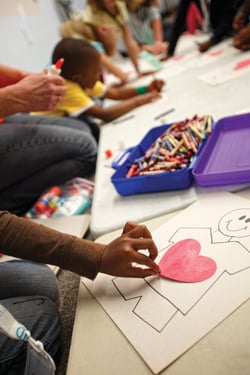 Marjetter Crooms spends her days in a small house on Kenhill Drive in west Charlotte. It's not her home, but it might as well be. It's where she has her first cup of coffee each morning, catches up on e-mails, eats meals, pays bills, and spends time with the people she cares about most.
The house is home to the nonprofit Neighborhood Family Resource Center, which Crooms has run single-handedly since 1996. The center offers two shifts of an educational after-school program. The first begins at 2 p.m. and the second doesn't end until 11 p.m., providing parents who work evenings with a safe, reliable place to leave their children. "I'm here, always," says Crooms. "I don't leave. I take care of anything that needs done in the morning, before the kids are out of school."
The center primarily serves the Wingate, Ponderosa, Pinecrest, and Plato communities. Between twenty-five and thirty kids usually participate in the after-school program, with similar numbers in the eight-week summer camp. That number may seem small, but the difference the program makes is not.
"There are so many children who come in here and aren't on the right reading level," says Crooms. "My grandmother used to say, 'If you can read, you can go around the world.' And that was right. If they can't read, they can't do their science project. They can't do those math problems."
She does whatever is needed to keep it going. The way Crooms looks at it, long hours are just part of the package.
Long hours, little pay, and unending work are the realities of any nonprofit organization. Throw in a lack of recognition, however, and one finds the realities of organizations like the Neighborhood Family Resource Center.
Small nonprofits, often unnoticed by the larger community, serve as the lifeblood of many of Charlotte's poorer neighborhoods. As the recession drags on, these small organizations are struggling to find funding. In many cases, they are competing with much larger charities for grants and donations. The heads of small nonprofits worry they will be squeezed out, leaving people in the vulnerable communities they serve to fend for themselves.
"There are a number of nonprofits that are not on the radar of most of Charlotte, but people in the community [they serve] know them well," says Patsy Burkins, executive director of First Baptist Church–West Community Services Association.
For years, that was fine by the people running those organizations. They knew the community and the community knew them, and that was all that mattered. But now, being noticed matters. It is a matter of survival because, when it comes to Charlotte's nonprofit sector, it's not just what you're doing that matters—it's who knows that you're doing it.
"We're worried about the big getting bigger and the small disappearing altogether," says Burkins. Through her work heading the Community Services Association's after-school and summer programs at First Baptist Church–West, Burkins has become acquainted with many of the city's essential yet largely unknown nonprofits, and the struggles they face.
At the Neighborhood Family Resource Center, a stack of unpaid utility bills sits on Crooms's desk. Crooms is no stranger to working with what she's got (since she started the center in 1996, it has subsisted almost entirely on donations), but even the most dependable funding sources are drying up.
Crooms has become quite skilled at cutting costs. Out of necessity, most people running small profits are. Although the flow of money has slowed, the need for their organizations hasn't.
Nine years ago Elijah Watson founded S.T.A.R.S. Academy (Striving Together Achieving Real Solutions), a weekly tutoring and mentoring program for kids ages six to fourteen. The academy meets every Saturday morning, where paid teachers spend two hours primarily on math and English, but also exploring topics like poetry and finance.
Ten years ago, Watson volunteered to be a Big Brother. He loved the program, but was disheartened by the long list of kids waiting to be a part of it. He started the academy to serve the kids in the program and on its waiting list. S.T.A.R.S. now tutors 120 kids each Saturday at two sites: the Greenville Recreation Center and the McCrorey YMCA.
This year, Watson received grant money, but before that, it was run entirely on donations. "There's no splurging," says Watson, who works full time at Wachovia/Wells Fargo in addition to running the academy. "If we don't need it, we don't get it."
He's managed to keep costs low by renting space, recruiting fellow Morehouse College alumni as volunteers, finding friends to write grant proposals for little or no fee, and purchasing snacks from Second Harvest Food Bank at a heavily discounted price.
"I can tell you where every penny went this year, and where every penny went for the last nine years," says Watson. "I can't just depend on grant money, so I use every resource I have to pull it all together."
The economic downturn has created a lose-lose situation for small nonprofits. There is less money to fund services, yet a greater need for them. The combination of those factors produces fierce competition for funding, and the small organizations fear being left behind. Add to that the hot topic of the day: the merging of services—whenever there is a merger, the larger organization usually ends up the winner.
"What happens is everybody ends up being almost like crabs in a barrel, trying to rise to the top," says Burkins. "You need to know how to lobby, and that's not something most small nonprofits know how to do."
Colin Pinkney, executive director of faith-based outreach program The Urban Restoration, echoes that sentiment. "The challenge of being a smaller nonprofit is that we don't have the big resources of well-known board members and all that," says Pinkney. "It's just me and my staff, trying to survive."
For more than fifteen years, The Urban Restoration has provided a community center for kids and a support structure for more than 150 families. It offers myriad programs and services to the community. There are the after-school and summer programs, the athletic camps and the youth group, as well as the emergency food pantry, the job-training classes, and the family counseling services.
Funding for The Urban Restoration comes primarily from private donations and church donations, along with some government grant money. This year, Pinkney says, donations have dropped drastically. "People who have supported us for years just can't spare that money right now," says Pinkney.
"This is a critical time for kids," says Pinkney. "When times are tough, kids hurt the most — especially poor kids. Their parents are working the jobs that are most likely to get cut or reduced. Now more than ever, they need these safe places that provide academic enrichment and tutoring."
Pinkney and his staff recently decided to sell the Remount Road building in which The Urban Restoration has resided since 1993. They hope the ensuing money will allow the organization to continue. "We do critical work," says Pinkney. "We're reaching the hardest-to-reach part of our community and helping them with the most essential basics."
Another nonprofit, located on Beatties Ford Road, focuses on providing the most basic of needs: medical care. Charlotte Volunteers in Medicine Clinic opened in 2005, after Donna Murray Lacey became frustrated by the lack of access uninsured people have to medical care.
Before opening the clinic, Lacey was an ER doctor. She saw patients visit the emergency room for primary care issues, like having a blood pressure prescription refilled, because they didn't have access to a doctor's office. "There was a need for a community health center where transportation wasn't going to be an issue, where money wasn't going to be an issue and where community members could have medical needs met both for themselves and their families," says Lacey.
The clinic meets those needs, providing free services to eligible patients (to be eligible, patients must live within specified ZIP codes and have no valid medical insurance) from an easily accessible location. The community has responded: in September alone, there were 165 patient visits. "When our patients come in, the issue is usually neglect," says Lacey. "It's not neglect because they make the choice to neglect themselves. It's neglect because they may have lost a job, lost insurance and not known where to turn."
Lacey has worked in the health care field for twenty-eight years, and she calls this the best job she's had. What makes it difficult, though, is the constant search for money. At the moment, she's struggling to find funding to support a salary for a volunteer who has been at the clinic since May 2008. Most staff members, including a family practice physician and a medical director, volunteer their time and services.
"It's literally a day-to-day task, chasing the money to make sure our patients get what they need," says Lacey.
The services these small organizations provide aren't necessarily unique. After all, there are other after-school programs, food pantries, community centers, and free health clinics in Charlotte.
What sets these organizations apart is their accessibility. They are located in the communities they serve, which is important in neighborhoods where many people don't own cars. The organizations are better able to assess the needs of the communities, because they are parts of them.
"Larger organizations don't necessarily have a presence on the west side or the east side, where you have large pockets of poverty," says Burkins. "They do an excellent job, but they still only serve a small portion of this community."
Raquel Lynch, director of information technology, project management, and advocacy for Crisis Assistance Ministry, notes that small grass-roots organizations are often best able to address new needs as they arise. "In some neighborhoods, small organizations are the ones—at times the only ones—actually addressing brand-new needs as they develop," says Lynch. "There may be larger organizations working to address those needs as well, but there's certainly a role for meeting the needs of specific communities."
At the moment, many large and small nonprofits face uncertain futures. Lynch adds that quality services and innovative survival strategies are necessities for all organizations, regardless of size.
But, Pinkney says, quality service isn't always enough. He thinks small organizations are at a disadvantage because they lack the time and resources to market their organizations outside of the immediate community.
"We provide the exact same service to the same number of people as a lot of larger nonprofits," says Pinkney. "But we have nowhere near the same resources and, by and large, people outside of the community have never heard of us."
Burkins thinks there needs to be an overhaul of how charities are funded at a local level, so that the focus is centered solely on the service provided, not on public relations or schmoozing. She calls for simplified grant proposals and more publicity for available funds.
"Very few small organizations have grant writers or PR people," says Burkins. "Every day, they have to decide where to devote their time, and there isn't always time for lobbying. We don't do PR. We just do what we do."
Whitney Bossie is a Charlotte freelance writer. In the November issue, she wrote about the city's top dentists. E-mail: editor@charlottemagazine.com