The Secret Gardens
A maze of gardens at a Plaza Midwood home reveals new surprises around every corner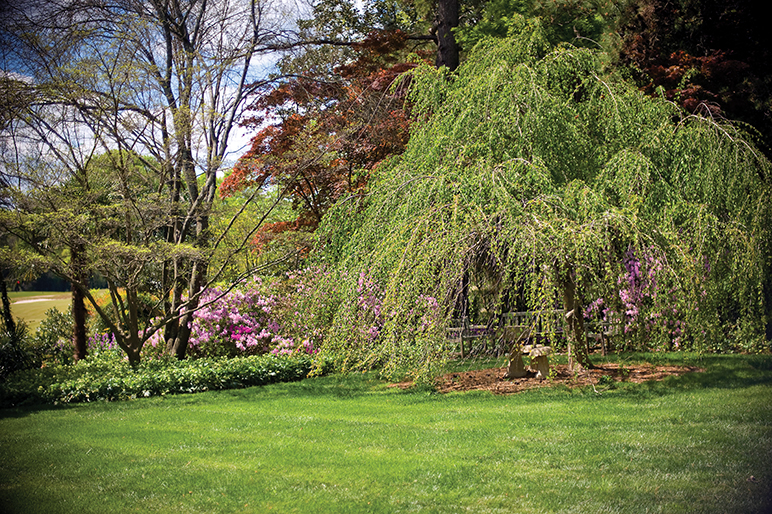 IT LOOKS as though Genie White is expecting a landscaping crew to arrive.
The driveway of her Plaza Midwood home is filled with gardening supplies. An overturned wheelbarrow sits atop a pile of mulch; several one-gallon containers of perennials wait to be planted, and a just-delivered bag of rich, black compost will soon top the garden beds.
But there is no crew. Instead, White handles most of the gardening herself—no small task, given that she is in her 80s and her "garden" is a one-acre lot filled with thousands of herbs, vegetables, perennials, shrubs, and trees.
And, if the piles in the driveway weren't enough of a reminder of her landscaping to-do list, White makes a mental to-do list as she walks through the gardens: Trim trees, repair trellises, pull weeds, water the lettuce.
Although White spends most of her time outside, working in the garden or transplanting in a small greenhouse behind her garage, she thinks of herself as a lazy gardener.
"I like to let nature dictate what happens in the garden," she says. "Sometimes, plants take over and get into places they're not supposed to, but I never have the heart to pull them out."
Japanese Solomon's seal popped up among the columbine, wild geraniums, Virginia bluebells, Jacob's ladder, and bleeding hearts in her native wildflower garden. Instead of lamenting the intrusion and removing it, White admires the plant's variegated leaves and delicate white flowers.
"It's too pretty to pull out," she says.
It's her appreciation for beauty and a willingness to let nature take its course that has allowed White to cultivate a spectacular garden. And 50 years of puttering in the garden didn't hurt.
Her whitewashed brick home was built in 1937. When White and her late husband, Jim, purchased the house in the '60s, the gardens were uninspiring (the previous owners hired a landscape architect from Atlanta to install clipped hedges and formal plantings). It didn't take long for White to put her stamp on the landscape.
Taking advantage of some of the original greenery in a garden that separated the house from the street, White created a "Winter Walk," with a brick path winding between garden beds overflowing with plants that peak during the gloomiest season.
"Everything in the garden has winter interest," White explains.
Plantings such as January jasmine, mahonia, Lenten roses, walking stick tree, conifers, quince, winter sweet, viburnum, cryptomeria, and oak leaf hydrangeas burst with a mix of winter blooms, berries, colorful foliage, or interesting bark that come to life when the rest of the garden is dormant during colder months.
Starting at the side of the house, a series of paths winds between multiple gardens, each one so distinct from the others that White has named them.
In the center of the "Circle Garden," a birdbath sits amid a patch of lush green grass, a brick border arranged around its perimeter and azaleas bursting with colorful blooms. The "Moss Garden" is arranged in an exaggerated oval, iron gates at either end separating it from its neighbors. A metal and river rock sculpture of two herons in the center of the moss gives the garden the appearance of a verdant pond.
"I had a lot of trouble growing grass in this area," White explains. "The moss started coming in and I let it; it made a nice little garden."
A seating area beneath towering trees has peek-a-boo views of the back of the house. To maintain the natural look, White purchased benches and chairs made from Texas white cedar and arranged them on top of a patio fashioned from stones transported from her family's farm in South Carolina.
Sculptures or statues adorn each garden. Some are prominent—such as a mushroom-like stone sculpture surrounded by hedges at the entrance to the vegetable garden, and an iron chandelier hanging from a tree over the patio table. Others—a frog playing a banjo and miniatures of children dancing—are secret surprises hidden among the foliage.
The back of the property borders Charlotte Country Club. A hedge once obscured the view of the golf course. White wanted it removed to open up the view, but her husband was opposed to cutting it down.
"I lined up a crew to take out the hedge while he was at work," she recalls. "He didn't notice for three days!"
Beside the house, a tall, wooden fence surrounds a vegetable garden; adjacent to the vegetable garden is a small herb garden. White admits that growing several different varieties of vegetables and herbs in three raised beds yields a lot more fresh food than she needs for her supper table—but she loves shepherding new plants to life so much she refuses to let it go dormant.
"I might not cook much anymore, but I'm partial to these gardens," she says. "I quite enjoy working out here."