The Secret to Gay Marriage
It's still love, not the law, even in North Carolina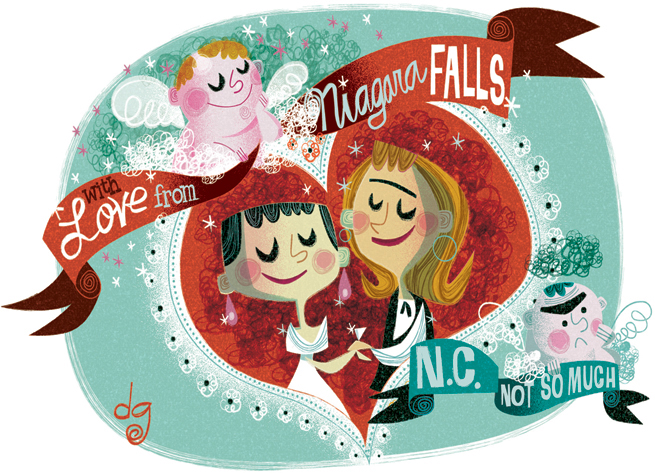 RAIN WAS POURING. I was at a get-together at my in-laws' house in Greensboro, and the house was too crowded, so I'd gone out on the porch. I was talking with two women. About weddings. Usually, that's a sign that something has gone terribly wrong.
"I don't like going to weddings and sitting through a ceremony," Caryn said. "I don't enjoy it."
"Ah, see, I like weddings," Chelsea said. She's been dreaming about hers since she was a little girl.
"See, I get bored," Caryn said. "I'm like the kid playing video games. It's ADD."
Still, Caryn liked her wedding. So did Chelsea. They're talking about the same wedding, a wedding that occurred a few weeks before this conversation. Their wedding.
But wait. Marriage in North Carolina is defined as between one man and one woman. Chelsea is a woman. So is Caryn. How could this have possibly happened?
They went to Niagara Falls.
My wife has known Chelsea for a decade. We met Caryn over Easter weekend in 2012, when Chelsea brought her to the beach. A few months ago, an invitation showed up in the mail. In May, we drove to the River Room in Wilmington for the reception. The decorations were classy. Caryn and Chelsea won them from a contest on local radio. Station managers knew they were helping set up a wedding reception for two women. They couldn't have cared less.
Chelsea wore her gown, and Caryn wore a vest and tie. There were bridesmaids on one side, groomsmen on the other. Speeches from family and friends. They danced. We danced. They cut the cake. We lit paper lanterns and watched them float off over the Cape Fear River. The bar closed way too soon.
"Whether I was with a girl or a guy," Caryn said, "this is how I would have done my wedding."
I'm married. And because I'm a man who's married to a woman, I'm married wherever I go. On road trips, we never have to worry about officially redefining the nature of our relationship depending on what state we're crossing. Think about how odd it would be if, say, North Carolina didn't recognize opposite-sex marriage and I had to check a "roommates, filing jointly" box on my tax return.
That's how it is for Caryn and Chelsea—although they consider themselves married everywhere, not just where it's recognized by law. In North Carolina, gay marriage is not just illegal; it's double-illegal, since voters approved a constitutional amendment last year banning it, even though a law was already in place. This was necessary, supporters said, to keep judges from overturning the law. Now thanks to the amendment, to quote Dumb & Dumber, you can't triple-stamp a double-stamp.
(This is the same constitution that says you're required to believe in Almighty God if you want to run for political office, a provision that did not hold up in court. Just in case you were wondering where the line between church and state was, it was over there a second ago. I swear I just saw it.)
It's funny how laws work. People smoke pot. They break the speed limit. They jaywalk. They embezzle. People do it because they think they won't get caught. Caryn and Chelsea want to get caught. They know the law. Laws have the potential to stop a lot of things. But they can't stop love.
Back to the porch. We'd been talking for about 10 minutes when I brought up the only major problem I had with Caryn and Chelsea's reception: I had a hard time finding a seat. The River Room seated 120. More than 160 people showed up. Caryn wanted a small wedding. She didn't get it. "We had a talk before the wedding, before I proposed, about what we would do," Caryn said, with Chelsea by her side.
"And it turned into nothing like we talked about."
It stopped raining. Caryn and Chelsea smiled, told me good-bye, and walked out hand in hand. The party had died down a bit, so I went inside to find my wife. What did you guys talk about, she asked?
Oh, just marriage stuff.