The Shooting Next Door
How a stay-at-home mom's life changed when an eight-year-old found a gun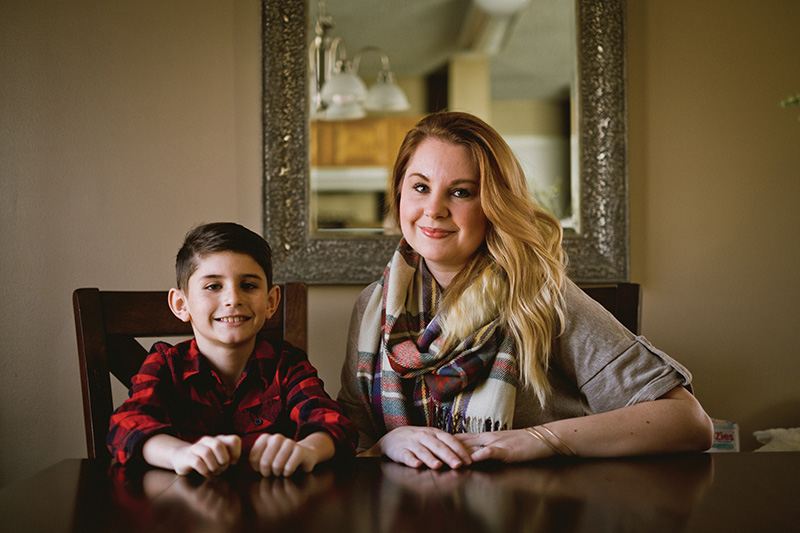 LOUD NOISES still bother her. The week before Christmas, Misty Uribe was shopping at Best Buy when she stopped to use the restroom. While there, she heard three loud bangs outside—probably just boxes falling off a shelf. But she emerged from the restroom with her heart pounding.
It's been a year since Sunday, March 29, 2015, and the shooting next door. Her son, Vince, then eight, was one of four young boys playing cops and robbers in the neighbor's backyard in Mooresville. One of the "robbers," an eight-year-old boy who lived there, discovered a rifle in a shed the boys were using as a jail.
He decided to use it to break out. When the "cops" arrived, he came out shooting, or pretending to. He didn't realize the rifle was loaded. A bullet sliced through an 11-year-old's right cheek and came out under his right ear.
Misty was inside watching television with her parents and didn't hear the shot. Her husband, Howard, was in their garage with the door open and did.
Their son Vince sprinted home and ran inside. "Every part of him was shaking," Misty says.
Vince was unharmed, and the boy who had been shot survived, but Misty still had to drive Vince to Statesville a few days later to talk to an Iredell County Sheriff's Office investigator. The cop told Misty what the consequences would be for the shooter's father, who had left the gun unsecured in the shed: a misdemeanor charge of failure to store a firearm to protect a minor. The charge would be the same, the investigator explained, even if the boy had died.
Like hell, Misty thought.
She began scouring the internet for support groups and ran across Moms Demand Action, founded in the days after the Newtown, Connecticut massacre in December 2012. She told organizers she wanted to join. In late April, she drove to Nashville for a Moms Demand Action rally and encountered mothers and fathers who had lost children to gun violence. Seemingly everyone knew who she was and what had happened. "The support was what drew me in," she says.
In May, Misty told her story at a Moms news conference in Washington, D.C., to announce a new campaign: Be SMART, which educates adults about safe firearms storage and encourages them to learn about guns in the homes of their children's friends. Misty was passionate and eloquent, and when it was over, the North Carolina chapter leader of Moms Demand Action asked Misty to be the state's leader for Be SMART.
Misty was a 29-year-old stay-at-home mother of three who had never joined a cause before.
She accepted.
Her activism now dominates her life. She travels all over the state to meet with citizens' groups and drives to and from Raleigh to speak to legislators about tighter enforcement of gun laws. She hopes her work can lead to tougher sentences for adults who leave guns where children can find and use them.
In September, the father whose gun started this saga pleaded guilty to failing to store a firearm to protect a minor. He was fined $150 and sentenced to a year of unsupervised probation. Misty and her family try not to communicate with his family, although they still live side by side.
The stated goal of Moms Demand Action is to end gun violence, but Misty concedes that's "a marathon" task. She speaks out anyway. If nothing else, it's therapy. "This is not something I can stop doing," she says. "If I sit here and I stress myself and worry all the time about my kid even stepping foot outside, I would be an emotional basket case. … This is what I've had to do to cope."
---
This article appears in the March 2016 issue of Charlotte Magazine
Did you like what you read here? Subscribe to Charlotte Magazine »
---