The Signature Cocktail
Four signature cocktail options from local mixologists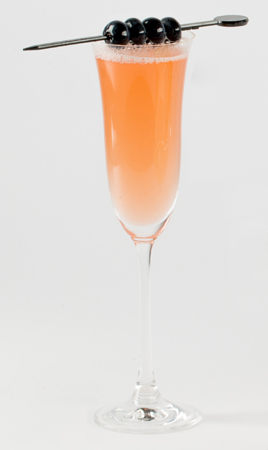 For a modern twist on an old tradition, serve up one of these refreshing cocktails created by local mixologists—each inspired by the timeless wedding rhyme—at your cocktail hour or reception.
SOMETHING OLD
The Francois
From Ian Jones, Bubble Charlotte
Equal Parts:
Smirnoff Blueberry Vodka
Chambord
Pineapple juice
Brut Champagne
Combine equal parts of vodka, Chambord, and juice, shake on ice. Pour champagne over. Serve in a champagne flute and garnish with blueberries.
SOMETHING NEW
The Last Vow
From Stefan Huebner, Heist Brewery
1½ oz. Cardinal Gin
¾ oz. Green Chartreuse
½ oz. simple syrup (equal parts sugar
and water)
Juice of half a lemon
2 dashes cherry bitters
Shake on ice and strain into a coupe glass. Garnish with lemon twist.
SOMETHING BORROWED
Rose Negroni
From Brandon Foster, Leroy Fox
Four Roses Bourbon
Sweet Vermouth
Campari
Fresh, food-quality rose petals
This recipe is "borrowed" from the classic Italian negroni. Shake equal parts of the first three ingredients on ice and strain into a martini glass. Garnish with rose petals.
SOMETHING BLUE
Blue Sky
From Will Hildebran, Ten Park Lanes
2 oz. Stoli Vanilla Vodka
1 oz. Cointreau
Splash Blue Curaçao
3 oz. ginger ale
Three Olives Cherry Vodka
Fresh mint, for garnish
Shake first four ingredients on ice and strain into a martini glass. Add a floater (very thin top layer) of Three Olives Cherry Vodka, and garnish with a sprig of mint.