The Silver Line Will Service the Airport. So Why's the Stop a Mile from the Terminal?
A look at the future for the light rail line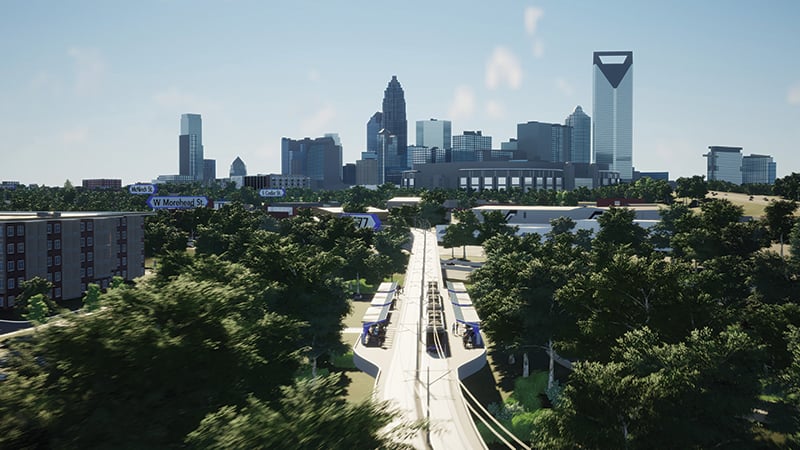 Charlotte's moving ahead with its most ambitious transit project to date, a 26-mile light rail line that would connect Matthews to the southeast and Belmont to the west with access to uptown and the airport.
But there's a catch: It wouldn't actually go to the airport. The city plans for the Silver Line train to stop at Wilkinson Boulevard, roughly a mile north of the terminal at Charlotte Douglas International—which means people will have to take an extra bus or other form of transit between the stop and the terminal. Why? Wouldn't it make far more sense to run the train right to bag check? And while we're at it, why is the city only now executing a plan to link the city center and airport by rail?
It boils down to cost, configuration, and ridership. When Charlotte officials adopted a long-range transit plan in 2006, the Wilkinson corridor's ridership estimates were so low—about 4,000 trips per day, the lowest total of any in the city—that officials thought a streetcar or bus line would be a better option than light rail. Since then, population and demand for transit have grown, the airport has expanded, and light rail has succeeded as both mode of transportation and development catalyst. City officials believe those and other factors, one in particular, justify light rail along Wilkinson and boost the Silver Line project's chances of securing Federal Transit Administration grant money. "What really made the difference is the development going on at the River District and with our colleagues and neighbors in Gaston County," says Charlotte Area Transit System CEO John Lewis. "That changes the equation."
And while the thought of a train gliding into the CLT terminal is a pretty idea, it overlooks an unavoidable roadblock. The Federal Aviation Administration strictly regulates potential hazards in flight paths. That might not be a problem for a light rail line that had to cross only Wilkinson, conceivably at ground level.
But an east-west Norfolk Southern freight rail line runs parallel to Wilkinson and between the boulevard and the terminal, and any light rail line would need an overpass to traverse it. "God forbid something happens," Lewis says. "You never want to have obstacles in the path of planes landing and taking off." CATS is talking with airport officials about potential alternatives, which they have time to figure out: The Silver Line is projected to begin service in 2030.
---
SILVER LINE: BY THE NUMBERS
28: Planned number of stations.
2030: Projected completion.
26: Its planned length in miles, from Central Piedmont Community College's Levine Campus to the Town of Belmont in Gaston County.
$50 Million: What Charlotte City Council decided in November to spend on design and environmental work over the next five years.
$3-4 Billion: Preliminary project cost estimate.
Source: Charlotte Area Transit System