The Southwest Effect
Will Southwest's arrival at CLT really bring down fares? Not likely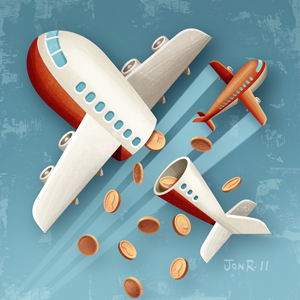 The Wall Street Journal announced the deal: "Southwest Airlines and AirTran Tie the Knot." The coupling would "challenge the bigger airlines," said the WSJ, resulting in what the airline industry has come to call the Southwest Effect: the no-frills airline moves in and other carriers are forced to react by lowering fares and improving customer service.
But will that happen in Charlotte, where US Airways has a stranglehold on the market? "I think a lot of airlines are going to have to be more competitive. They may even have to rethink certain fees [for bags or changing flights] as well," says George Hobica, founder of airfarewatchdog.com. Especially US Airways, he says. "If people abandon US Airways because they have to pay baggage fees, the airline may have to change those fees, at least in the cities where Southwest is flying."
US Airways, though, disagrees. "We've been competing with Southwest for some time now in our Phoenix and Philadelphia hubs and other key airports," says US Airways spokeswoman Michelle Mohr, who acknowledges the airline has higher baggage and flight-change fees as well as higher fares than Southwest. But where US Airways is lacking, says Mohr, it makes up in its customer service by offering other incentives such as assigned seating. (Southwest doesn't offer passengers assigned seats, but AirTran does. The issue is so volatile a group called AirtranSOS has started an online petition urging Southwest to "Save Our Seats" when it officially takes over.)
"We really don't expect a huge difference," says Jerry Orr, director of Charlotte Douglas International Airport, of Southwest's influence over US Air. "We don't expect to see a lot of additional flights initially because we're awfully close to Atlanta [where AirTran is based and Southwest is expected to focus its energy]." Gary Silverstein of Mann Travel agrees. "I think Charlotte isn't on Southwest's priority when it comes to adding flights. Being so close to Atlanta may not be a good thing for Charlotte."
Orr downplays the Southwest Effect because the Dallas-based airline will have to change the way it does business in light of the AirTran acquisition. Southwest has always been careful not to fly into airports with bad reputations for delays, for example, but that changes when it soars into Atlanta, the busiest airport in the world.
"I don't know if Southwest is making the smartest moves," says Silverstein. "This merger seems to go against its principles. But they're smart people at Southwest, so we'll see. It may be a while before we see it here in Charlotte, though."