The Story Behind VUE by SEK's 'Wearable Art'
Sarah Kaplan designs sustainable jewelry inspired by her love of art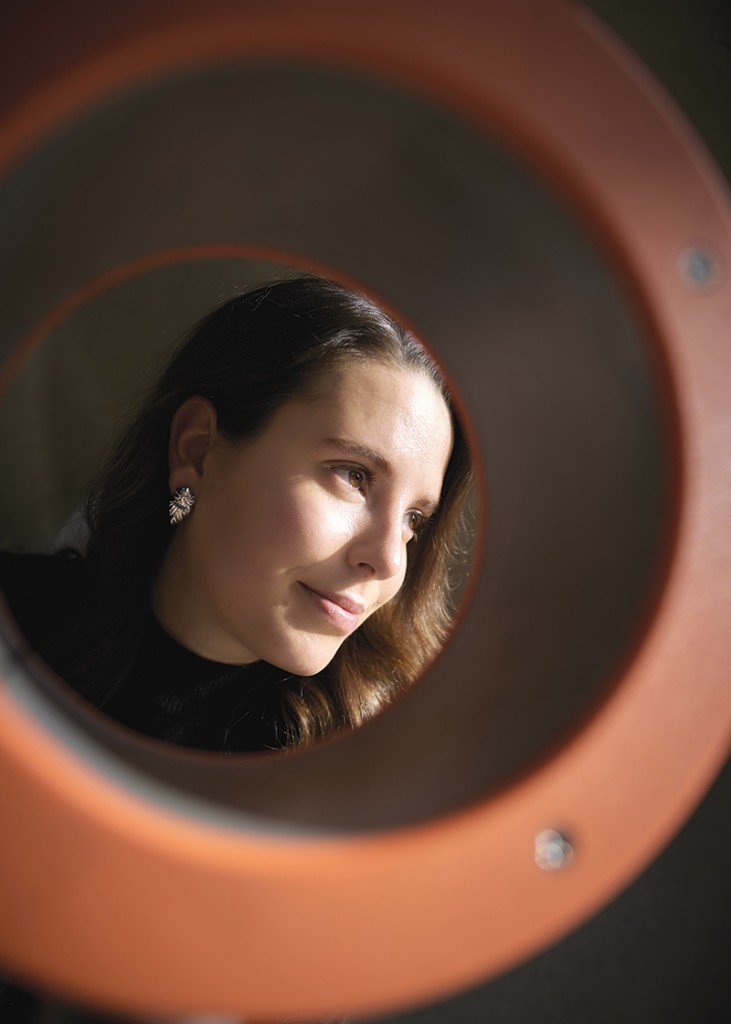 In an industry where fast fashion and mass-produced accessories reign, Sarah Kaplan is one of a growing number of jewelry designers concerned with artistry and sustainability. VUE by SEK, her collection of handcrafted jewelry, has one-of-a-kind pieces made with natural gold and rhodium-plated metals. Every necklace and earring is nickel- and lead-free, and each gemstone varies slightly in shape, size, and color. Kaplan calls her designs "wearable art."
Just as clothing brands are using more organic cotton and eco-friendly dyes, jewelers are starting to use recycled metals and commit to minimal waste. "I utilize every single piece," Kaplan says. "Everything from our packaging to our materials is eco-friendly, and every stone is sourced in an ethical way."
Before she launched VUE by SEK in 2018, the 31-year-old Winston-Salem native worked at the National Gallery of Art in Washington, D.C. "I loved being surrounded by so many creative people," she says. "I couldn't help but want to start creating again, and jewelry has always been my art."
Though she'd designed and beaded necklaces since childhood, Kaplan studied under a goldsmith to learn the craft. She continued her fundraising and development work in Washington until 2018, when she and her boyfriend moved to Charlotte, where he opened a private investment firm. "I took on another development role at a nonprofit, but when COVID came along, everything came to a halt," she says. "It was the perfect opportunity to make this a full-time thing."
The self-described art history lover finds inspiration for her jewelry from public art around the city, contemporary sculptures, large modern paintings, and her collection of exhibition catalogs from her time at the museum. S-E-K are Kaplan's initials, while VUE comes from the French word for "view," because "my jewelry expresses your unique view in life," she explains. "It's the in-between piece you can wear every day, all day, or dress it up."
Kaplan works with a Rhode Island-based foundry that does the metalwork and plating; when the pieces come back to her, she applies the gemstones, pearls, clasps, and chains. Pieces range from $45 to $90, and Kaplan wants to fix her prices there. "I work with tight margins to make sure that happens. And I have a very lean team right now," she says with a laugh. She'd hoped to move to a studio and grow her staff in 2020, but she decided to keep running the business out of her apartment during the pandemic. "I definitely miss having a team and those opportunities for collaborations. I don't have the level of stuff I had when I worked with a goldsmith, but I have a ton of stones and wire tools to add them to my metal pieces—so my nails will never look good again."
For her own wedding last October, Kaplan wore VUE by SEK's layered dome and freshwater pearl earrings. She made a custom pair for her sister and sister-in-law as wedding gifts ahead of the ceremony, which she had to scale back to just family and a few local friends. Each of her would-be bridesmaids received a set of earrings and perfume, which inspired her VUE by SEK Bridesmaid Gift Set collaboration with Katrina Sellers, founder of the Charlotte-based perfume brand Jules & Vetiver.
VUE by SEK is available locally at Moxie Mercantile and Chosen, but Kaplan does the bulk of her sales online. She added the bridal collection last year and is working on a men's cufflink line, which she plans to unroll this spring. "I've always been drawn to jewelry because it's so much more than a trend," she says. "Clothing and interiors aren't as sustainable. With jewelry, there's a sentimental value."
TAYLOR BOWLER is lifestyle editor of this magazine.