The Story of Charlotte, Part 13: A City Divided
The years 2008 to 2016 brought Charlotte a financial calamity, a profound division between rich and poor, turmoil in government, unparalleled growth, and the most violent demonstrations in the city's history. Afterward, Charlotte was a different place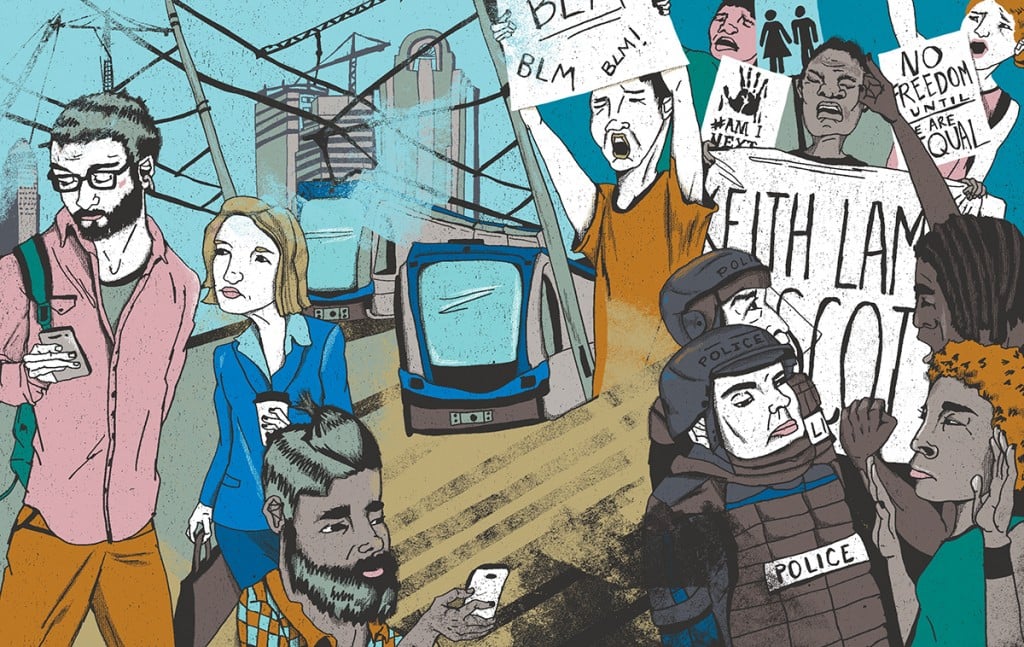 Mecklenburg County celebrated its 250th anniversary in 2013. The following spring, this magazine launched a yearlong, 12-part series, "The Story of Charlotte," which traced the city's history from its 18th-century origins at the intersection of two indigenous hunting and trading paths to its emergence as a Southern economic powerhouse in the 1990s and 2000s. That series ended with the 2007 opening of another economic tool, the light rail.
Plenty has happened here since: a financial crisis that temporarily halted Charlotte's boom; a post-recession recovery that led to both skyrocketing real estate prices and the growing rage and despair of poor citizens, most of them racial minorities, who increasingly sensed they were being left behind; the 2012 Democratic National Convention; a national debate over restroom access for gay and transgender people; and much more.
Amid the disruption and anxiety of 2020, we decided the time had come for an update. We asked Chuck McShane, who authored the original series, to bring us up to 2016 in Charlotte's story. Here's Part 13 of the series.
---
September 14, 2008. A spry 65-year-old, Joe Biden campaigns as a vice presidential candidate on a Sunday. The national Democratic Party wants to put North Carolina, which Republicans have won in every presidential election since 1976, into play for Barack Obama.
"I could walk from here to Greensboro," Biden says to the crowd at Phillip O. Berry Academy, off Freedom Drive in west Charlotte. "I wouldn't run into one person who thought we'd made economic progress unless I ran into John McCain."
Throughout the year, people like those in the crowd today watch as adjustable-rate mortgages come due and families face foreclosures, all while the stock market slowly but steadily declines. News of major bank failures like Bear Stearns' have trickled out since spring. Still, hope remains that the government takeover of Fannie Mae and Freddie Mac, which insure about half of the mortgages in the country, might shore up the economy.
The hope is not rewarded. That weekend, regulators meet with the CEOs of the largest banks to try to save others on the brink. Under pressure from regulators, Charlotte-based Bank of America finalizes a deal to buy Merrill Lynch for $50 billion. Wall Street's Lehman Brothers bank prepares bankruptcy papers after a deal with Barclays falls through. When the news breaks on Monday, the stock market plunges nearly 500 points, more than 4% in one day.
More crises follow that week. Without bailouts, financial leaders say, the economy will screech to a halt. With them, activists and some politicians say, the government chooses "Wall Street over Main Street." On Tryon Street, the lines between Wall and Main have always been blurry. This is Charlotte, a former textile hub that, through boardroom bravado and smart leverage of its assets, has evolved into the second-largest banking center in the United States. The bankers who work on or near Tryon will quote that statistic to anyone who will listen, and they're on solid ground when they do: Of all the dollars earned in this city, 17% come from paychecks with financial company logos.
Here, banks subsidize bus shelters and kids' baseball leagues, homeless missions and history museums. Banks have revived once-moribund uptown, where 28 construction cranes, at work on condos and commercial towers, hang overhead. One, at Stonewall and Tryon, finishes a new headquarters tower for Wachovia, the city's second-largest (and nation's fourth-largest) bank. But the building frenzy won't last much longer.
The LYNX Blue Line light rail, sleek and open only 10 months, drops blue-shirted bankers off in front of the old Wachovia headquarters on College Street, where the digital stock ticker shows a stream of red. By Monday, Sept. 29, Wachovia stock—which had traded for $10 per share at closing on Friday—has dropped to $1.84 per share. After another week of whiplash for Charlotte employees, as rumors swirl about competing offers to buy the bank, San Francisco-based Wells Fargo takes over. The headquarters under construction on Stonewall becomes the Duke Energy Center.
The loss of Wachovia hurts Charlotte's pride, but the job losses hit its pocketbook. By December, unemployment is up three points, to 9.3%.
"A punch in the gut," Mayor Pat McCrory calls the loss of Wachovia and mounting financial crisis. McCrory, a Republican in his seventh term as mayor, is running for governor against Democrat Bev Perdue. No Charlotte mayor has ever won a gubernatorial race, and McCrory runs on an outsider's message. "I've never been in the governor's mansion," he tells a Greensboro talk show host. "So if I win, I'll be going through the gates for the first time."
McCrory promises to protect families by "putting career criminals and gang leaders in jail or deportation" and push through key infrastructure projects in fast-growing Piedmont cities rather than just the rural east, "where the powerful politicians and lobbyists happen to live." But the economic pain and Obama's hopeful message tips the state blue. McCrory announces he won't run again for mayor.
One message from McCrory's campaign is undeniable: Charlotte is different from the rest of North Carolina, and the difference grows more distinct every day. Mecklenburg County, which voted for Republican George W. Bush in 2000 and Democrat John Kerry by a small margin in 2004, chooses Obama with 62% of the vote. Newcomers from the Northeast and Midwest stream into the city and surrounding suburbs—about 25,000 people per year moved into Mecklenburg County alone during the 2000s. Before the crash, the city rode the financial sector's growth while smaller counties in the state watched their textile manufacturers shutter or flee.
Now, the cranes uptown begin to disappear. In the suburbs, developers abandon half-finished subdivisions and let the grass grow around lonely PVC piping. The skeleton frame of the Park condominium project looms across the street from the Government Center. Apartments remain empty as laid-off young bank analysts abandon their uptown leases. In 2010, fewer than 4,000 people move to Mecklenburg County. From 2007 to 2010, more than 63,000 jobs in the Charlotte metro area disappear—5,700 of them in finance. Unemployment hovers around 11% through 2011.
***
In 2009, Anthony Foxx becomes the city's second Black mayor and the first Democrat to hold the seat since 1987, when the first Black mayor, Harvey Gantt, left office.
Foxx, a West Charlotte native, represents a new type of leader in Charlotte. With Wachovia gone and Bank of America ailing, the "rich uncles" who have bankrolled so many projects and progress have shallower pockets. Before, a small group of uptown business leaders made decisions and cut checks quickly. As the city becomes larger and more diverse, more neighborhoods and communities compete for their share. "It's almost as if the communities and the neighborhoods have become silos, taking care of their own areas," Mary Hopper, of University City Partners, tells The Charlotte Observer.
Foxx, whom President Obama later appoints U.S. Transportation Secretary, breaks from his predecessors: "I think we're seeing Charlotte shift," he says, "from a top-down style to a bottom-up approach."
The slowdown doesn't stop Charlotte from seeking the national stage. While the National Rifle Association picks Charlotte for its 2010 Annual Meeting, Foxx and the business community, led by Duke Energy CEO Jim Rogers, seek a convention to showcase Charlotte to a global audience and boost its ailing economy. The city, which expects to use 15,000 hotel rooms in a region that stretches from Salisbury to Rock Hill, might be a long shot for the 2012 Democratic National Convention. But the 2008 election has revealed North Carolina as a swing state.
The Democrats take notice. In the first week of September 2012, delegates, lobbyists, and media personalities pour into Time Warner Cable Arena. Security is tight, and a maze of wire fencing establishes a tight perimeter. Office workers groan at the inconvenience. But downtown restaurants and hotels embrace the business. City boosters boast $164 million in economic impact.
On Tuesday night, Foxx takes the stage and gives a quintessential Charlotte speech. He recalls the city's successful integration of public schools in the 1970s with the help of a busing plan dismantled under a 1999 court order. Charlotte, he tells the crowd, is a "hub of energy and commerce. A place where business and government work together and make great things happen. In this election, we are also a city where Americans have come together to move our country forward."
As the mayor speaks, dozens of Occupy Wall Street protesters camp out in Marshall Park. Some march down Trade Street with signs as they demand amnesty and foreclosure relief, and chant slogans like, "Banks got bailed out; you got sold out."
***
By 2014, Charlotte is growing again. On the light rail line along South Boulevard, apartment buildings rise as recent college graduates stream into the city for jobs at the banks and insurance companies that emerge from the long recession. The Charlotte area has added more than 56,000 jobs since 2012. Among the Oxford-shirted bankers walk young people who wear T-shirts with tech startup names like Skookum, Stratifyd, and AvidXchange.
They spend their weekdays in new office towers, which replace parking lots that Panthers fans used for tailgate parties on football Sundays. They spend nights and weekends in South End, where a new generation of business developers convert aging warehouses and abandoned shops into breweries, CrossFit gyms, and pet spas. In every direction from uptown, young professionals move into trendy neighborhoods, like Plaza Midwood and NoDa. Charlotte ranks as the top destination for "millennials," the largest generation since the Baby Boomers, now in its 20s. Charlotte ranks as the second-fastest-growing large city in the country.
Charlotteans love to quote rankings. But when Harvard economist Raj Chetty analyzes obscure economic mobility data from the 50 largest metro areas in the country, Charlotte lands in an unenviable position: 50th of 50. If you are born poor in Charlotte, you are more likely to stay poor than in any of 49 other large cities. That, along with the 2014 arrest of Mayor Patrick Cannon for accepting bribes from undercover FBI agents in exchange for favorable rezoning on a fictional project, shakes Charlotte's self-perception.
The bankers, lawyers, and CEOs who make deals and decisions on Tryon Street are used to driving down tree-lined Selwyn or Providence roads to their homes in Myers Park, Ballantyne, or SouthPark. It's easy, if you have enough money, to never see the horseshoe-shaped swath of the city that sweeps north from South Boulevard, curls west to east above uptown, then cuts south to Independence Boulevard—where income and education levels are lower and unemployment higher than in the affluent pie slice from uptown south to Ballantyne.
That map becomes familiar enough for local leaders to use "crescent and wedge" as shorthand for Charlotte's zones of relative poverty and prosperity. Now, the wedge inches outward as rent and housing prices rise toward uptown. Middle-class families flee the crescent for new suburban subdivisions, and surrounding counties like Cabarrus, Union, Iredell, and Gaston, even Lancaster and York in South Carolina, grow faster. Most newcomers now move directly to those suburban counties.
"We cannot be two different cities," newly appointed Mayor Dan Clodfelter says at the launch of an economic mobility task force. A study shows that half of Charlotte renters can't afford rising rents. A publication that tracks real estate trends recommends Charlotte to American investors as the third-hottest real estate market.
***
As Charlotte reels from the two-cities implications of Chetty's study, its residents absorb more evidence that Charlotte lives in a social and cultural sphere separate from the rest of North Carolina.
In March 2015, the City Council votes down a revised nondiscrimination ordinance, the original version of which would have prohibited discrimination against LGBTQ Charlotteans in bath­rooms, vehicles for hire, and other "public accommodations." The draft ordinance, if adopted, would have allowed transgender people to use public bathrooms that matched their gender identities.
Democratic mayoral candidate Jennifer Roberts, a longtime Mecklenburg County commission chair, makes the ordinance part of her campaign that fall against Republican and former councilmember Edwin Peacock III. When Peacock calls the ordinance "a very minor issue we cannot let ourselves get distracted by," Roberts recoils. "Discrimination is never a minor issue," she says. Roberts wins narrowly in the November election, along with two new Democratic City Council members, Julie Eiselt and James Mitchell. In February 2016, the ordinance passes.
Much of the backlash to Charlotte's ordinance comes from social conservatives in rural parts of the state. But a Charlotte Republican, N.C. state Representative Dan Bishop, sponsors a bill in the General Assembly the next month that would invalidate the Charlotte ordinance—and any similar action by any North Carolina local government. "(C)ities are not authorized to do radical social engineering as agents of the radical left," Bishop says. The General Assembly passes House Bill 2, and Governor Pat McCrory, the former Charlotte mayor, signs it into law on March 23.
The reaction to North Carolina's "bathroom bill" makes headlines around the world. Groups cancel their conventions. Boycotts are organized. Businesses halt their expansion plans in protest. PayPal cancels its plans to bring 400 jobs to a Charlotte office; Deutsche Bank pulls back on 250 jobs in the Triangle. The NBA moves its upcoming 2017 All-Star game, which it had awarded to Charlotte, to New Orleans.
There's a disconnect "between corporate suites and Main Street," McCrory tells Chuck Todd on NBC's Meet the Press as more than 200 corporations draft a letter to oppose the law. Small-town churches and business are grateful, McCrory says, adding that the new law protects their daughters from predators who lurk in restrooms and locker rooms. In cities like Charlotte, hotel and restaurant owners join the chorus of corporate leaders who urge repeal. "This legislation," Roberts writes, "threatens to undermine the economic growth and prosperity of Charlotte and North Carolina."
Despite the headlines, growth continues. Another 52,000 people relocate to the Charlotte area in 2016, drawn by 34,000 new jobs in the Charlotte metro area. Some bars and breweries replace their bathroom signs with gender-neutral ones that read "We Don't Care."
McCrory barely loses the governor's race that fall to Democrat Roy Cooper. In March 2017, the legislature passes a replacement bill for HB2, which establishes the legislature as the sole authority to regulate access to bathrooms, showers, and changing facilities; and institutes a moratorium on any new local ordinances on regulating public accommodations or private employment practices until Dec. 1, 2020.
***
At about 4 p.m. on Sept. 20, 2016, Keith Lamont Scott sits in his truck in the parking lot of The Village at College Downs apartments in University City. Two undercover Charlotte-Mecklenburg Police officers watch an apartment from the parking lot of this aging complex and prepare to serve a criminal warrant on another resident.
Scott is parked next to the unmarked car. He's smoking marijuana, police say, and shows his gun to the officers, who approach and order him out of the truck. They yell for him to put his gun down. An officer opens fire, and Scott hits the ground, shot in the abdomen. Within an hour, the 43-year-old father of seven is dead.
Social media spreads outrage—and information later proven false. Lyric Scott, Keith Scott's daughter, takes to Facebook Live: "The police just shot my daddy four times for being Black." A neighbor says Scott was merely reading a book as he waited to pick up his son at the bus stop. But a subsequent investigation by the district attorney's office shows that Scott was armed with a loaded handgun and ignored multiple commands to drop it.
No one knows that in the hours that follow the shooting. By nightfall, protesters fill Old Concord Road outside the apartment complex and demand the city release video footage of the shooting. Flash-bang grenades and helicopter spotlights illuminate the dark street, where crowds clash with cops in riot gear and smash police car windows.
Bottled-up frustration from previous police shootings of Black men, from the 2013 death of Jonathan Ferrell to the police killing of Terence Crutcher in Tulsa only four days before—not to mention the growing divide between the haves and have-nots in Charlotte—boil over. Charlotte has had protests before, but nothing quite like this. After midnight, protesters march to Interstate 85, where they spill onto the highway, stop traffic, and start fires with items they pull from tractor-trailers.
The next night, Sept. 21, the protests move uptown. Early in the evening, a crowd departs from Marshall Park, chanting "Black Lives Matter" and holding signs with messages like, "#StopKillingUs." As the crowd approaches College and Trade, the mood changes. A group converges around the Omni Hotel, where riot police fire tear gas canisters. Amid the smoke and noise, a shot is fired. The crowd scatters. Justin Carr, 26, lies near the hotel entrance on Trade Street, shot in the head. Another protester, Rayquan Borum, is arrested (and eventually convicted of murder in 2019). Carr dies the next day.
Through the night, protesters grab trash cans and hurl them through office and hotel windows; riot police shoot rubber bullets; protesters stop traffic and jump on cars. It all plays out before national news outlets, which lead with the story. The upheaval makes its way onto the presidential campaign trail. On Twitter, Democratic candidate Hillary Clinton ties the Scott shooting to Crutcher's: "We have two more names to add to a long list of African-Americans killed by police officers," she writes. "It's unbearable, and it needs to become intolerable." Meanwhile, Republican candidate Donald Trump tells a crowd in Pittsburgh, "There is no compassion in tolerating lawless conduct."
Early the next morning, hotel owners board up broken windows and sweep shards of glass from the sidewalk. Uptown is empty as large businesses tell their employees to work from home. Down in the wedge, shops close early as false social media rumors swirl that protesters are busing into SouthPark and Stonecrest.
The next night, National Guardsmen and their vehicles line uptown streets, which remain peaceful. After CMPD releases part of the footage from the shooting, the marches continue through the weekend, but the violence ebbs.
The following Monday, Sept. 26, the council chamber at the Government Center fills with furious Charlotteans, the vast majority of them Black, who have come to express their rage to the City Council. Roughly half the crowd holds up their fists during the Pledge of Allegiance. The proceedings are repeatedly interrupted by tears and chants to "shoot back." During the public comment period, speaker after speaker opens with, "No justice, no peace!" then demands the resignations of police Chief Kerr Putney and Mayor Roberts.
"I am here," begins Braxton Winston, 33, a Black protester who gained prominence on the streets in the past week, "to indict the Charlotte government …" A little less than a year later, in the Democratic primary, Roberts loses her reelection bid to Mayor Pro Tem Vi Lyles, who wins the general election in the fall and becomes the first Black woman to occupy the mayor's seat.
Voters elect five new members of the City Council, too. Braxton Winston is one of them.
Chuck McShane is the author of A History of Lake Norman: Fish Camps to Ferraris. Contact him at chuckmcshane@gmail.com. On Twitter: @chuckmcshane.