The Summit Room: Southern Fare, Global Spin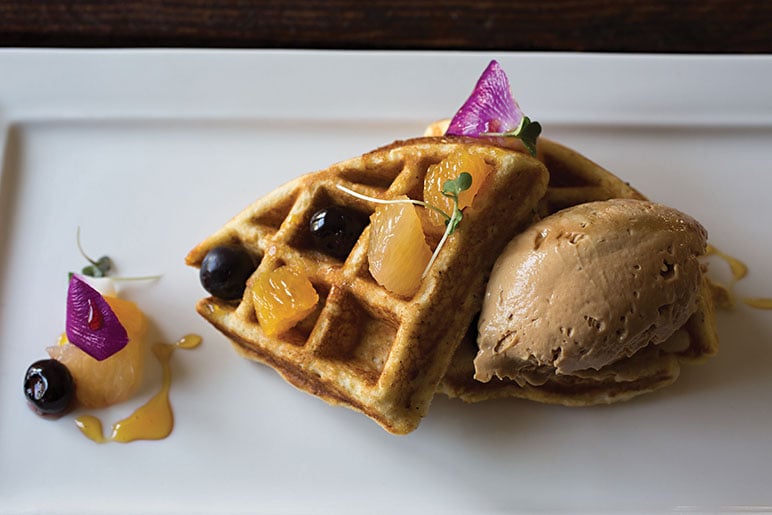 The Summit Room, from the owner of The Mayobird, is a dinner-only spot with a homestyle meets global aesthetic.
On a Thursday night, people in rocking chairs dine on the porch, and hungry visitors climb the patio steps to The Summit Room on East Boulevard. Inside, dim bulbs hang from wire cages, a weathered turn-of-the-century fireplace mantel is a focal point, and accents of reclaimed barn wood from the 1930s abound. Photos from Mount Kilimanjaro hang on the walls.
Tabletops salvaged from an Eastern North Carolina tobacco barn sit beneath animal heads—real and ceramic.
The eatery serves as an example of a person's ability to conquer and achieve, says owner Deedee Mills. It was inspired by her climb to the summit of Mount Kilimanjaro in October 2013, an achievement that helped give her the courage to open The Summit Room when she returned home to Charlotte.
The result is a restaurant with a menu that meshes global inspiration with home-style cuisine. For instance, on the starters menu, simple deviled eggs ($6) are drizzled with ghost pepper syrup, and Latin empanadas ($10) come with a sweet-potato filling and are more like crisp, tiny pumpkin pies. Pimento crawdad fritters ($8) get a kick from Peppadew aioli, and a country pâte ($8) pairs a golden, sweet waffle with a creamy chicken liver pâte flanked by pickled blueberries.
From the starters menu: crepe with braised pork belly and fresh fig molasses, with a seared scallop and salmon roe.
Entrées expand on this theme. Duck ($24) juxtaposes confit duck leg (rich, fatty, and salty goodness) with a rarer and milder seared duck breast, all nestled atop blueberry grits. Corn-dusted North Carolina trout ($18) is paired with lemon oil and a side of corn pudding.
A specialty cocktail menu leaves the home-style concept behind; the restaurant's seven signature drinks are named for the world's seven tallest summits.
More daring diners should opt for the Aconcagua ($11), which is made with a spicy, house-made ghost chili simple syrup.
With its homey atmosphere and rustic vibe, this dinner-only spot is a versatile destination, best for diners who like to order for the table and share.