The Talented Mr. Talley
Quentin Talley is a slam poet, theater producer, and gifted goofball. He's using all those talents to help bring this city a little closer together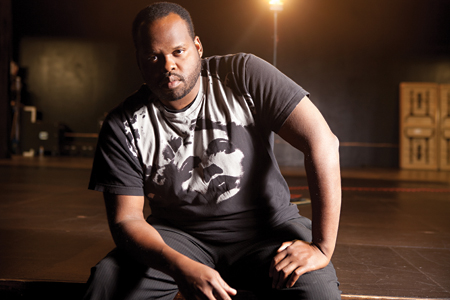 At 7:30 on a Friday morning in January, Quentin "Q" Talley is hauling a keyboard into Common Market, the funky South End convenience store and deli. As he huffs into the crisp air and a bassist plucks a couple notes next to the beer fridge inside, about a dozen people are nibbling coffee cake and making small talk.
As the band settles in, Talley buzzes through the crowd in his signature driver's cap and blazer. He greets everyone with hugs or back pats or both; he asks after families and jobs. Once the coffee and fruit have been served, he moves up toward the register and lets out an "all right, all right!"
In an animated and rhythmic voice, he thanks everyone for coming out, thanks Common Market for hosting, instructs the crowd to give it up for the Ocie Davis Trio, and introduces the featured poet, Kendria Mekkah. Wearing a knit wool sweater and beanie, Mekkah performs her poem, the crowd murmuring at lines like love hard, kill easy.
She takes a bow, and Talley encourages everyone to strike up a conversation with someone they don't know and to enjoy the music and quiche.
This morning, Crossroads Charlotte, a nonprofit that organizes events and campaigns aimed at strengthening Charlotte's race relations, is sponsoring Arts in the A.M. It's a new monthly event, hosted by Talley, where a slam poet and a live jazz trio perform at coffeehouses across town.
After the show, Talley engages in cheerful banter with friends and strangers. Everyone gets hugs. One new friend makes a crack about beating the morning rush hour. Talley squints his eyes in a giddy chuckle and says, "that's what's up." His favorite saying (elided into "thassussup") is one of the quirks that make Talley an affable, unassuming presence. He's the kind of lighthearted character an audience feels at ease around.
Since he came to Charlotte in 2003, 
Talley has not only been one of the most visible members of the city's renowned slam poetry scene, he's also helped the poets establish a foothold in the mainstream. And he's the founder of On Q Productions, Charlotte's only African American–centric theater company. Through both roles, he helps give voice to talented artists who otherwise might have none. In a city that continues to struggle with race relations and its cultural identity, Talley is doing what he can to pull Charlotte together.
Talley, who lives in NoDa, grew up on a rural street in a small, South Carolina town called Greenwood, about an hour outside Greenville. He lived with his mother, grandmother, and older sister, and much of his extended family lived on the same street. His neighborhood was mostly black.
Talley, thirty-one, says the inequalities between races in his town were "not 
blatant," but he has distinct memories of how being African American affected him and his family. Talley's grandmother once told him about being eight years old and watching her cousin be lynched; in twelfth grade, he got into a heated argument with an AP English teacher after she wouldn't let him bring a drink into class despite having let white students do so all year.
While Talley had been acting in plays since third grade, his interest in performing poetry began in tenth grade, when he took an African American literature course. The students were required to write six poems and recite them in front of the class. "Some of the poems I read were very personal," he recalls. "I could more readily connect with the themes in the books we read, like [Richard Wright's] Native Son. Not that I didn't understand the books before, but it jumped out more. I could share my own experiences as an African American, and frustrations with the world that I saw."
Talley remembers talking to his class about growing up in a single-parent household (his parents divorced when he was two and his dad left the picture) and often being the only black student in the honors courses he took. Suddenly, he felt that he "had a voice."
"This was something I could do myself, just me and my words," he says. "It was a natural marriage between theater and poetry."
Watch a short film on Quentin Talley
Thus began Talley's love for slam poetry, when poets perform original works, often in competition. When he got to Winthrop University, he watched slam poets perform on campus regularly, and the possibility of pursuing his passion full time took shape: "I started realizing this was an actual profession people were doing."
His foray into Charlotte slam poetry began in 2003, during his senior year at Winthrop, where he was finishing his degree in theater and African American studies. He worked at an Enterprise Rent-A-Car just off Nations Ford Road, driving customers around and washing cars. Talley had become, he says, "the unofficial poet laureate" of Winthrop University, attending slams when they came through Rock Hill, organizing open-mic nights, and composing.
Across the street from Enterprise was a barbershop, where J. C. Cowan worked; Cowan helps to promote and find sponsorship for Charlotte poetry slams. He and Talley met at an open-mic night and started seeing each other almost every day when Cowan would walk across the Enterprise parking lot to get to work. Cowan started recommending poetry nights to him.
At open-mic amateur nights and poetry showcases, Talley met the members of Concrete Generation, a loose, bohemian coalition of writers and artists who perform locally and, often, compete for a spot on SlamCharlotte, the award-winning slam poetry team that competes in regional and national slams.
"The community was so close, and Q just slid right in," says friend and fellow poet Melissa Harris (slam name: Gangsta Care Bear).
"It was like I had known them for years," he says, "like we were instantly family. Not just because they were cool, but because everybody in the camp had completely different styles. I appreciated the fact that everybody had their own voice and were creative with it. We have great storytellers, abstract artists, people who do prose, or are more hip-hop."
Talley moved to Charlotte from Rock Hill in 2004, about six months after graduating, and worked a number of temp jobs around town until 2005, when he decided to "stop kidding myself" and pursue his art full time. That same year, Talley traveled to Albuquerque (his first plane ride, Harris recalls) for the National Slam Poetry Championships with SlamCharlotte, where the team took second place. The following year, when Charlotte hosted the Individual World Poetry Slam at Spirit Squire, Talley took twelfth place.
He is, as Mekkah, Harris, and any other poet who's worked with him will tell you, a natural performer.
As Talley immersed himself in Concrete Generation, he also began working with Crossroads Charlotte.
Tracy Russ, the organization's executive director, remembers one of Talley's first performances with the organization. Talley and four other slam poets had been invited to the 2004 Executive Session. Leaders from forty businesses and organizations across Charlotte, including Wachovia, Carolinas Healthcare System, and UNC-Charlotte, were gathered. Crossroads asked each participant to consider working with a consultant on ideas that would improve race relations inside and outside their companies
Russ says that when Talley took the stage, "the whole tenor of the room changed … he had a powerful voice."
All forty said yes. Because of that session, UNC-Charlotte has a Crossroads Charlotte program that's developed freshman seminars. Presbyterian Novant Heart and Wellness created a medical vehicle that travels to medically underserved neighborhoods and provides care and screenings.
Shortly after that meeting, Talley became Crossroads' artist in residence, helping Russ recruit and organize poets for various events. "His role is to make sure that we bring people out of their comfort zones, but not so far that they shut down," Russ says. Plus, as Russ points out, the Concrete Generation poets soon became a common addition to community and corporate programming. "Bringing spoken word into the civic agenda began with Crossroads Charlotte, and it's now part of the way things are done."
Robert Krumbine, the chief creative officer and senior vice president of events at Charlotte Center City Partners, remembers the response after he invited nine of the poets to perform at the 2005 Vision Awards, an annual CCCP gala celebration.
"It was a fantastic shock to about 500 corporate, city folks," he says. "People were thrilled. They loved it, they wanted more of it. … I was getting calls asking how to get in touch with them from planners and other folks that wanted to have them come into their events."
More than five years later, Talley is still a conduit between Concrete Generation and Crossroads Charlotte, and other organizations. He's still the one taking performers on the fringe of Charlotte's artistic community and leading them onto the city's most prominent stages.
It wasn't long, however, before Talley wanted to find more room on that stage.
While he took a couple years off from reading and performing plays after college, in 2005, Talley "got the theater bug again," and decided to bring his love of African American history and theater to practice in Charlotte.
"I didn't see a lot of plays that catered to African Americans, either with roles or themes," he says. "I said, 'There's not an African American theater company here, and every major city has one. … Let's see what we can make happen.' "
At the time, Omar El-Amin, a local actor and now teacher at Kennedy Charter School in southwest Charlotte, worked as a site coordinator at the Afro-American Cultural Center, where Talley was teaching a poetry class.
"We started talking during breaks about theater and shows we'd done," he remembers.
With El-Amin doing tech support, Talley corralling actors from across Charlotte, and rehearsals being done in Talley's NoDa living room, the brand-new On Q Productions got a grant from the Arts & Science Council to fund its first two shows: Suzan Lori-Parks's In the Blood, which it performed at the Hart-Witzen Gallery, and Amiri Baraka's Dutchman, which it did at Carolina Actor's Studio Theatre.
On Q produced small one-off shows at the Afro-American Cultural Center for a while, but the turning point came with Miles and Coltrane: Blue(.), a play written by Talley and other members of Concrete Generation.
The play, a biography of Miles Davis and John Coltrane woven together with monologue, slam poetry, and music, had a few local runs, and then, in 2009, debuted at the East to Edinburgh theater festival in New York. Then they traveled to Scotland for the Edinburgh Fringe Festival.
"Ever since then, we've just been rolling," says El-Amin.
On Q usually produces obscure or forgotten African American plays, and while some choices might seem too dated to draw contemporary audiences, On Q has sold out some shows and drawn impressive numbers to others. After a grant from the Blumenthal Performing Arts Center, it moved operations into the Duke Energy Theater, which seats 182 people. On Q sold out its 2010-2011 season premiere, Ain't Misbehavin', and moved into the 700-seat McGlohon to accommodate yet another sold-out show.
Talley says the demand speaks for itself: "It's evident by people just showing up. … A lot of these plays are just never produced. There are compartments of people performing them around the country, but those shows need to be put into people's vocabulary."
Douglas Young, who's in charge of programming at Blumenthal Center, first worked with Talley in 2009 when Talley wanted to make On Q a legitimate theater company with a real season. He thinks On Q may be about more than putting a new community of performers on Charlotte's main stages or even telling stories in peril of extinction. "Right now, On Q is primarily doing works that were written by someone else, but [they also] created Miles & Coltrane," he says. "On Q can be a spark for the creation of new work and inspire new artists to take on projects."
The very existence of On Q Productions, Young notes, is evidence of how giving artists space and momentum can build on itself. "We'd always hoped that by supporting spoken-word artists it would eventually lead to the creation of a theater company that focuses on different themes."
Talley is nonchalant about his creative process. He doesn't have a specific place or time for writing, and he says what defines his poetry is its eclecticism ("I tend to go off on tangents and be all over the place"). And in truth, he'd rather discuss the slam team, which he holds dear, and about how his art can forge something larger than himself.
"Art has always been about community for me," says Talley, "and doing art with civic engagement is a natural bridge to building communities."
Despite his efforts at modesty, Talley has an electrifying stage presence; he's equally comfortable reciting dramatic or humorous verses, and you can't not listen to him. And he's unafraid to write and perform poems that might shock or offend. It's a brand of poetry that seems strange coming from Talley, who is by nature sweet and private.
"I think it's his theater background," says Harris. "It makes him a storyteller in a way that you'll never forget. Some people do a rap-star kind of performance … but he acts out everything. He's the only person in Charlotte I've seen do that."
At one competition, Talley performs a two-part poem, called "What Had Happened." It's from the perspective of a man who kicks a teenager to the ground in a grocery store and then pours Kool-Aid on his nagging girlfriend's head and throws her out of the house by her neck:
She continued to bang, I continued to ignore,
until hours later a voice from the peephole screams,
'Open up, five-O!'
and believe me when I say I never pissed on a cop before,
but what had happened was …
He spins and walks off stage. It's a gritty, stereotype-charged piece, but Talley's portrayal of the blundering main character has the audience squealing in shocked amusement.
Talley shakes with heavy laughter when he remembers the poem's ending. As other coffee-shop patrons slowly turn their heads, he puts his own on the table to regain composure.
Gasping and sniffling, he straightens and says, "People tell me I laugh at the wrong stuff all the time. With the domestic-violence stuff, I didn't want to make too light of it, because it can be a learning experience for somebody. There's a turning point where I don't hear as many laughs. But when the cop comes to the door, and I had peed myself, it shows that I know it's not a joking matter. You have to bring it back for people."
Such raw verses are surprising coming from the mild-mannered, slightly goofy Talley. But in many ways the poems suit him well. Like Talley, they slide easily from one genre to another, opening doors for performers and audiences along the way. And they inspire audiences. They become personal to listeners, leaving each one to wonder what kind of poem they could write.
On Q's The Colored Museum runs March 30 through April 10 at Duke Energy Theater in Spirit Square. More info.
Annie Monjar is a contributing writer for this magazine.