The Time Capsule: NASCAR Hall of Fame's Buz McKim
Historian keeps racing stories alive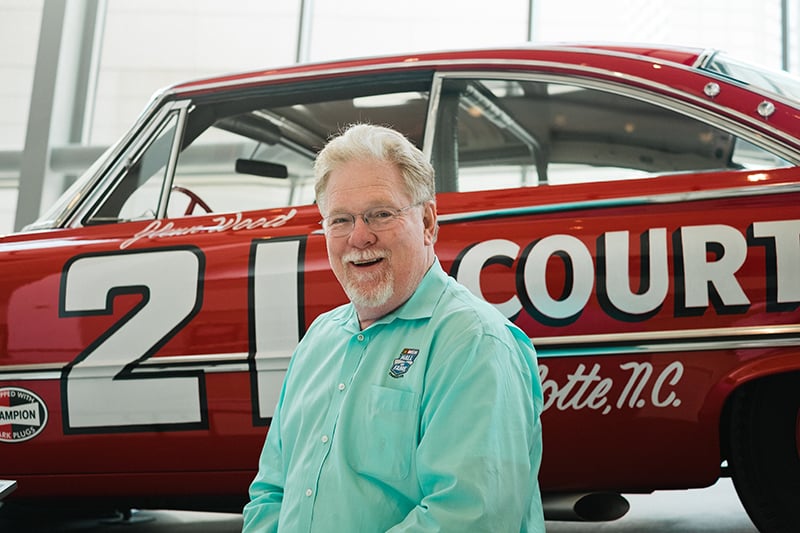 BUZ MCKIM grew up with racing. One of his earliest memories from his childhood in Hackensack, New Jersey, is driving around in a yellow pedal car his aunt bought him when he was three years old. "From the time I was very little, I remember us having the NASCAR logo decal on the back of our car," he says.
His father, Bob, was a track announcer and owned several cars that raced the Northeastern circuit in the 1950s. When Buz turned eight, his dad bought him a Quarter Midget car. He took it to nearby Phoenixville Raceway and zoomed around the dirt tracks. "I wanted to be a driver," he says, "but that didn't quite work out."
Today, the 64-year-old spends his days at the NASCAR Hall of Fame, tracking down rare artifacts and envisioning uses for 40,000 square feet of exhibit space. His favorite finding so far is a jacket that belonged to "Fireball" Roberts. "Roberts was the first real superstar of NASCAR," McKim says. "He was daring and dashing, and athletic and tall. He was good for the sport."
Roberts died from injuries he sustained during the World 600 race in Charlotte in May 1964. His wife, Judy, kept the jacket he wore that day in her closet because she said she could still smell him on it. "It hadn't seen the light of day since 1965," McKim says. "It was like a time capsule. We found a half a pack of Juicy Fruit gum [in the pockets], a lighter, and a ticket to an April 1964 race in Atlanta."
Such historic moments surrounded McKim when he was young. In 1961, his dad took a job as the track announcer at the Hollywood Speedway in Daytona Beach. In high school, Buz was at the track every Saturday night, listening to his dad and getting to know racing's elite drivers and crewmen, such as Randy Tissot and the Allison brothers.
By the mid-1960s, he had befriended Bill Tuthill, a founding father of NASCAR and owner of The Museum of Speed in Daytona. McKim and his brother, Bobby, would spend hours digging through the museum's files, cultivating a deep respect for the sport.
Although he was never a successful driver, McKim was an artist with a paintbrush. For 25 years, while he and his wife raised their family, he ran a sign shop in Daytona, painting signs for the concession stands along Daytona Beach and for other clients. By day, he'd work on signs, and at night, he'd paint for fun.
One of his pieces hangs in his office at the Hall and depicts the drama of the 1963 Daytona 500. Driver Marvin Panch was injured in a sports car accident just 10 days before the race. Another driver at the time, Tiny Lund, pulled Panch to safety. The owners of Panch's car asked Lund if he would drive the 500 in Panch's No. 21 car. "Tiny got to Daytona with 17 cents in his pocket," McKim recalls. "He ran the 500 on one set of tires and won the race."
In 1997, while working at his sign shop, McKim landed a part-time job in the archives department at the International Speedway Corporation. NASCAR was preparing to celebrate its 50th anniversary, and there were hundreds of media requests. He quickly moved up the ranks, and by 1999, he was appointed director of the department.
Six years later, he joined NASCAR as director of statistical services, working with announcers to provide anecdotes and stats during races. In 2007, McKim was asked to join the staff of the NASCAR Hall of Fame. He served on a committee of track owners and team representatives that selected Charlotte as the location for the Hall.
Now he gets to work there every day. "This job is the top of the mountain," he says. "I get to deal with my childhood idols on a personal basis. I've been very blessed."
This article has been updated from the print version.