The Toll Road Battle in Tillistown
The I-77 toll roads issue in Thom Tillis' home precinct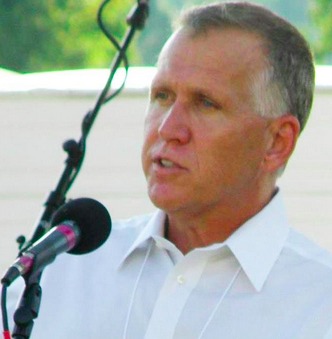 The polling location in Thom Tillis' home precinct in Cornelius is a neo-rustic 1,100-square-foot public building called Waterfront Hall, just feet from the shore of Lake Norman at the southern edge of Jetton Park.
If the name of the park sounds familiar in connection with Tillis, it should. This is where a 1.3-mile paved bicycle path winds through the trees. In the early 2000s, Tillis, a mountain biking enthusiast, petitioned Cornelius' Parks and Recreation Board to build the path on the then-unused land. He ended up on the board.
The bike path, finished after Tillis' election to the N.C. House, was his first act of political leadership. Now, a little more than a decade later, he may end up a United States Senator.
So you'd think this polling place would be Thom Tillis Central, and it kind of is; plenty of red Tillis campaign signs cluster around the park entrance on Jetton Road.
But something here cuts the enthusiasm for the N.C. House speaker, even in what is almost literally his back yard—the I-77 toll road issue.
It's the big one up here. Heaven knows there are more momentous issues at play in this midterm election—the state of the economy, control of the Senate, the ISIS threat, the Ebola threat, the state of our judiciary. But none of those issues come to mind when you're stuck in traffic on I-77 north of Charlotte during rush hour quite like the need for traffic relief on I-77 north of Charlotte.
In short, Tillis supports the toll roads, which seems self-serving to a lot of people, both Democratic and Republican, because Tillis' support of the toll roads could put money into some of his biggest campaign donors' pockets.
Anyway, that's the debate. I'm not going to take a stand on this, just pass on a couple of videos I shot of people out at the park this afternoon—one from a Republican voter and Tillis fan who says she can live with the toll roads, another from a Democratic voter who has some serious questions about the plan.
Here's the Republican, Meredith Fite of Cornelius:
And here's the Democrat, John Akin of Davidson:
I certainly will take a position on one thing—it's gorgeous out here. Leaves are turning, a breeze is wrinkling the surface of the lake, there's a nice little beach. If it just had free WiFi, I'd make this place my Lake Norman office.