The Total Package
Wedding vendors are a creative, resourceful group and more versatile than you might think. Here's how to choose multipurpose vendors who can maximize your budget—and minimize paperwork, deposits, and stress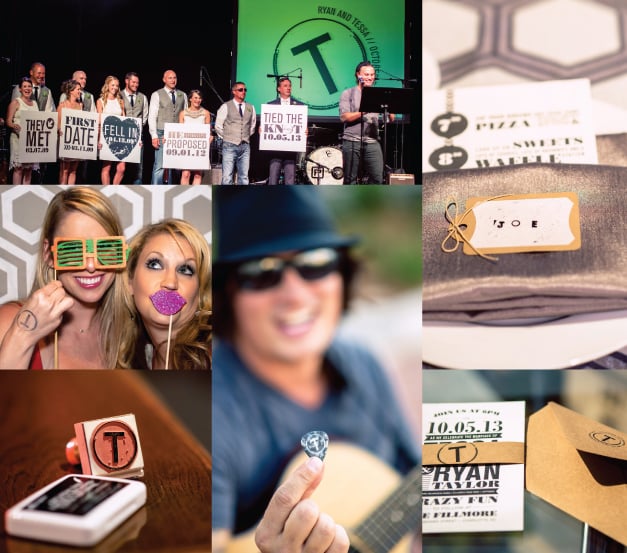 When Tessa Taylor began her fall wedding last year, she knew exactly what she wanted.
But she didn't know how to make it happen.
It wasn't until she met with Melissa Broderick, creative director of Atheneum Creative, whose specialty is wedding stationery, that Taylor's dozens of Pinterest pins and pages ripped from bridal magazines came to life. "I knew exactly what I wanted," Taylor says of her dream wedding. "I just couldn't find it. When you envision your wedding, you have this beautiful idea in your head … Melissa was able to take our ideas and make it real."
More and more couples are getting just as lucky as Taylor did when she connected with Broderick. "[She] knew exactly what I wanted after meeting me for just an hour over coffee," Taylor says. Today many wedding vendors are more versatile in the services they offer, which makes them more marketable to clients. The result: Couples need only a handful of trustworthy (and creative) vendors to bring their wedding dreams to life. "You do not need to go to a ton of individual vendors and balance all of them as well as their contracts and deposits," says Anne Markey of Favor Me Events.
For Broderick, expanding Atheneum Creative beyond the company's signature stationery offerings was a no-brainer. "I come from a traditional branding background for corporate clients," Broderick says. "I noticed it was missing in the wedding world." The premise is simple: Create and design a brand around a couple's wedding using logos and various printed materials. (She recently printed a portion of a bride and groom's invitation on leather.) "We're taking the stationery and developing it into a brand and giving the whole day a unified aesthetic." For Taylor, Atheneum Creative's broad offerings were exactly what she and her now-husband, Ryan, needed. "Melissa tied everything together, which was really important to us," she says. "It gave [our wedding] a more professional, finished feel."
Dan Lanning, one-half of the photography team The Beautiful Mess, with wife, Candice, says it only made sense for them to offer their couples additional options. "We had a handful of clients asking us if we did a photo booth," Lanning says. They eventually added it to their menu of options. "We figured if people really want this service, we need to learn how to do it and incorporate that into what we offer." Today the Lannings' MessyBooth—a more modern version of a traditional photo booth in which various size groups pose with props in front of the camera—is popular with brides and grooms. "It gives guests something else to do other than the usual wedding activities," Lanning says.
Pinterest, inspiration shoots created by wedding professionals, and the "DIY era" are partially responsible for wedding businesses expanding their offerings, says Carey Roberts of Carey Roberts Design Co. "For that client who has chosen not to use a full-service wedding planner to help them tie things together, [vendors with diverse services] appeal to them when they find a vendor they strike a chord with and they can trust." Like Broderick and Lanning, Roberts, who specializes in wedding and event floral design, saw an opportunity to further help her clients on the day of the wedding. "We decided to offer day-of coordination because we're a major player in the day," Roberts says. But like her peers, Roberts explains that even though she offers additional services, her specialty comes first. "That's the heart of our business and always will be," she says.
Although many brides, especially those on tight budgets, seek out vendors who offer multiple services, Markey warns that there are downsides. "Clients may actually be limiting themselves," she says. "A videographer may also offer an up-lighting package but will most likely not have the same amount of items as someone who does that primarily as their business focus." Markey also suggests making sure the grouped offerings are logical. "A florist who also offers linens makes sense," she says. "A makeup artist who also drives the limo? Not sure that will work."
For Taylor, taking advantage of vendors who offer more than their specialties was a smart choice. "We didn't even know where to start," she says. "Just to have Melissa's expertise in the industry was [invaluable].
"It was awesome."