The Toughest Job in Town
A first look at new CMS Superintendent Clayton Wilcox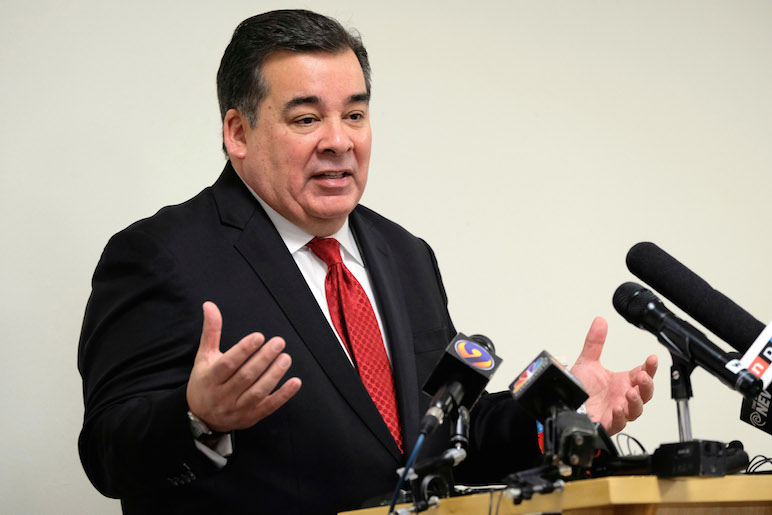 Clayton Wilcox thought he and his wife might end up in Charlotte one day, if only as retirees following their grown children, who work in the finance and tech industries.
"The crazy thing is their mom and dad beat 'em here," he joked Tuesday morning, hours before the Charlotte-Mecklenburg school board officially hired him as the district's newest superintendent.
Wilcox, who's 61 and currently the head of the Washington County school district in Hagerstown, Maryland, will start July 1. He's visited Charlotte a couple of times since the board announced it had selected him as CMS's top educator in December. Wilcox is already making the predictable rounds—meeting with the Chamber board, the Tuesday Morning Breakfast Forum, the uptown Rotary club—and plans to hit up more groups over the next five-and-a-half months.
They'll have a lot to talk about.
Wilcox is the fifth CMS superintendent in a decade, and the wounds caused by or attributed to his predecessors are still raw: School closures in poor neighborhoods, a "culture of fear" among district staff, mistrust among black parents, skepticism in the suburbs. Parents are divided—in some cases irreconcilably—about how the school board should handle the resegregation of the county's campuses.
None of those things is his fault, and yet he'll have to confront all of them, and soon.
"I hope that I'm not judged by (previous superintendents)," Wilcox said at a press conference Tuesday morning. "I hope that I am judged by my own merit."
People here tend to view CMS like they do Congress: They think the institution is an oversized, bureaucratic mess—but, boy, do they just love their child's teacher. The friction is especially clear in the debate about the district's review of its boundary lines, and how student assignment decisions could help break up heavy concentrations of poor students at some campuses. Wilcox said he doesn't have experience with that type of explicit public policy goal, but said he supports diverse schools.
"I absolutely believe, fundamentally, that it's important for young people to go to school with people that are different from them," he said. "Different from them in terms of race, different than them in terms of economic circumstance, different in terms of thought."
In his 30-minute meeting with the press on Tuesday, Wilcox came across as friendly, soft-spoken, and humble—maybe even a little nervous. He cracked "dad jokes" and occasionally took swigs from a water bottle. "I don't know what I don't know," he said. "And I'm conscious of that."
There are things we don't know about Wilcox, too, because the school board ran an unusually private superintendent search, breaking from years of precedent and refusing to let the public meet finalists for the job. (That's not Wilcox's fault, either, and he promised to meet with the press regularly. "I will not hide," he said.)
Wilcox will lead the nation's 18th-largest school district, responsible for educating 146,000 kids. He'll make an annual salary of $280,000, with room for bonuses, on a four-year contract. It's arguably the toughest job in town: Try finding something people care more about than their child's future.
I talked with a veteran CMS teacher right after the school board announced Wilcox's selection as superintendent. She told me that she and her colleagues were indifferent about Wilcox. Central office politics, the teacher said, don't translate well to the classroom.
"Does it really matter?" she asked. "These people come. They go. Meanwhile, I've got kids standing out at the bus stop in the mornings not wearing a coat."
Adam Rhew is associate editor of this magazine. Reach him at adam.rhew@charlottemagazine.com or on Twitter: @AdamRhew.