The Toxic Residue of 287(g)
It's a misguided program that's getting harder and harder to justify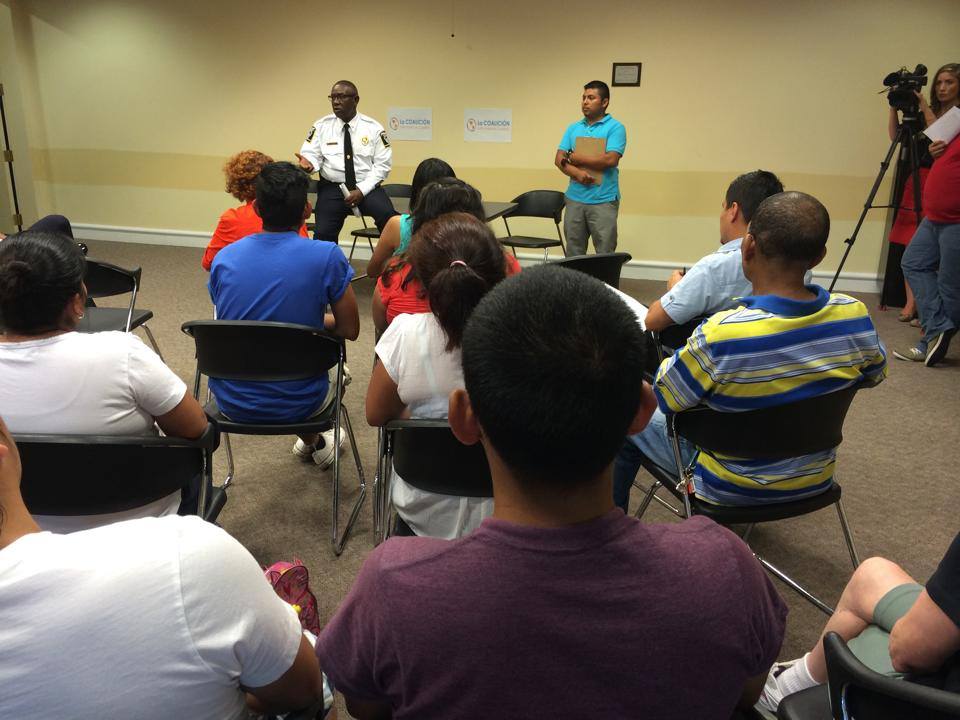 Charlotte-Mecklenburg Police Chief Rodney Monroe met Wednesday evening with a group of about 30 people invited by the Latin American Coalition to talk about the Latino community's distrust of law enforcement.
People were worried, confused, and frustrated, though not necessarily with Monroe, or even with CMPD. The coalition organized the meeting after a police checkpoint on Central Avenue in April, in the heart of Latino-rich East Charlotte, worried residents who sensed that CMPD was targeting them for arrest.
Monroe explained that the checkpoint was set up to dissuade recent robberies in the area and perhaps catch the robber. It was not, he said, a dragnet to arrest undocumented immigrants, and he admitted the department "could have done a much better job of communicating that to residents." The chief sought to assure everyone that his officers were committed to treating everyone equally under the law and that, in his words, which a translator was on hand to render into Spanish, "we are not the immigration police."
Technically, he's right. But it's nowhere near that simple, and toward the end of the hour-long session at Independence Regional Library, Monroe finally pinpointed the root of the problem, one over which he has no control: "287(g) is the issue."
Eight years, 24,000 people
It's been the issue in Mecklenburg County for more than eight years now, since February 2006, when the county Sheriff's Office under ex-Sheriff Jim Pendergraph formally arranged with U.S. Immigration and Customs Enforcement to serve as deputized federal immigration officers—with the authority to question and detain suspected undocumented immigrants and refer them to ICE for deportation.
Mecklenburg County's was the first Sheriff's Office east of Phoenix to join the 287(g) program, now in operation among 37 law enforcement agencies in 18 states. Since 2006, the Sheriff's Office has identified 24,232 county jail inmates who weren't born in the United States and processed 13,187—more than half—for removal from the country.
And that's why, when Monroe says CMPD isn't interested in enforcing immigration laws, he's correct but misleading. CMPD handles law enforcement throughout the county. The Sheriff's Office runs the jail. When CMPD arrests people, they're processed into the jail, where sheriff's deputies have the authority under 287(g) to question and detain them if they're undocumented—which they often are, since even a stop for a broken taillight can lead to a trip Uptown for someone who lacks a photo ID. You can't get a driver's license if you're undocumented, and the process of documentation can take years.
So recent immigrants from Mexico or Honduras—by far the most common home countries of people charged under 287(g)— trying to make a new start in Charlotte are in quite a pickle. They have to wait for months or years to get the documents that allow them to obtain another document that's their presumed hedge against a traffic stop leading to their forced expulsion from the United States. In the meantime, they're expected to be productive citizens.
"We all live in this community. We all should be respected within this community," Monroe told the group at the library. "You have the right to speak to us as residents of this community. There should never be any fear of communicating with us." Easy for him to say.
The absence of trust
But this isn't just a matter of feeling sympathy for Charlotte's growing immigrant population. It's a practical one.
Police need witnesses, who are understandably reluctant to come forward. A more diverse department might help. "We aggressively recruit Latino and African-American officers. Do we get them? No," Monroe told the group at the library. "We struggle with that. And I don't want to import people from Washington, D.C., or Atlanta. I want officers who come from within this community. If that is something that would help, why aren't they coming to us?"
The gathering concluded with no commitment on either side beyond a willingness to keep communication open. But as long as 287(g) remains in place as it is, things won't get better.
A few years ago, a pair of researchers at UNC Chapel Hill offered a potential solution: Limit the application of 287(g) to felony offenders. "This practice," their report concluded, "will reaffirm the primary duty of local law enforcement to serve and protect all residents from crime, rather than to enforce immigration violations. This will help to minimize fear and distrust of local law enforcement, which has resulted in the underreporting of crime and increased vulnerability of immigrants as targets of crime."
That would surely help. There's another option the county ought to consider: dissolving the agreement with ICE. It's getting more and more difficult to justify 287(g) when it's making it harder for cops to do their jobs.