The Trial That Divided Us
A white police officer shot and killed an unarmed black man, and each of us saw the case through our own lens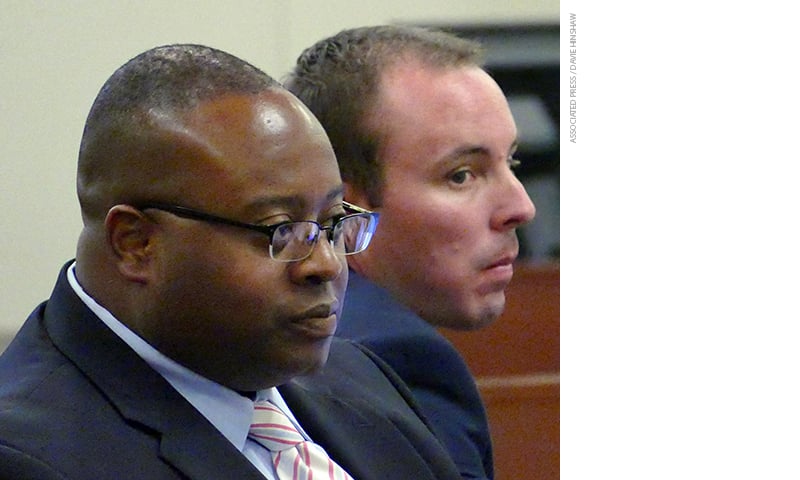 Even the courtroom was racially segregated. On the first day the jury began deliberating and on the day it finished, the crowd on the side of the room where Jonathan Ferrell's family sat was predominantly black. The people on Randall Kerrick's side were predominantly white. People were friendly, of course. They chatted in the line to enter the courtroom. Sometimes they shared gum or candy. But still, they stuck to their own side.
The jury was a diverse group—four white women, three white men, two black women, two Latina women, and one black man—and a diligent one. They spent 19 hours deliberating this week before their foreman admitted defeat and Superior Court Judge Robert Ervin declared a mistrial. "We have exhausted every possibility," the foreman told the judge.
Given their 8-4 stalemate, which became official late Friday afternoon, it's clear the jury had as many conflicting opinions about the case as the people in this city. How many wanted to convict Kerrick, and how many believed he was innocent? We don't know yet, but we know they were torn, and their indecision reflected our own.
Video from one officer's dashboard camera—a key piece of evidence from the morning Jonathan Ferrell was killed—could be interpreted in many different ways. In discussions around the office, on social media, and even in my own household, those few seconds of tape were filtered through our own biases and beliefs. The discussion turned ugly at times.
Some people saw an unarmed black man walking casually, his hands swinging by his sides, start to run toward the police after one cop trained a Taser beam on his chest. Other people saw a large, intimidating black man charging toward an armed police officer, as if to attack him.
"Get on the ground, get on the ground, get on the ground!" Kerrick shouted three times, off camera, before the gunfire began. There was only the briefest pause between the first round of gunfire and the second. Kerrick shot Ferrell 10 times, and eight of those bullets landed in the unarmed man's chest. He was pronounced dead at the scene.
In his closing statement, defense attorney George Laughrun argued that race was not a factor in this case. But social science has shown for decades that race can be a factor in such cases, because people have biases they may not even be aware of. In one 2002 study, participants playing a video game were more likely to mistakenly shoot an unarmed black man and more likely not to shoot an armed white man.
Would Kerrick have pulled his gun on a six-foot-tall white man running toward him? Would he have believed the man was so strong that the first round of bullets had no effect on him, as Kerrick testified he thought about Ferrell?
After the mistrial was declared, a small group of about a dozen protestors—black and white—lay face down in the street outside the courthouse uptown. They held their hands behind their backs as if handcuffed, the way Jonathan Ferrell died. Several of the women were crying as they shouted and chanted things like: "Back up, back up! We want freedom. All these racist-ass cops, we don't need 'em."
At least four black Charlotte-Mecklenburg Police Officers stood watching them quietly, their faces unreadable.