The Truth About Traveler's Insurance
Four reasons to consider travel insurance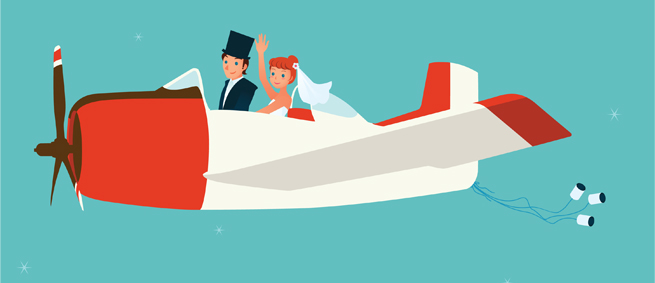 You've planned for the things that could go wrong on your big day, but that doesn't mean you shouldn't also plan for the unexpected when it comes to your honeymoon. Nancy L. Cutter, president of Court Travel Ltd. in Charlotte, offers some scenarios you might want to consider when planning your once-in-a-lifetime trip for two.
Even if you're not flying halfway across the globe, it's likely you'll take multiple connecting flights instead of one direct flight to get to your honeymoon destination. And that means you may want to consider travel insurance. According to FlightAware.com, Hurricane Sandy caused more than 19,000 flight cancellations, resulting in thousands of people being stranded or missing connections. Weather is just one of several reasons your plane could be grounded.
Then there are the results of those cancellations. If you're one of the unfortunate travelers who have had canceled or delayed flights, you might find yourself out of luck if you need a place to stay at the last minute, says Cutter. A travel agent can tackle this challenge—and travel insurance can help to cover costs.
Although you can't predict family emergencies, it's important to consider any current health concerns in your family that might cause you to make a last-minute cancellation. The last thing you want for your perfect getaway is the added stress of not being able to get home to see a loved one when you need to.
Even healthy newlyweds should consider the responsibility of locating and obtaining health care for an emergency or accident. Whether you're active travelers or more lounge-by-the-pool types, getting sick or injured while traveling is awful. Some health-insurance coverage is not valid outside of the United States. "Travel insurance protects you no matter what type of injury or illness you incur," Cutter says.
Finally, unless you're traveling domestically with access to the Internet and an infinite amount of transportation and accommodations choices, travel insurance is highly recommended. Plus, it's your honeymoon—worries are the last things that should be on your mind.