The Two Faces of Patrick Cannon
An apt dichotomy for an arrested Charlotte mayor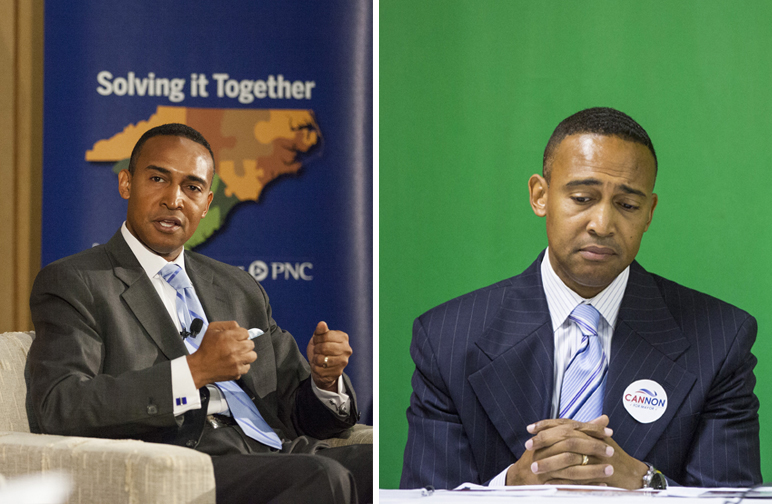 Of all the sordid details in the FBI's four-year investigation of Charlotte Mayor Patrick Cannon, arrested today on corruption charges, the most perverse are these (with blanket caveat that this stuff is merely alleged):
Cannon, at the time mayor pro tem, is meeting with a guy from Atlanta who wants to open a new nightclub and bar uptown. It's January 2013. Cannon is looking for money to invest in his own business idea, a "feminine hygiene product" called HERS. The two make a deal: Nightclub guy will give Cannon $12,500; Cannon will help him navigate permitting and other issues related to his new nightclub.
Nightclub guy is, as you probably know by now, an undercover federal agent. They meet at an apartment the FBI is using as a cover. The agent hands over the cash:
"Cannon looked nervously towards the window and covered the money with a folder," a federal affidavit states. "Cannon's reaction caused the [agent] to close the window blinds … Cannon placed the money near his ear and fanned the bills."
'That's not how I flow'
It gets better/worse. The next day, Cannon calls the agent and offers to return the money:
"… if there's some concern about, you know, me not being, you know, me, if there's concern that there has to be a linkage between the two, then I would much rather see you before you get on that plane … I certainly cannot have my reputation, my values and ethics put on the line … I'm not one of those Chicago or Detroit-type folk … New Orleans, Louisiana, whatever it is, I, I, that's not how I flow."
The conversation took place January 18, 2013. The criminal complaint notes wryly that ex-New Orleans Mayor Ray Nagin had just been indicted on federal bribery, money laundering, and other charges. It does not dwell on the distinctly Charlottean touch here—that unlike in Chicago, Detroit, and New Orleans, places where quid pro quo is a long-established way to do the public's business, in Charlotte, Cannon seems most concerned about not appearing to have done anything wrong.
This a day after accepting a bribe and practically licking the bills.
Charlotte's Kwame Kilpatrick
The 48-page document is filled with little horrors like this, places where Cannon is operating as sleazily and stupidly as a character in The Wire and struggling to apply a sheen of legitimacy to it. When another undercover agent leaves a Fossil briefcase containing $20,000 in cash in the mayor's office in return for his help on another fictional real estate deal, Cannon leans over and whispers, "I just got to be conscious about that kind of stuff here, you know." Being conscious enough not to accept the bribe in the first place, or to check whether these G-man "developers" were legitimate, seems never to have occurred to him.
So here we go—in a city where genuine local government corruption is a rarity, we now have a doozy of a case, a Kwame Kilpatrick affair with a Southern accent. We'd been basking in the Queen City's newfound celebrity for a while, the bright light cast by the 2012 Democratic National Convention, the ascension of Cannon's predecessor, Anthony Foxx, to President Obama's cabinet. Now? This guy, in office for all of four months before arrest and resignation.
'Watch where you go'
We'll have to see how this affects the city's national perception and electoral future. Goodness knows the feminine hygiene product will generate plenty of nationwide guffaws. (Let's at least be thankful that, to this point, crack cocaine does not appear to have been involved—although, really, it might as well have.)
But there's a sadder aspect to this, too. That New Orleans reference hit home for me. That's my hometown. Yeah, it's historically corrupt. Yeah, it's inefficient, a model for bad local officialdom. Nagin was a world-class schmuck. At least in Charlotte, I thought, there's no Carnival or JazzFest or Rebirth Brass Band playing the Maple Leaf Bar on Tuesday nights, but we do have relatively clean, efficient local government.
We still do, on balance. But this tarnishes that reputation, maybe for good.
During one of his discussions with an undercover FBI agent in December, Cannon brags about his access to local and state officials, even the President, whom he'll see in a few days at a White House holiday party.
"Good for you," says the agent, in the midst of collecting the evidence that could send Patrick Cannon to the federal pen. "You know, you haven't hit the pinnacle of your political career yet, have you, Patrick? It will be fun to watch you the next 10, 15, 20 years. Watch where you go."