The "Unplugged" Wedding
Maybe you don't want every moment of your special day posted on Facebook. Maybe you want your guests to be "in the moment." Maybe you're not a fan of being in the spotlight. Whatever the reason, here's how to accomplish the elusive "unplugged" wedding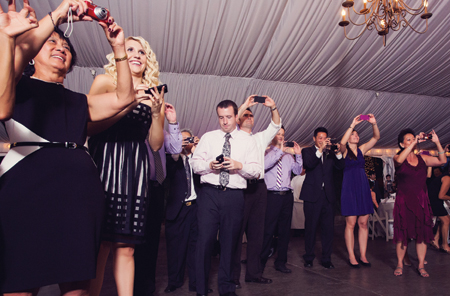 A picture may be worth a thousand words, but what about when those pictures are texted, Facebooked, and tweeted with hashtags on your big day? As a wedding photographer and recent bride, Cassandra Bradley of BlueSky Studios Inc. believes that taking guests' gadgets out of the equation adds emotional impact back into your day.
Bradley asked guests to "disconnect" for her own nuptials last spring. She and her groom asked everyone to leave their iPads, smartphones, and Canon Rebels at home. For her very plugged-in family, this wasn't an easy decision. "We've got multiple hobbyists and professional photographers in the family, and I knew that even with just thirty-eight people, if we didn't ask, we were going to be looking at screens and not a whole lot of very present guests," she says.
Critsey Rowe, a destination-wedding photographer based in Charlotte, has witnessed similar technical difficulties. "I have seen people taking photos with their phones, point-and-shoot cameras, iPads, and even bringing along more professional cameras. I think it has a lot to do with having instant gratification and people wanting to be the first to post and tag images on Facebook or Instagram," she says.
IS AN UNPLUGGED WEDDING RIGHT FOR YOU?
"It's not for everybody, of course, but I can't argue that I don't think it's for most," Bradley says. If you're planning on a tight budget, asking family and friends to document your day could be your best bet. To date, Bradley hasn't had a client have an unplugged wedding, but several couples with upcoming weddings are seriously considering it. As a documentary-style photographer, she feels this decision is just as integral to wedding planning as whether or not to have a "first look" photo shoot. At many weddings, photographs of tears of joy have been replaced with a sea of heads looking down at cameras and iPhones. "This is truly heartbreaking to me, as someone who loves to capture emotion in imagery," Bradley says.
PLUGGED-IN PROBLEMS
"Let's face it. Your wedding goes so stinkin' quickly, right? You really don't see half the things that happen," Bradley says. Friends and family viewing a wedding through phones and cameras makes them less present, less in the moment, so that emotion is often lost in the professional photography.
"It is very sad to see so many people looking at their LCD screens instead of enjoying the moment as it unfolds in front of them," Rowe says.
And then there's the uncle who fancies himself an emerging talent, competing with the photographer you hired to capture all of the key moments. "I'll actually have people stand up in front of me during a first kiss," Bradley says. "You actually decrease your chance of getting great images when you have everyone trying to do their own thing, rapid-fire style."
"This is truly heartbreaking to me, as someone who loves to capture emotion in imagery," Bradley says.
GETTING THE WORD OUT
If you decide to take the unplugged plunge, you'll need to inform your guests—carefully. Bradley and her new husband chose to craft a thoughtful email beforehand. In it, they explained the request was not just for their own enjoyment, but also for their guests to connect with one another instead of with the Internet. Aside from the two hired photographers, they politely asked guests to leave their devices at home and come with the mindset to eat, drink, and be merry.
Other options include posting a sign outside the ceremony location, printing it in your program, posting it to your wedding website, or adding inserts into wedding invitations. Rowe photographed a wedding in which the couple printed an unplugged request on paper fans:
We want you to be able to really enjoy our wedding day, feeling truly present and in the moment with us. We've hired an amazing wedding photographer who will be capturing the way the wedding looks—and we're inviting each of you to sit back, relax, and just enjoy how the wedding feels. We're respectfully asking that everyone consider leaving all cameras and cell phones off. Of course we will be happy to share our wedding photos with you afterward!
Bradley admits her request didn't go over well with all of her guests. Her sister, who loves to carry a camera, was not very happy with the notion. "I would be lying if I told you that she didn't sneak in some images during the evening," she laughs. But for the most part, she says, guests took a step back and realized they couldn't remember the last time they went anywhere without documenting every aspect of their experience. "By eliminating the amount of distractions throughout the day, including technology, you can really get some amazing moments."