The Unsolved Murder of Kétie Memory Jones
On a clear night last October, she danced and sang as she walked home through the streets of the neighborhood she loved. What happened next devastated her family and friends, and left an entire community searching for answers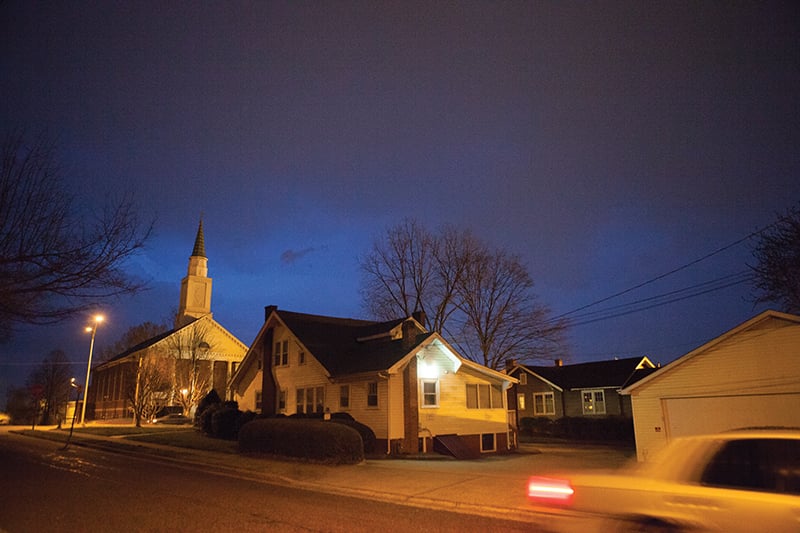 BY THE TIME Kétie Jones finished a six-hour shift at her hostess job and caught up with friends at the nearby Midwood Country Club, it was close to 11 p.m. The cozy club, with a gleaming bar, two pool tables, and a jukebox, is a bit removed from the center of this busy neighborhood, down a little ways from The Plaza on Central Avenue, across from Veterans Park. Since opening two years ago, it has turned into a favorite spot for late-night restaurant workers.
Kétie and her friends gathered at one of the round iron tables out back on that mild Friday night, October 14.
They talked and laughed, took shots at solving each other's problems. Kétie was in good spirits and "babysat a gin and tonic with two limes," says her friend, Rachel Cullen. The group sat outside for hours under the stars, as they did almost every night.
The crowd thinned out, but Kétie and a few friends lingered until closing time. When they headed to the gravel parking lot, Cullen offered her a ride home. Twice. Kétie said no. It was one of the last nice nights of the year, she said. She wanted to walk.
"We always offered," says Andrea Reed, another friend out with them that night. "She never wanted a ride. She loved to walk the neighborhood. Any of us wouldn't have thought twice about walking before all this happened … up until her … there was no reason to not walk home."
Katherine "Kétie" Memory Jones, 26, believed she was fairly street-smart, her friends say. In her purse, she carried a pink case of pepper spray. She'd used it one evening, just a few weeks before, on some guy on Central Avenue who was harassing her. And she kept her cell phone in easy reach in the back pocket of her blue jeans. Her mother, who lives a few hours away in Asheville, says Kétie would sometimes call her when she was walking home at 2 or 3 in the morning, just to be on her phone, just to feel safe.
She left the bar around 2:30 a.m., in the still of the night, when silence settles over the city. The Hunter's moon lit the autumn landscape and Kétie's mile-long walk home. The night air was crisp, but her green sweater, layered over a long-sleeved blue shirt, kept her warm. She walked up Central Avenue in her black, laced boots, under the clear, starlit sky, beneath Venus and Saturn and Aries.
She walked on the sidewalk, past the pine trees and oaks. As she passed the all-night 7-11 store near Westover Drive, one of her friends who'd been with her at the bar pulled out in his car. He turned around, drove up alongside her, rolled down his window, and offered to drive her home. She turned him down and walked on.
Past the brick fortresses that line Central Avenue—the United States Army Reserve Center, stoic behind its black wrought-iron fence; the yellow-bricked VFW Stonewall Jackson Post 1160 with its antiquated cannon. The security camera at the Midwood Corners shopping strip caught her dancing and singing as she walked to the corner of The Plaza, across from the public library and the Harris Teeter. All the businesses had been closed for hours. Her purse swung at her side, filled with some cash, a pack of American Spirit Light Green Menthol cigarettes, Band-Aids, hair ties, and dog treats.
On the corner, she took pictures with her cell phone of a street sign, the used bookstore's van, and a car passing by, imitating her friend Andrew's "swiping" photo technique that makes pictures look a little blurry, as if they're moving shots. At 2:33 a.m., in a group chat on the Facebook Messenger app, Kétie sent the photos and typed out her last, whimsical message to her friends: "Enjoy these Andrew-esque pictures on my lonely walk home."
She was almost halfway there.
She knew all of the neighborhood's backstreets—she'd walked them for four years—and always took shortcuts. She cut across The Plaza, and walked alone along the sidewalk in front of Berryhill Realty Company, where she'd paid the rent on her two-bedroom rental home on Hawthorne Lane for a few years. Suddenly, a car's headlights came on, illuminating the brick church across the street. Kétie turned left at the corner onto Hamorton Place.
She was walking along the sidewalk past the thick shrubbery when a gunshot shattered the silence. Then another. One of the bullets pierced both her lungs and cut through her heart. Kétie crumpled to the asphalt.
***
KÉTIE WAS ONE of three women shot and killed on the streets of Charlotte in 2016. Of the 13 females killed last year, four deaths remain unsolved—including Kétie's. Last year, there were five murders in the Charlotte-Mecklenburg Police Department's Eastway Division, which encompasses 10 square miles and includes Plaza Midwood, one of Charlotte's oldest neighborhoods. Three of the cases have been cleared.
Kétie's murder in the early hours of October 15, the first homicide in Plaza Midwood since 2013, destroyed the sense of security for her friends and neighbors. Some people who live and work in the neighborhood say they don't feel safe anymore. Leigh Wall, a property manager of Berryhill Realty Company who was on call that night, called Kétie's death "senseless." A librarian at the Central Avenue branch tells me, "Everyone was shocked. We have kids in the neighborhood whose parents would let them walk to the library to check out books. The first week after … we didn't see many people … then (only) in groups. Many families were staying close together. It still shakes you up."
***
THE GUNSHOTS SET OFF the real estate company's garage alarm. At 2:47, a neighbor across the street called 911 and looked out a window in time to see a car drive off into the night. Another neighbor heard the rapid gunfire—pop, pop, pop—and mistook it for fireworks. Still, he thought he ought to go outside and take a look.
He walked out onto his porch, then headed down the street toward where the alarm was sounding. He saw someone lying face down in the parking lot. Maybe, he thought, the person had been drinking and had passed out, and needed medical help. As he walked toward her, he dialed 911. When he reached her, he saw a small stream of blood beside her, the size of a hand. He guessed she might have stumbled and fallen. He didn't notice the gunshot wound.
"I was trying to see if she was conscious, breathing," he says. "She had a mop of hair; it was hard to check her pulse. I told 911 she doesn't appear to be breathing. I told them there's a fire station two blocks from here." The 911 operator asked him to turn the young woman over to check for a pulse. "Are you sure?" he asked the operator. "Yes."
The man, who asked not to be identified in this story, turned her over and placed his fingers against her neck. "There was no pulse," he says now. "She was gone." He stayed close beside Kétie until the street lit up with blue and red flashing lights.
***
KÉTIE—PRONOUNCED KATIE—was her nickname, to which she gave a French twist with an aigu accent. She loved everything French, even taught herself the language. She was also fascinated with binary code, so much that she had "love" in binary code tattooed around her left wrist like a bracelet: 01101100 01101111 01110110 01100101. Her friends say Kétie loved everybody she came across, stray people and animals alike. She let friends couch-surf at her house on Hawthorne Lane as long as they liked. She never locked her doors.
She was always gathering up homeless cats, dogs, even a couple of injured squirrels, and finding them homes or keeping them. "She adopted two dogs and two cats," says one of her closest friends, Brendan Coffey, "and would have taken in more if I didn't dissuade her."
Kétie was born in Asheville on December 19, 1989. Her father died when she was a child. Her mother had two more children, Chris and Becca, Kétie's half-brother and sister. Her mom moved the family to Michigan, then back to North Carolina in 2004, to Charlotte, where Kétie attended Providence High School.
Coffey, 27, met her there more than a decade ago in a theater class. "I could not resist her energy," he says. "She was a constant reminder to not worry about what other people thought."
They worked on many shows together—The Diviners, Beauty and the Beast, others. She mostly worked backstage doing costume and set design. Sometimes she ran the stage lighting.
When Kétie graduated in 2008, she moved to New York City to study technical theater at Marymount Manhattan College. She loved the big-city life, but struggled with the high cost of an expensive private school. After three semesters, she returned to Charlotte in 2010 to live with her family. In 2012, she moved in with a friend she met through Coffey, who was renting a house on Hawthorne Lane. When the friend moved out, Kétie stayed.
"She was enamored with the idea of local community, that she could walk to a bar from her house, or walk to work," Coffey says. "It was very attractive to her, all in the neighborhood."
Kétie was also frugal, living on her modest hostess salary from Midwood Smokehouse, without a car. She loved living in a community where everything was in walking and biking distance.
The Plaza Midwood neighborhood, just a mile northeast of uptown, is an old streetcar suburb that emerged in the early 20th century, with a trolley line then connecting it to the rest of the city. The community has gone through a roller coaster century, thriving in its first 50 years, then slowly eroding into a troubled neighborhood. "The other side of Hamorton Place (where Kétie was murdered) used to be a DMZ zone—open drugs," says the man who went to Kétie's aid after she was shot. But at the beginning of this century, neighbors banded together with police and cleaned it up, and the neighborhood's value soared. Since 2011, the median home sale price in Plaza Midwood has jumped 54 percent.
Still, as it becomes a more desirable place for wealthier Charlotteans to live and play, there remains that element of funky charm that draws all kinds of people.
Friends say Kétie blended right in.
"She could be herself," says Andrea Reed, who worked with Kétie. "She knew nobody would judge her for what she was wearing when she walked down the street or how she acted when she went out."
Another coworker, Monica Cole, says Kétie wore her personality on the outside, with her big, billowy skirts over jeans and leg warmers. The tips of Kétie's long, naturally brown hair were faded green last fall, and she'd dyed her hair a rainbow of colors over the years—blue, purple, red, pink.
She had a creative flair—she enjoyed painting, drawing, and photography. Cullen, who was out with Kétie the night she died, remembers her friend singing Disney songs when she helped clean the kitchen.
"She loved to dance," Coffey says. "We danced to everything—bluegrass, reggae, jam bands. She loved music festivals, this energy of family, cohesive campsites we called 'our neighborhood.' She was somehow always the host of our neighborhood. She personified the music festival, the freedom, the excitement, the camaraderie."
And she was fun-loving and generous. When someone gifted her a $50 Lyft credit on her phone, she took her friend Cara Jorgensen Dumpster-diving for food. When Jorgensen started her bakery business, Kétie gave her a KitchenAid mixer.
"Her friends were her family," Reed says. "She found us and felt there was no reason to go anywhere else. She had no fear, no qualms about putting herself out there."
When she wasn't walking around Plaza Midwood, Kétie would ride her dark blue bicycle with a wire basket above the front tire. Sometimes she'd ride her bike out to the bars, or leave it locked up in front of Common Market for days.
"Kétie had such confidence in the world," Coffey says. "She felt very comfortable—that's why she felt OK walking home at 2:30 in the morning. She'd done it a hundred times. She wanted to prove how capable she was and inherently good the world is. She was stubbornly, beautifully naïve."
Months after Kétie's murder, Coffey sips kombucha in the alley behind Common Market, just a few blocks from where his friend died. It was one of Kétie's go-to places in the neighborhood, where she could lounge out front at the picnic tables with her friends and her dog, Bean Sprout, and smoke her American Spirits. Coffey, other friends, and Kétie's family met there in October for a fund-raiser to cover her funeral expenses. Around the same time, they held a memorial concert at Snug Harbor, a favorite bar of Kétie's, on the next block over. They ended up raising enough money to also set up a college scholarship for someone like her—someone with wide-open dreams but limited financial resources.
Coffey still refers to her in present tense when he talks about her.
"I'm still looking for Kétie," he says.
***
AFTER KÉTIE'S MURDER, her mother, Jevona Livingston, drove down from Asheville and stayed for three weeks in Kétie's house. "I wanted to be close to her," Livingston says. She grieved with Kétie's friends and coworkers and attended the memorials at Snug Harbor and Common Market. Livingston; her daughter, Becca, and son, Chris; Jorgensen; and a handful of other friends packed up Kétie's belongings. Livingston took care of Bean Sprout and Kétie's other dog, Snow Pea, and at the end of her stay, took the dogs and Kétie's blue bicycle back home to Asheville.
Kétie's mom wears a necklace with an engraved silver charm that reads "Keti did" because, Livingston says, Kétie did everything. Growing up, her daughter "loved to get under my skin, push me to the limit." But the older Kétie got, the closer they were. "She grew into my best friend. Her whole life, I tried to get her to calm down, but now, I embrace that side of her."
Charlotte-Mecklenburg homicide detectives tell Livingston it will take time to solve Kétie's murder. In a Crime Stoppers video released last December, Livingston tries to speak directly to her daughter's killer: "I don't know why you did this to my daughter. … But she would have tried to fix you." That was several months ago. "There's no fixing it, no way to get her back," she softly says now, with tears in her eyes. "I just want to find answers, for the scenarios (of how Kétie died) to stop in my head. I want the person caught. I don't want this to happen to someone else."
Other than the video, police are releasing few details about Kétie's case. Although CMPD's year-end crime statistics listed robbery as a factor in Kétie's murder, her mother says nothing was taken.
Dr. Margaret Zahn, a criminologist at N.C. State University who has studied violent crime for 30 years, says, "A small percentage of robberies begin or end in murder."
"Robbery is not unusual in this circumstance after bars close," she says. However, "In general, women who are murder victims are often murdered by former lovers or boyfriends. Women tend to be murdered in domestic violence situations."
According to the N.C. Coalition Against Domestic Violence, in 2016 there were 66 domestic violence-related homicides in the state; 53 of the victims were female.
Kétie mostly had better luck with friends than boyfriends. She'd had a few serious relationships and a couple of bad breakups. But friends say there was no one serious in the picture when she was killed.
***
LAST FALL, after Kétie's murder, after a spike in robberies in Plaza Midwood, police increased patrolling in the area. Captain Torri Tellis, the Eastway Division commander, who was on the scene after Kétie's murder, says the division is different from other divisions in the Charlotte-Mecklenburg Police Department, in that there are a lot of "social areas," such as bars and restaurants, where people are out at night. Tellis said the department always increases patrolling during the December holidays, and this past year, they moved resources such as helicopter and motorcycle units to the division and added police on bicycle patrol during evening hours. "Bikes on the street patrolling are more personable," Tellis says. He says officers in his division are vigilant. "For me, (the community's) perception is their reality, that they feel safe," he says. "Our job is to bring justice and to make sure they get the answer—and to know we've never left."
But another long-time neighbor on Thomas Avenue, who asked that her name not be used, worries that the new businesses and restaurants with outdoor seating make customers "prime candidates" for robbery.
A neighbor who has lived in the community for 30 years paused recently near Kétie's makeshift memorial site on Hamorton Place.
"We haven't forgotten," he says, "even though (her murder) is out of the limelight now."
On a cold, wintry day, around sunset, Jorgensen and Coffey retraced Kétie's walk home. They're still troubled by the lack of answers. They placed pink tulips and yellow sunflowers against the hedge at the memorial, just a few feet from the parking lot where she died. A neighbor walking her curly-haired puppy paused to tell them how sorry she was about their friend's death.
Like all of Kétie's friends and family, Coffey wants her murderer caught, but he continues to live in the neighborhood they love without fear.
"I don't want to live looking over my shoulder," Coffey says. "Kétie wouldn't want anyone to live that way."
Cheryl Spainhour is a senior lecturer and teaches journalism in the communication studies department at UNC Charlotte. Reach her at cspainh@gmail.com.
Kétie Memory Jones Memorial Arts Award
Kétie's friends and family created an endowed scholarship at UNC Charlotte in her honor. The recipients will be CMS students with a passion for the arts who need financial assistance for college—people like Kétie. To donate, visit crowdfund.uncc.edu/project/4227/updates/1