The Visionary: Michael Marsicano
The CEO of Foundation for the Carolinas is No. 1 on our list of 50 Most Powerful People in Charlotte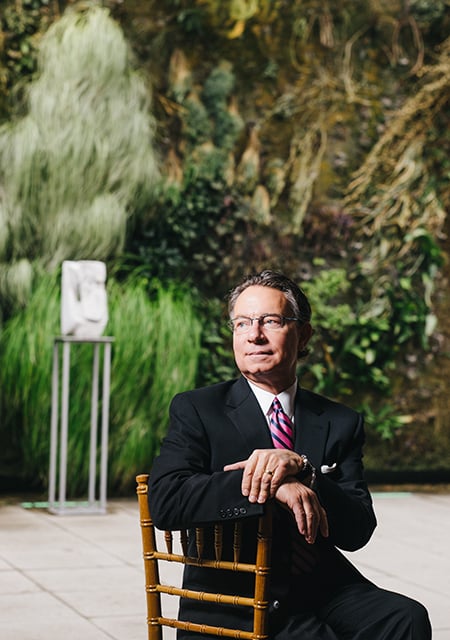 > Read the entire list of Charlotte's 50 Most Powerful People.
TAKE A ONE-MILE WALK DOWN Tryon Street in uptown, from the McColl Center for Art + Innovation to the Harvey B. Gantt Center for African-American Arts + Culture 12 blocks south, and you'll encounter myriad arts, cultural, and civic projects that bear the distinct imprint of Michael Marsicano.
But if you take that walk with Marsicano himself, you'll have a hard time getting the 61-year-old CEO of Foundation For The Carolinas to acknowledge the depth of his influence. On a brisk autumn afternoon, Marsicano stops in front of the McColl Center.
The former burned-out shell of a Gothic-inspired church is now a cornerstone of Charlotte's vibrant arts and culture scene. It exists because former Bank of America president Hugh McColl asked Marsicano to make it happen. As traffic whizzes by and the temperature drops, Marsicano is so focused on describing the neighborhood, he doesn't seem to notice it's cold. He remembers when you could stand on that corner and see a whole lot of nothing as you looked south. "When I first got here (in 1989), after banking hours, you could roll a bowling ball down Tryon Street, and it wouldn't hit anybody," he says. "And at first, I wondered if it would be possible to stay long enough to make a significant impact."
Nearly three decades later, Marsicano's leadership has propelled him to the forefront of philanthropic circles nationwide. He heads a foundation with $1.8 billion in assets and which oversees 2,500 charitable funds established by individual philanthropists, corporations, and nonprofit institutions.
Though Marsicano insists on sharing credit for his achievements, there are two things he'll admit. First, he loves people—talking to them, listening to them, and learning from them. He also loves to raise money. Marsicano's fund-raising and convening prowess has helped raise more than $3.5 billion in philanthropic gifts for cultural, educational, and social-economic initiatives in the region. During his 17-year stewardship, Foundation For The Carolinas has grown from the 35th largest community foundation in America to the eighth largest. The city's uptown arts and science campuses—the Blumenthal Performing Arts Center, the Levine Center for the Arts, Discovery Place, and ImaginOn, to name a few—stand out as tourism beacons.
But there's more than just a carefully crafted career strategy weaving through Marsicano's imposing, seven-page resume. To him, Charlotte-Mecklenburg presented itself 27 years ago like an elegant soufflé recipe before an ambitious pastry chef.
"In many ways, Charlotte is still baking itself," Marsicano says. "It used to be a place where there was one big table, and city leaders invited you to step forward and make a request. Now there are many tables and many voices. So to have landed here at this time, to think about having the ability to help guide that process, doesn't come often in a person's career. There's so much opportunity to positively influence this city at a time when it's defining itself."
Still, one can't help but ponder the cosmic circumstances that placed a man such as the soft-spoken, disarmingly congenial Marsicano smack in the center of the nation's second-largest banking center and kept him here long enough to help fuel an astonishing rate of growth for a midsized American city. And not even he could have foreseen the intensity of the past six months, events that have called on every ounce of his skill as a convener, facilitator, and civic engine.
"You will never meet a person as invested in solving problems, in bringing people together, in making sure that everyone's voice is heard," says one of Marsicano's personal heroes, former Charlotte mayor Harvey Gantt. "As much as Charlotte has accomplished, it's safe to say that much of it might not have happened without Michael's vision, compassion, and commitment."
***
PHILANTHROPIC FOUNDATIONS generally fall into three categories: private, corporate, and community-based. They can be benevolent monoliths or scrappy agitators, depending on the scope of the need and the dynamics of the city or region they serve. And often, their leaders must navigate between aligning themselves with issues or merely steering money toward them.
Foundation For The Carolinas has achieved remarkable success, based largely on the scope of issues it has directly confronted in the past decade. Take, for instance, the Charlotte region's steady growth through a global economic crisis. Or the harsh spotlight shone on education in the region as public school performance dwindled and districts resegregated. Or the gleaming office towers, luxury apartments, and condos decorating uptown's skyline and gentrified neighborhoods, such as Plaza Midwood and Dilworth, obscuring the affordable housing crises in other parts of the community. And don't forget the 2014 Harvard University study that ranked Charlotte last among 50 urban centers in terms of social mobility.
Before Marsicano arrived, resolving community challenges was considered the purview of corporate and civic titans. "The Group," an unofficial committee of businessmen, including McColl, First Union's Ed Crutchfield, The Charlotte Observer publisher Rolfe Neill, and Bill Lee of Duke Energy, set the city's agenda and chased a collective list of aspirations.
But as they stepped down, replaced by men and women with larger, more complex companies that had national and international footprints, a perceptible shift occurred in Charlotte's civic and philanthropic realm.
Into that breach stepped Marsicano.
***
ANNA SPANGLER NELSON met him when she was on the board of the Arts and Science Council, and was impressed by his passion and commitment to the city's cultural development. "It didn't take long for me to recognize that he was bringing a different type of energy to Charlotte's civic life," she says.
As a prominent investor and civic leader with a passion for education, Nelson's respect for Marsicano grew as she watched his response to a call to action in 2010 from Charlotte's public school leaders, who were sounding the alarm about low-performing schools, low reading levels, and an increasing gap between schools with resources and others that were failing.
"A group of us sat around this very conference room table and wondered what we could accomplish if we pooled our resources," Nelson tells me during an interview in her office. "Michael was the one who brought us together; he was there from the very beginning, and he asked us all the right questions. He challenged us to try and imagine what could be possible."
Nelson is the co-chairman of Project L.I.F.T. (Leadership & Investment for Transformation), an initiative within Charlotte-Mecklenburg Schools designed to increase academic achievement in nine schools, including West Charlotte High School and eight elementary and middle schools that feed into it. It operates as a public-private partnership between CMS and the city's philanthropic community.
Denise Watts, Project L.I.F.T.'s learning community superintendent, is a former CMS principal who worked for Foundation For The Carolinas while Project L.I.F.T. was getting off the ground. She leaned on Marsicano heavily during the early days of the project, and says Marsicano's ability to lead while letting others take the credit is incredible.
"He is one of the most ambitious, visionary people I have ever met," she says. "Every single encounter that I have had with an obstacle, or one that I've seen occur in the community, somewhere Michael Marsicano is in the mix. He can get in front of people and make them believe that the impossible is possible."
Education is a passion he shares with his wife, Leslie. They met during their senior year at Duke University, and she's now the associate dean for academic administration at Davidson College. Leslie was in high school in Charlotte when the Swann vs. Charlotte-Mecklenburg Board of Education desegregation ruling was upheld by the Supreme Court in 1971. "At that time, my father was pastor of Dilworth United Methodist Church, and was working with the clergy to help heal the rifts between people who didn't want it to happen and those who were trying to find solutions and move forward," she says.
Quality public schools are a priority for the Marsicanos, who raised three sons here. Leslie Marsicano says it's been discouraging to see some of the public education challenges, but she also sees her father's spirit in her husband.
"He is not only willing to say that we can do this, but Foundation For The Carolinas is going to be right there behind you."
***
DESPITE HIS CONSIDERABLE SUCCESS at pushing agendas, one goal remains elusive for Marsicano—closing the gulf between the city's rich and poor.
The Charlotte-Mecklenburg Opportunity Task Force is the result of numerous community conversations, many convened by Marsicano at the behest of city and county leaders, related to the findings of the Harvard economic mobility study. Charlotte is still trying to recover from its last-place ranking. "As much progress as this city has made," Marsicano says, "that study is a reminder that when whole neighborhoods are essentially denied the chance to succeed, we still have a lot of work to do."
Standing near the Mint Museum, after he's pointed out the two huge plots of land near Stonewall and South Tryon streets where office towers, hotels, and condos are slated to rise, Marsicano considers whether he can envision a day when a middle- or low-income family would be able to live in or near uptown.
"It can only happen if we find ways to maneuver around state and federal policies that block affordable housing initiatives," Marsicano says. "And we have to nurture the will for it to happen locally. That's where the recommendations of the Opportunity Task Force will be crucial. For example, we have raised $20 million in a rental subsidy program. Perhaps we can skirt around state and federal barriers and put families in housing here."
Though he defers credit for creating the task force, scores of people identify Marsicano as key to its creation.
"Michael considers a challenge like that, and thinks of a way to make up for lost time," says Sally Robinson, a longtime Charlotte philanthropist and community volunteer who, along with her attorney husband, Russell, has avidly supported community initiatives for decades. "Part of his power comes from serving all of the city. And I emphasize all."
She recalls a challenge during his years heading the Arts and Science Council that Marsicano himself confesses almost broke him. When the Charlotte Repertory Theater planned to stage the Pulitzer Prize-winning play Angels in America in 1996, local evangelicals mounted a protest, objecting to themes of the AIDS crisis and homosexuality. Marsicano had seen the play in Atlanta, and stood by his conviction that it was brilliant and must not be censored.
The play was staged, and ticket sales went through the roof. Still, the county commission responded by voting to strip the Arts and Science Council of $2.5 million in taxpayer funding.
"I remember just weeping at the thought that people are gonna lose their jobs," Marsicano recalls. "It's gonna throw the arts community into turmoil and disarray if I go one way, or will I lose my soul? And have I lost the soul of the community, which I believed was much more tolerant and diverse than what was being portrayed?"
Marsicano held firm. He even turned down an offer by corporate leaders to replace the vanished funding, because he believed that would be letting local government off the hook. But in the next county commission election, four of the five commissioners who had voted to strip the Arts and Science Council of its resources lost their seats. Not only were funds restored, they were increased.
By the time Marsicano moved to Foundation For The Carolinas in 1999, the Arts and Science Council's total budget had risen to about $13 million, from about $2.7 million when he began.
"The courage showed by Michael and ASC was incredible," says Robert Bush, the current president of the Arts and Science Council and Marsicano's friend of 30 years. "How we stood up to power as an institution is part of who we are to this day, and I give him full credit for that. And I know he brings that sense of courage to everything he does."
***
ON THE MORNING of September 20, 2016, Marsicano and Bush joined other city leaders for the second day of a "Dismantling Racism" workshop organized by the Opportunity Task Force, in conjunction with the Race Matters for Juvenile Justice organization.
Bush says the workshop seemed to be preparing Marsicano for another journey. "I know that he, like the rest of us, was shaken to his core by the training," Bush says. "You could almost hear the wheels turning in his brain."
After the workshop ended, Bush headed to a meeting in Salt Lake City, and Marsicano went to an apartment on West Martin Luther King Boulevard, where his family lived while their home was being renovated. He was at the uptown apartment when he saw news of the shooting of Keith Lamont Scott by a Charlotte-Mecklenburg Police officer. The next night, as protests and violence spread through uptown, he could hear police sirens and demonstrations nearby.
Days later, Sally Robinson received a text from Marsicano, who was at a Panthers game. He wanted to know if she would sign a statement expressing unity and a commitment to justice following the Scott shooting. He wanted her to send him phone numbers of other community leaders he could ask for support.
His efforts, with help from others, have yielded more than a thousand signatures on the official "Statement of Commitment to Fairness, Opportunity, and Justice." The statement acknowledged the pain and anger that emerged from the protests and noted "the work requires change in systems and structures."
"We commit ourselves," the signers pledged, "to the continuous work of building and being a community of justice, equity, fairness, and opportunity for all."
The foundation is taking the lead in supporting the work of the Opportunity Task Force, through funding and by offering foundation support in connecting community leaders with each other and with resources. It's also supporting the ONECharlotte initiative, which will try to implement task force recommendations.
That autumn walk with Michael Marsicano ends where it began: in the Foundation For The Carolinas lobby, where stunning, multicolored glass sculptures adorn walls and pedestals throughout. For the first time, a question seems to disrupt his characteristically measured, reflexively thoughtful responses.
"What if the September protests had reached the Foundation building, and all of this fragile, beautiful glass had been destroyed?"
Marsicano pauses, goes inward for a moment. The day after the turmoil began, some staffers had considered boarding up the windows. Ultimately, the decision was his, and he said no.
"This building," Marsicano says, "belongs to the community."
RACHEL JONES is a freelance writer based in Charlotte. Reach her at rjconsults@gmail.com.