The Way to Braise
The way to braise: breaking down the tried and true comfort food cooking style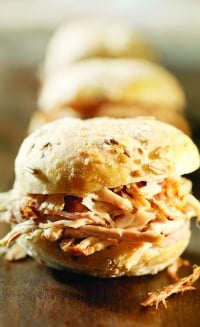 Cider-braised pork and parsnip puree. It sure sounds fancy. But no one needs to know you made it in one pot and left it, untended, for hours. The beauty of braising—browning meat and then slow cooking it in an aromatic broth—is the technique's flexibility. If you leave the dish in the oven while you linger over appetizers, that's OK. If you prefer turnips to parsnips, that's OK, too. The only rules: choose a pan large enough to fit the ingredients comfortably. (The liquid should rise about halfway up the meat.) Cover it tightly. And don't peek!
Shopping for Dinner:
41/2 – to 5-pound bone-in fresh pork
shoulder (known as Boston butt or
picnic shoulder)
11/2 teaspoons kosher salt,
plus salt for seasoning
1 teaspoon coarsely ground black pepper,
plus pepper for seasoning
2 tablespoons olive oil
5 medium onions
1 bulb fennel, sliced crosswise
1 cup unfiltered apple cider
10 medium parsnips
1 tablespoon Dijon mustard
6 tablespoons unsalted butter,
cut into pieces
1/2 cup low-sodium chicken broth
Preparing for dinner:
Prep your vegetables. Peel and slice onions, slicing them first in half lengthwise and then into thin strips lengthwise. Trim fronds from fennel and slice crosswise. Peel parsnips and chop into two-inch pieces.
Cooking dinner:
Preheat oven to 325 degrees F. Score pork skin deeply. Season pork shoulder with salt and pepper. In a large ovenproof pot with cover, heat olive oil over medium-high heat until simmering but not bubbling. Brown meat well on all sides, about 10 minutes. Remove meat from pan. Add onions and fennel. Cook over medium high heat, stirring occasionally, until onions are golden, about 15 minutes. Add apple cider and season with 1 teaspoon salt. Return meat to pot and surround meat with parsnips. Cover tightly and braise in oven until meat is tender, about 2 hours. Remove meat to cutting board and slice. Cut across the grain when possible; shred smaller pieces with a fork and reserve. Remove and reserve parsnips. Boil remaining liquid with onions and fennel until slightly reduced, about 5 minutes. Whisk in mustard and season to taste. Cut butter into pieces. In a food processor, working in batches if necessary, combine parsnips, butter, and chicken stock, and puree until smooth. Season with 1/2 teaspoon salt and 1 teaspoon black pepper. Serve sliced pork with parsnip puree and cider jus. Serves 6.
After dinner:
Use the leftover shredded pork to make tacos. Reheat the meat with a little leftover cider in a 350 degree F oven until the edges are browned and crisped, about 12 minutes. Serve in a corn tortilla with shredded cabbage and sour cream or your other favorite taco toppings.
Chicken stock overflow:
If you buy too much chicken stock, freeze the remaining stock in an ice cube tray
for easy use.
Mulled cider:
Simmer cider with your favorite autumn spices (a couple of cloves, a cinnamon stick, and a piece of ginger, for instance) for
twenty minutes, strain, and serve warm.
April White is the author of the cookbook Latin Evolution. The former food editor for Philadelphia magazine, her food and travel writing has appeared in Food & Wine, US Airways Magazine, and The Philadelphia Inquirer.