The Weekday Roundup (Sept. 16-19)
Events for those days between weekends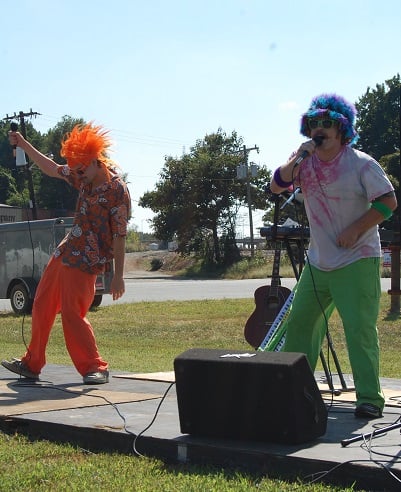 The weekend saw several festivals and shows, including NoDa Roxx, an event that garnered adults and kids alike. (Check out a snapshot from one performance by the musical act JuiceBox at left.) As for this week, the Queen City gives you plenty of choices to interrupt the weekday grind. Check out one choice for Monday through Thursday below, and remember to click on the bolded names for additional information on our calendar.
Monday
Start the week off with the recently debuted exhibitions of J. Bardin and Ramon Urban at the Jerald Melberg Gallery. The gallery's displays, featuring Bardin's abstract paintings and Urban's shield-like wood sculptures, can be seen for free from 10 a.m. to 6 p.m.
Tuesday
Ignite Charlotte 6 features members of the community giving brief talks with wide a range of subjects, including Asperger syndrome, beer creation, jazz improvisation and the epidemic of obesity. See fellow residents take the floor, enlightening the audience with only five minutes allotted for each speaker. An icebreaker contest, kicking off at 6:00 p.m., takes place before the talks at 7 p.m. Admission runs $5.
Wednesday
The Jazz Room at the Stage Door Theater is a monthly series that sees regional musicians tackling the classics. Ocie Davis is featured on Wednesday, and the percussionist's performance will be an homage to legend Buddy Rich. The show begins at 8 p.m. and costs $10.
Thursday
The Bechtler Young Visionaries, a new group for young professionals, will have a launch party at the Bechtler Museum of Modern Art. The event invites those that have an enthusiasm for modern art and want to connect with other Charlotteans. The party is free attend, and things get started at 5:30 p.m.