The Weekday Roundup (Sept. 23-26)
Events for those days between weekends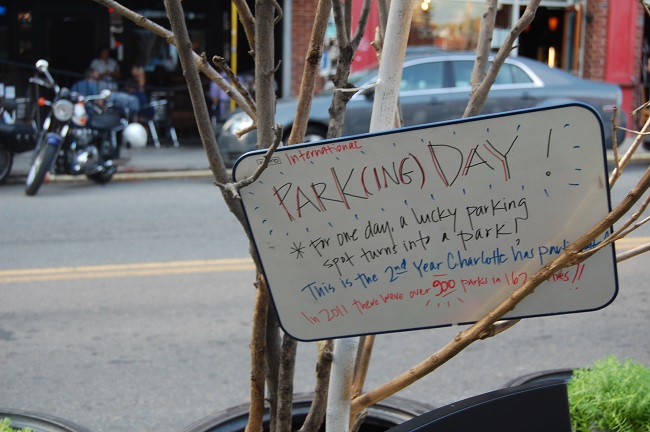 PARK(ing) Day came to Charlotte for a second time Friday. Occupying a parking spot in NoDa, area organizers set up a temporary "park." The space was filled with potted plants, seating, umbrellas, and most importantly, people. Last year's event took place in the South End, but this year, organizers saw a space on North Davidson Street that fit their needs.
"I looked for three key ingredients," said Keihly Moore, a designer with the Lawrence Group and one of the organizers of the event. "One is a lot of foot traffic. Two is a lack of public space; this has a narrow sidewalks and not a lot of seating. Three is a protected parking space."
A vision for future PARK(ing) Days includes simultaneous parks across the city. Check out plancharlotte.org for more information.
As for this week's events, selections range from pop art conversations to instrumental indie rock.
Monday
As part of Modern Mondays at the Bechtler Museum of Modern Art, Dr. Bradford Collins presents the lecture "The Pop Art Revolution." Collins, an associate professor of art at the University of South Carolina, traces pop art to its roots and the processes behind the works. A cash-bar reception starts at 6 p.m., with the lecture beginning at 6:30 p.m. The event is free for members and $8 for non-members.
Tuesday
Spank! The Fifty Shades Parody, a satirical take on the the E.L. James romance novel Fifty Shades of Grey, starts its five-day run at the McGlohon Theater. The unauthorized musical concerns a writer taking a weekend away from her family to create a scandalous fantasy story. The Tuesday performance begins at 7:30 p.m., and tickets start at $19.50.
Wednesday
City and Colour, stopping by Amos' Southend, may be an acoustic act, but singer-songwriter Dallas Green is better known as the vocalist for post-hardcore's Alexisonfire. With four albums under his belt with this moniker, the Canadian musician brings a wealth of material. Tickets are $30 before the show and $32 at the door. Doors open at 7 p.m.

Thursday
Tauk, the experimental quartet based in New York City, comes to the Evening Muse as part of its fall tour. The band recently released a full-length record titled Homunculus, which was well-received for fans of instrumental and fusion music. Admission runs $8 to $10, and the show kicks off at 8 p.m.