The Week's Inanity, Dec. 14: The People You Meet in Baltimore, and You Can Call Me Al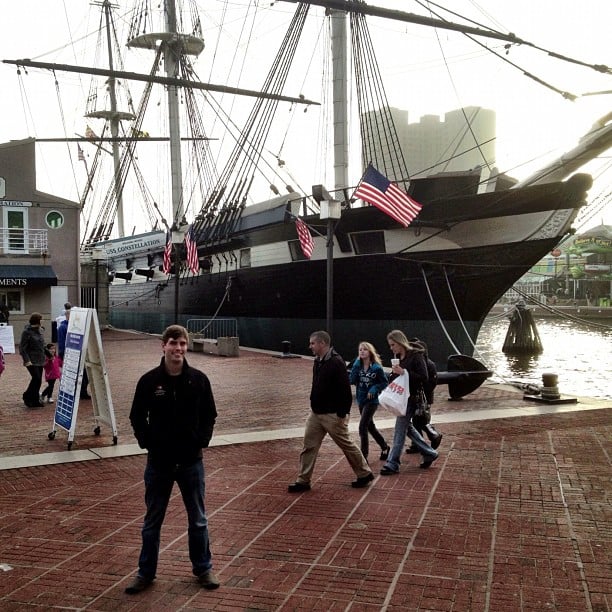 I wrote about Baltimore for this month's Way Out column in Charlotte magazine. Basically, it was about how Baltimore was gritty and Charlotte was not, and that we needed to be more Baltimore-like if we ever wanted to be the real-life inspiration for some police procedural or Traffic 2 or whatever.
But here's the thing: I don't really know Baltimore all that well. Everybody kept telling me it's seedy. But seeing as how I'd only ever spent about three or four hours there over the course of my entire life, it's hard to make that snap judgment from personal experience.
My wife and I went out there for a wedding last weekend. We flew out on a Saturday morning. We checked into a Hampton Inn across from Camden Yards. We walked down to the Inner Harbor. We had lunch at an Irish pub on the waterfront. We toured a Civil War-era sailing ship. The wedding was great.
But Baltimore seemed rather tame. Every city has a Tame Tour. You show up, you see the sights, and you turn around at the first sign of trouble.
Our flight home was Sunday afternoon. We decided to forgo the $30 dollar cab ride and take the light rail out to the airport, which would cost us a total of $3.20. We sat down inside the train car and did a crossword and glanced up occasionally as the train weaved its way through South Baltimore.
The Tame Tour ended.
With just a few stops to go, a young guy in a heavy black coat got on. He sat down in the seat in front of us. He introduced himself. He asked our names.
He then mentioned that his friends across the aisle were lesbians, and asked me if I enjoyed girl-on-girl action, because, you know, you're a man, huh? Am I right? I shrugged. I don't know if that was the right answer.
He asked how we, as a couple, got so perfect. I shrugged again. We just are who we are, I said.
(A side note: Once, my wife was called Little Miss Perfect by a drunk woman in Dublin, Ireland, because she had the audacity to cover her nose while the woman's boyfriend vomited heavily in the street. You know how, on Saturday Night Live, when somebody is vomiting, and it's really just a hose that's runs up their arm to the palm of their hand, and it's shooting out all over the place at just an unholy speed? That's how hard that guy was ralphing.)
He asked where we were from. He told us he'd just moved to Baltimore a few months ago from Pennsylvania. Then he pulled a jug of cheap chardonnay out from under his coat, took a swig, and asked if we wanted any. I politely declined.
He swore gruffly a few times at his friends. Then he would gently apologize to us in a voice you'd use to calm a baby. He kept drinking. He then asked who I thought was better, Cam Newton or Robert Griffin III. Cam, I said. He then proceeded to tell me Steve Smith was all washed up.
He didn't ask for money. He didn't rob us. He didn't threaten us. When we got off the train at the airport, he didn't follow us. He just sat there, swilling his chardonnay and telling his friends to f–k off.
My wife and I didn't speak for a while. When we did, she mentioned that, should we ever return to Baltimore, we would not be riding the light rail anymore.
We were in Baltimore for 26 hours. Of that, 20 minutes were amusingly uncomfortable. Verdict? Baltimore is scary. But Baltimore's light rail goes out to the airport, so Baltimore is in all other ways superior to Charlotte, because I hate paying for cabs.
But back to the scary thing. Charlotte has the potential to be scary. Once you get off of the Tame Tour of the NASCAR Hall of Fame, Price's Chicken Coop and the like, you too might bump into a chardonnay-drinking Steve Smith-hating girl-on-girl-action-inquiring man who will just sort of appear and then disappear without any explanation. Every city's got a guy like that. Right?
—
Al Gardner was on the radio again this morning. He used to be the morning guy on WBT and called Keith Larson's show to wish Stacey Simms well. Today was her last day on the air after a decade on WBT.
Al left last year for Philadelphia, and, if appearances are real, is the world's most over the top gracious human being ever. That's not hyperbole. He's Chris Traeger to the tenth degree. This morning, somebody asked him how he was doing, and this was his response: "Well, I've been doing absolutely spectacularly fabulous!"
Absolutely spectacularly fabulous!
So if you'd like to feel better about yourself today, place your name into this Al Gardner Mad-Lib, because if you are ever introduced by Al, this is probably how he's going to do it. That said, if Idi Amin was ever introduced by Al, he'd probably have done it the same way.
Here goes:
______________, you sir/ma'am are the finest human being ever to walk this great Earth of ours. For you, bluebirds sing. For you, cancer withers. For you, the great bounty of our collective hearts springs forth, giving you safe harbor from life's ills. Your accomplishments are many. Your faults are non-existent. We are just so lucky to have spoken to you, and rest assured that the vibrations caused by your amazing voice will never quite cease their gentle tickling of our eardrums. All of us here love you from the bottom of our terrific hearts, and we truly and deeply mean it. We truly appreciate our time with you, and I've asked my producer to precisely monitor the exact number of seconds you have given us, so that we may keep a balance sheet of time, which is worth more to me than gold, and, which, I will never be able to repay fully, but as a token of my undying gratitude, I will henceforth say your name into a tape recorder, then play it back on a loop and use it to lull myself into a splendid slumber every night for the rest of my life.
Now here's traffic and weather together.
—
Santa visits Independence Boulevard.
The guy who moved the Hornets out of Charlotte wants to bring the Hornets name back to Charlotte.
This would be nothing but net, if the net was three feet away from the free throw line.
US Airways wants you to THINK the overhead bins are full.