The Week's Inanity, Starring Ric Flair, Rielle Hunter, and Brad Panovich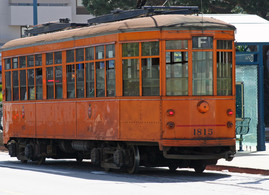 I missed a lot while I was gone on my honeymoon (NOTE: Charlotteans really like Sandals resorts). While I was out, apparently Charlotte City Council had this conversation with the citizenry:
CITIZENRY: Bring me the head of Alfredo Garcia.
COUNCIL: Will the streetcar do?
CITIZENRY (pauses): Yeah. Sure.
So now we don't get a streetcar? IT LOOKED LIKE SO MUCH FUN. Dang, dang, dang went my heartstrings.
—
Bring Back The Buzz To The Caribbean: Also on my honeymoon, my new wife and I ate at a nice French restaurant at our resort in St. Lucia. One of the waiters was from Bordeaux. He stopped by our table and asked where we live. I told him. "Ah! Charlotte Hornets!" he said, without missing a beat. ARE YOU LISTENING, MICHAEL JORDAN?
—
In 2006, the Bobcats drafted The 'Stache. In 2012, they drafted The Hyphen.
—
Jesus. You have the right to remain silent.
—
An auction company in Charlotte is now your source for all Kenny Rogers news.
—
Flawed premise #1: You went to Cosmos to ask where to find the best barbecue. That's like going to the bus station to ask about Maseratis.
—
Democratic National Cluster: The DNC moved its Labor Day party from Charlotte Motor Speedway to uptown Charlotte, citing logistics.
– Reaction 1: "Traffic around the speedway just breezes right along during big events!" -Nobody
– Reaction 2: Great. Bruton Smith is probably feeling slighted. Now we're going to have to name something ELSE after him.
– Reaction 3: If you're really running short on money, like everybody's saying, you can probably get this guy to perform this song for cheap.
—
Charlotte's Near A Lot: The Huffington Post discovers Charlotte's best tourist attraction: Its proximity to Charleston, Atlanta and Hilton Head.
—
A law firm in Charlotte has written the sexiest book since Fifty Shades of Grey.
—
Gotta Beat The Man: How can you tell when Ric Flair's in trouble? When a story about him contains the words "Richard Morgan Fleihr."
—
Rielle Hunter's Skill Set: She can identify Charlotte Observer political reporter Jim Morrill just by glimpsing the top of his head.
—
Charlotte's Solution to Everything: Add more lanes.
—
We Are All Journalists: How to report on this weekend's 100+ degree heat wave:
1. Walk outside.
2. Look at thermometer (or iPhone, if no thermometer is handy).
3. Say how hot it is.
4. Tweet.
5. Wait for Brad Panovich to retweet you.
Photo credit: (c) dbvirago / www.fotosearch.com Stock Photography