The Writing Life: Morri Creech
How a Queens University professor fell in love with words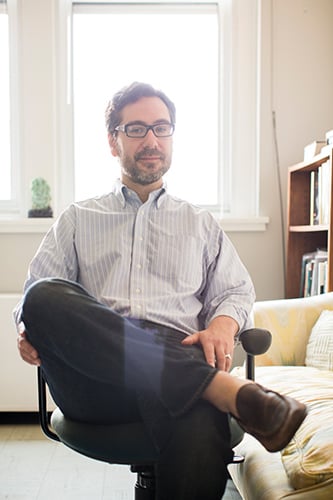 This spring, Queens University Associate Professor and Writer-in-Residence Morri Creech was named a Pulitzer Prize finalist for his latest poetry collection, The Sleep of Reason. But before he started writing books, teaching creative writing, and winning accolades, Creech was a kid growing up in Moncks Corner, South Carolina, enthralled with the music of words.
How does one make a living as a poet?
You don't. You don't think about making a living as a poet. Poetry is serious play. It's not anything that's going to be a moneymaker.
Were your parents worried when you said you wanted to be a poet?
No, they weren't. I think they were relieved that I wanted to be something, because I wasn't a spectacular student in high school. In fact, I did very, very poorly in high school. And I don't think that they were sure that I was going to go to college or anything like that, so when I got passionate about something, I think they were kind of relieved, that something drove me. But they were puzzled, you know, like, "Who does this?"
What drew you to it?
The sounds of words have always been magical to me. Language as music—the cadences of language—are what drove me to poetry. … I've always been fascinated by rules and having to do things a certain way, and I write in rhyme and meter, so that's kind of unusual. I like the technical aspects of writing poetry, sort of overcoming obstacles and challenges and figuring out problems—with language—which is fun.
You're drawn to darker themes, such as wastefulness and a society addicted to spending more than it can afford. Why do you think that is?
Time and mortality are the things that I think about all the time. Maybe I'm kind of a dreary person. [laughs]
Who do you read for inspiration?
Wallace Stevens, Elizabeth Bishop. I like W.B. Yeats—poets like that.
What do you tell your creative writing students if they want to become writers?
If somebody wants to be a writer, there's kind of no helping them. [laughs] The number-one thing that I tell my students is: You've got to fall in love with a poet or a few poets. … I think you learn how to write by trying to write like other people.
If people aren't going to go out and be poets, why should we have creative writing classes?
I think so much of writing is humility, because you've got the past behind you, all the people who've used language before you, and they're much better than you. Because even if you do something well, you didn't do it first. … And you're having to work within the forms of people who've come before you. And even if you innovate away from what they've done, it's a response to what they've done. And so, there's something, I think, that's humbling about that; that teaches you something about life.