The Year in Charlotte Craft Beer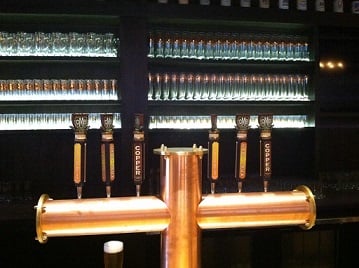 So, how to sum up the year that was for local craft beer in the Queen City? I can only do so with one word, and it's a very technical and thought-out one.
Wow.
There's a strong argument that this was the grandest 12 months in Charlotte's craft beer history. There were new breweries, expanding breweries, a plethora of bottles (and now cans!) hitting the local market and beyond, new shops opening up, a local beer bringing home the gold medal from the World Beer Cup and so much more.
And this growth isn't stopping anytime soon. You'll see even more breweries/bars/bottle shops opening and/or expanding in 2015, with a continued presence of new local options on beer shelves along with increased production of your favorite beers.
But before we get into next year, let's take a look back at some of the bigger stories and things that happened in local craft beer for 2014:
January
—The third annual Queen City Brewers Festival takes place: This has been one of Charlotte's quickest-growing beer festivals, and that's thanks to the increasing amount of local breweries and bottle shops. Moving from the somewhat crowded Neighborhood Theatre to Silver Hammer Studios at the N.C. Music Factory allowed for additional vendors and a better ability to move around from space to space. The best part about QCBF is that each brewery brings its "Super" beer, which never disappoints.
With the Silver Hammer Studios being sold several months ago, the QCBF is on the move again, and to an even bigger location: Bojangles Coliseum. The 2015 event is about a month away, and tickets remain for both the morning and evening session.
February
—Pint Central opens in Plaza Midwood: One of Charlotte's fastest growing neighborhoods gets its own craft beer bar. Featuring 28 beers on tap (of which a solid local selection is boasted) along with more than 60 bottles, Pint Central quickly became a go-to spot when visiting Plaza Midwood for a night out. And the food gets high marks as well.
—The inaugural Triple C Folk Festival is held: You can go to pretty much any brewery in Charlotte on any given weekend, and you'll likely hear live music. It's a great way to show off the city's local talent, and this festival showcased several Charlotte bands, including Ancient Cities and Sinners & Saints. Having Jim Avett, patriarch of The Avett Brothers and a damn fine musician himself, was pretty cool as well.
March
—Brawley's Black & Blue V is again a hit: If you went, you don't need me to tell you how great this event is. Truly one of the finest beer festivals in the Southeast, Michael Brawley's annual party is never to be missed. There are always a limited amount of tickets sold, and those who were lucky enough to attend this past year got an evening full of incredible beers, including the first taste of NoDa's Monstro (more on this beer later). Other highlights for me were Free Range's Hop to my Heart, Haw River's Darius the Giant Flanders Red, Trophy's Double Death Spiral and Windy Hill's Cinnamon Pecan Cider.
Tickets went on sale for Black & Blue VI recently (and sold out in the matter of three hours!), and I'm already looking forward to see what treats are in store for 2015.
—Unknown Brewing hits the local market: Charlotte's newest brewery at the time saw the taproom open in late 2013, but it wasn't until March that kegs and, eventually, cans began to show up in local restaurants, bottle shops and grocery stores. Over the Edge USPA and No Shame Wheat were the first two beers you could get outside the brewery, and since then, Unknown has stocked bars/shops with several other beers. The Over the Edge packaging featured a sleek design, and I'm looking forward to Unknown's next can offering (the brewery's first off its own canning line), Silverback Stout, which just hit the market.
—The fifth annual Charlotte Craft Beer Week helps me create the first Charlotte Beer Triathlon: This year's CCBW featured more than 40 events over seven days, so you have to choose wisely. That Saturday, though, had three can't-miss outings, so I created and accepted a challenge. It started with the inaugural South End Craft Crawl, of which I ran the first two legs at Triple C and Good Bottle Co. (I also loved the idea of utilizing the trolley). From there, it was on to the annual Cask Festival at Duckworth's, won by Birdsong with its cask of Honey Pie Double IPA dry hopped with Chinook and Columbus hops (related, Birdsong just announced this year's batch of Honey Pie will be released in mid-January). I finished the day off at Salud Beer Shop, which saw owner Jason Glunt draw on his Michigan roots with an impressive taplist of Bell's and Founders beers. A worthwhile adventure, though if those events are on the docket for the 2015 CCBW, my hope is they're spaced out some (cue the "I'm getting old" violin).
—Charlotte battles … Charlotte? to try and bring Stone Brewing to the Queen City: Definitely one of the stranger stories of the last year. To recap: Stone Brewing announced that it would be expanding and building a large facility east of the Mississippi. With the economic boom this would likely create and given Charlotte's current ascension as a top craft beer city, it made sense that the city would submit a proposal.
What didn't make sense, at least in my mind, was that two separate proposals would be created from the Queen City rather than presenting a unified front. The Charlotte Chamber submitted one, while the Charlotte Regional Partnership drew up recommendations for 10 (!!) different sites, many of which were outside Charlotte. In the end, Stone went with Richmond, Va., and eliminated Charlotte from the running in August. It's not known whether Charlotte was ever under major consideration or if the multiple proposals hurt the city's case, but nevertheless, we'll be just fine without Stone.
April
—NoDa Brewing wins gold for Hop, Drop 'n Roll at World Beer Cup: This was a huge story for many reasons. It was the first medal for any Charlotte brewery at the WBC, which began in 1996. And it was even more impressive given the American-style IPA was the most-entered category. Later on in the year though, the folks at NoDa experienced the ugliness of what popularity can bring sometimes.
—BB&T Ballpark opens in impressive fashion with great local craft options: Charlotte finally got its uptown baseball stadium, and the response was fantastic, with numerous sellouts. Even better were the craft beer options. Kudos to the ballpark staff for having the foresight to immediately recognize the high demand for craft beer. On the local front, there was a beer hut featuring Olde Mecklenburg products, and a specially made beer (the cleverly named A Knights Ale) from NoDa Brewing. Several North Carolina craft beers were also offered, and here's hoping the ballpark gets even more local selections in 2015.
May
—Birdsong announces expansion, move: The theme of Charlotte's breweries this year was growth, and Birdsong Brewing was no stranger to that. With an increased sales demand and huge production rate, the brewery decided to move down the road to a 17,000-square-foot facility in NoDa. This will allow Birdsong to further its increase in production as well as introduce more bottles (and cans, from what I hear). Test batches have already begun at the new site (which Birdsong recently went ahead and purchased), and the brewery is shooting for an opening date sometime in February.
–"Smile, We Get to Make Beer" premieres: Ryan Heefner followed around the NoDa Brewing staff for almost a year and a half, and the result was the documentary "Smile, We Get to Make Beer." Fans packed Studio Movie Grille for the film's debut (which also included a NoDa tap takeover), and it was educational to see the daily grind that a brewery and its staff go through in order to produce beer that everyone loves.
—North Carolina Brewers and Music Festival expands to two nights: One of my favorite festivals of the year got even better with the added extra night. The best thing about NCBMF is that you can go out, sample beers from more than 30 breweries, listen to some great music (getting Greensky Bluegrass this year was huge) and then head to your tent nearby (to either sleep or perhaps keep the party going with a bottle share). And the homebrewers' tent is always a hit at this festival as well. Allowing people to come Friday night helped out with traffic and made it a fun overall weekend.
June
—U.S. National Whitewater Center hosts third annual Brew Stash Bash: Another great festival featuring fantastic beer and music. This is also a terrific deal, with four sample tickets costing just $5, and you can walk around to more than 20 breweries, both local and national, that are pouring beer. And all this with the backdrop of the Whitewater Center. As we head into 2015, I'm excited to attend this event again, especially with the recent announcement of an expanded Abbey Island that will feature a biergarten with 40 taps.
July
—Lenny Boy continues expansion, taps flagship beer: 2014 was a big year for Lenny Boy Brewing Company, as it bought the adjacent space next to its current location in May, knocked down a wall and began brewing beer in that area, purchasing a 3.5 barrel brewhouse. Two months later, customers were able to enjoy Lenny Boy's signature De La Wit, along with other organic beers in the taproom. Already known for its kombucha, Lenny Boy has quickly entered the local market and its beer and wild ales can be found in numerous bars/bottle shops. Lenny Boy also gets the best beer name award this year for its "Burn Down for What" sour.
—Salud Beer Shop announces expansion and planned nanobrewery: Just like Lenny Boy, Salud Beer Shop knocked down an adjacent wall in order to expand. Coming in the early new year, Salud will have its own nanobrewery, using a one-barrel electric system. The beer will be brewed by a variety of people, including members of the Carolina Brewmasters, along with other area head brewers. This nanobrewery will be an opportunity to brew a number of one-off beers, and will also see the opening of "Fud at Salud," a deli featuring sandwiches and small plates.
—The Beer Growler opens: One of the biggest local beer stories in 2013 was the state law passing allowing for expanded growler fills/sales. Midway through last year saw Charlotte's first growler-only store, The Beer Growler. With 45 taps and a wide array of growler sizes offered, The Beer Growler has quickly become a go-to stop on the way home from work, before the weekend starts or for a party.
August
—The "new" Olde Mecklenburg Brewery opens: This was a highlight of 2014 for me. From going to the groundbreaking to seeing the finished product, following the progress of Olde Mecklenburg's new 8.5-acre location was incredible. The grand opening drew thousands of people, and it seemed everyone came away amazed by the facility. Olde Mecklenburg owner John Marrino has long championed the idea of cyclical local business, and OMB's success has helped create not only outstanding beer, but local jobs as well – and that's a great thing to see.
September
—Tank's Tap opens at 7th Street Public Market: This was a great idea for an area that has been a little slower than other Charlotte neighborhoods to fully embrace the local craft scene. Located uptown in the always-bustling 7th Street Public Market, Tank's Tap showcases local breweries on tap and you can enjoy beers at the bar or take home bottles, cans and growlers.
—Charlotte Oktoberfest celebrates 16 years with biggest lineup yet: Charlotte's longest-running beer festival continues to get bigger and better every year. This past year's Oktoberfest saw a record 92 breweries pouring samples for all to enjoy. The increase in vendors is a testament to Charlotte's growing craft beer scene, but I'm also hopeful that more and more people are realizing that craft beer is far superior to any domestic. Heading to Charlotte Oktoberfest is a fine place to start exploring this great community and scene, and the organizers do a great job with giving back to local charities as well.
October
–Sugar Creek, Sycamore have grand openings: The month of October saw two new breweries hit the ground running. Sugar Creek brought the first Belgian-inspired brewery to the Queen City, taking over the space where Olde Mecklenburg used to be. It took no time for Sugar Creek's beers to become a hit, and they've quickly entered the local market as well. The last weekend of October was Sycamore's grand opening, and the SouthEnd brewery was flooded with hundreds of people who enjoyed a full day of live music and good beer. Renting a tent for the overflow and setting up jockey boxes made for an easy navigation. Like Sugar Creek, Sycamore's beers are also now heading into local bars and bottle shops.
—Good Bottle celebrates two good years: Really, there was only one way Good Bottle could celebrate its anniversary, and that's with one of its breakfasts the bottle shop has quickly become known for. Owner Chris Hunt draws in a number of people who are up early on a Saturday, be it because their kids are early risers or they just want to come in and do a little morning drinking (nothing wrong with that!). From English Premier League matches to Wimbledon to the Winter Olympics, there were plenty of themes for these breakfasts (and at times, it was simply a brewery hosting a tap takeover). Food is often brought in from local trucks, and there's always donuts and free coffee. Not a bad way to start any morning.
—Craft Tasting Room & Growler Shop opens: With an ever-growing local craft beer scene, setting your business apart is always important. And that's the idea behind Craft, where your options are plentiful. Start with the 36 taps of craft beer, in which you can enjoy at the bar or outside in the beer garden, and then take a growler or two home with you. Craft's other big plus is its food. Owner and head chef Dan Davis' charcuterie boards pair fantastic with the beers offered, and the flatbreads and piadina sandwiches are great as well. Craft also features a specialty grocery section with many locally sourced foods. The atmosphere is friendly and Craft has quickly become a welcome addition to the SouthEnd district.
—Triple C announces expansion, introduction of cans: Like several other Charlotte breweries this year, there was a need for growth for Triple C Brewing. But Triple C was able to stay put for its expansion, as the brewery already had the space on-site thanks to initial planning when it first opened two years ago. The added space will allow for an increase in brewing capacity and will also see a canning line brought in to Triple C. The first two cans will be Golden Boy Blonde Ale and 3C IPA, and both are expected to start rolling out sometime in January.
—People line up overnight for NoDa's Monstro release: Simply put, this was the most anticipated event in Charlotte craft beer in some time. Early reviews of Monstro, a Russian imperial stout aged in Van Winkle barrels, were high from the first kegs sampled at Black and Blue. It was then learned that NoDa would be bottling and selling Monstro as part of its third-year anniversary celebration. There was only a limited amount, though, and many didn't want to miss out on this release. So it was on that cold, rainy early Saturday morning when the first people got in line by around 3 a.m. The NoDa staff showed up with free coffee and donuts about three hours later, and the Monstro bottle supply went quickly, with those who didn't get in line early enough having the chance to try it on draft.
–Brawley's taproom opens: This had been in the makings for more than a year, with Michael Brawley putting in a lot of the construction work himself with help from others. Shortly before Halloween, the taproom at Brawley's Beverage was finally ready for business. Now you can peruse Brawley's extensive selection of craft beers at Charlotte's original bottle shop as well as pull up at the bar (or outside) to try one of the 12 beers on draft. There have already been several events since the taproom opened and I look forward to more in 2015.
November
—Unknown Brewing holds second bottle release in true Unknown fashion: Those who follow this blog or have been to Unknown Brewing know that this brewery doesn't color within the lines, and that's not a bad thing at all. This is a brewery, led by owner/brewer Brad Shell, that isn't afraid to take risks and throws caution to the wind. So it wasn't surprising that Unknown's second bottle, "Escorpion en Fuego," would be an imperial Mexican lager brewed with agave nectar and serrano peppers and then aged on tequila oak staves. And yes, there were 99 scorpions added into the brewing process. When some wrote this beer off as "gimmicky," Shell's simple reply was, "Why can't things be fun anymore in beer?" And that's a valid point. I thought the beer itself was something unlike I've ever had, in a good way. Everything blended together well, with the tequila and serrano balance just right.
–Salud's Sourfest spawns a sequel: Charlotte sour champion and Salud Beer Shop owner Jason Glunt had an impressive showing last year with his initial sour beer festival, "Release the Funk." So it was a no-brainer that this would take place again in 2014 (and likely beyond). "Release the Funk 2: Electric Funkaloo" featured some of the best sour beers from North Carolina and beyond, along with some rarities. The high number of attendees shows the local appreciation for the sour style, and I expect more local breweries to take on different sours moving forward.
—NoDa announces plans for its second facility: One of the worst-kept secrets in the latter half of the year, NoDa's new site will be a 32,000 square-foot facility on the corner of 32nd Street and North Tryon Street. This will become NoDa's main production hub, and will allow the brewery to get its own canning line along with increased production. Scheduled to open sometime this summer, it will also boast a large taproom along with tons of outdoor space. The best news is that NoDa will be keeping its original facility, rumored to be used for barrel-aging and sour programs.
December
Olde Mecklenburg wins best brewery tour in the nation: After opening up its new facility, OMB followed that by winning a contest voted on by readers for the best brewery tour in the country. In capturing the title (which, from a personal standpoint I can tell you is well deserved), Olde Mecklenburg beat out the likes of New Belgium and Samuel Adams – which is impressive in itself. If you want to see what a winning tour looks like, the brewery offers them for free on Saturdays and Sundays at 2 p.m., 3 p.m. and 4 p.m.