Theatre Charlotte Announces New Season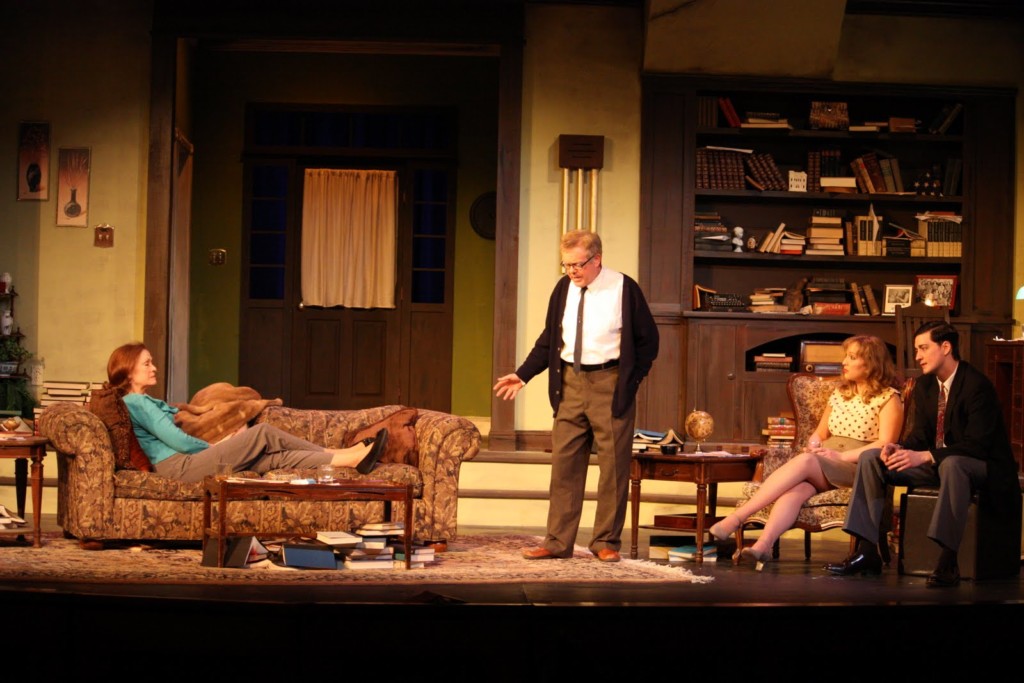 Theatre Charlotte announced this week it's upcoming schedule for the 2013-14 season. As always, Theatre Charlotte has picked a slew of really good and entertaining shows for its season, including a few Pulitzer Prize winners.
The 501 Queens Road theater is currently in the middle of its run of Who's Afraid of Virginia Woolf? which is getting good reviews from local critics. The show ends performances on April 7.
See the below press release for the list of shows being produced next season.
---
Theatre Charlotte Executive Director Ron Law announced today the company's productions for 2013-14, its 86th annual season. Featuring five main stage productions, two summer youth productions, and a bonus holiday show in the theatre's historical 501 Queens Road building, the season includes revivals of two of Broadway's greatest musicals, two side-splitting comedies, a Pulitzer Prize-winning drama, and the seventh annual presentation of a Christmas classic. Since 1927, Theatre Charlotte has been producing award-winning shows and theatre opportunities for the people of the Charlotte region—a feat that makes the nonprofit theatre company the oldest arts organization in Charlotte and the oldest continuously producing community theatre in all of North Carolina.
This summer, prior to the start of the 2013-14 season main stage productions, Theatre Charlotte will present two youth productions as part of the organization's student education programming. For 3 weeks, June 24-July 14, 2013, approximately 30 participants, age 9-14, will work with professional directors, choreographers, designers, technicians and performers experiencing and creating musical theatre under the TCjr moniker. This summer intensive will culminate in public performances of Roald Dahl's Willy Wonka Jr. From July 8-21, 2013, the Student Theatre Guild, comprised of students age 14 through college, will sponsor a similar intensive experience, culminating in three public performances of the hit Broadway musical How To Succeed In Business Without Trying, a satire of big business and all it holds sacred by Frank Loesser and Abe Burrows, the team behind Guys and Dolls. Both youth productions will be presented under the direction of Jamey Varnadore.
Varnadore will also direct the 2013-14 season opener in September: the musical fable Gypsy. Considered by many critics as one of the crowning achievements of the American musical theatre, Gypsy is loosely based on the memoirs of burlesque legend Gypsy Rose Lee. It tells the story of the ultimate "stage mother" who is willing to go to any lengths to transform her daughters into winning stars. Memorable musical numbers by composers Stephen Sondheim and Jule Styne include "Everything's Coming up Roses," "Together (Wherever We Go)," "Small World," "Some People," "Let Me Entertain You," "All I Need Is the Girl," and "Rose's Turn". Simply put, Gypsy is "the stuff Broadway dreams are made of" (New York Daily News) and "may be the greatest of American musicals" (New York Times).
Joseph Kesselring's classic comedy Arsenic and Old Lace returns to the Theatre Charlotte stage in October. Deemed by the New York Times as "so funny that none of us will ever forget it," the play revolves around Mortimer Brewster, a drama critic who must deal with his crazy family as he debates whether to marry the woman he loves. His two spinster aunts have taken to poisoning lonely old men and burying them in the cellar. His older brother believes he is Teddy Roosevelt and he has a murderous brother who, after botched plastic surgery performed by his accomplice, Dr. Einstein, now looks like Boris Karloff. Local theatre luminary Polly Adkins directs.
Over the holiday season, Theatre Charlotte brings its holiday tradition back for the seventh consecutive year! John Jakes' adapted version of A Christmas Carol captures the magic and mystique of the Charles Dickens original. At the opening, Dickens is presenting a reading of his popular Christmas tale. As he begins, the story unfolds on stage around him: the classic tale of hard-hearted Ebenezer Scrooge who is visited by the ghost of his late partner, Jacob Marley, and the ghosts of Christmas Past, Present and Future. These spirits gradually warm old Scrooge's heart, as well as ours.
Theatre Charlotte begins 2014 with Beth Henley's comedy The Miss Firecracker Contest. A glittering explosion of laughs sparkle throughout this story of one small Mississippi town's biggest annual celebration: the 4th of July Festival and beauty pageant. Carnelle Scott is feverishly rehearsing her patriotic tap dance for the Miss Firecracker Contest—hoping that a victory will salvage her tarnished reputation and allow her to leave town in a blaze of glory. The unexpected arrival of her cousin Elain, a former Miss Firecracker winner, complicates matters, as does Elain's eccentric brother, Delmount. But, aided by an awkward seamstress named Popeye and several other cheerfully nutty characters, Carnelle's efforts culminate in a hilarious firework-worthy finish! The show will be directed by Tonya Bludsworth, who will also independently present the world premiere of her original play Least Likely Friends at the theatre in June 2013 in collaboration with producer Donna Scott.
Alfred Uhry's Driving Miss Daisy will follow in March. Winner of the 1988 Pulitzer Prize, this comedy-drama takes place in the Deep South beginning in 1948, just prior to the civil rights movement. When Daisy Werthan, a rich, sharp-tongued Jewish widow of seventy-two, is deemed too old to drive, her son hires Hoke Coleburn, a thoughtful, unemployed African American man, to serve as her chauffeur. In a series of absorbing scenes spanning twenty five years, what begins as a troubled and hostile pairing soon blossoms into a profound, life-altering friendship that transcends all the societal boundaries placed between them. This quietly powerful American classic has touched the hearts of millions.
Theatre Charlotte closes its 2013-14 season with the American Tribal Love-Rock musical Hair, featuring direction from the theatre's Executive Director Ron Law. A musical celebration of life, a love letter to freedom, and a passionate cry for hope and change, Hair tells the story of the "tribe", a group of hippies, living in New York City and fighting against war, their conservative parents, and society. The first great rock musical, Hair has some of the most rousing and soulful songs ever written for the stage including "Aquarius," "Good Morning Starshine," "Hair," "Easy to Be Hard," "Let the Sun Shine In," "Where Do I Go?" and "I Got Life." A Broadway revival opened in 2009, earning strong reviews and winning the Tony Award and Drama Desk Award for best revival of a musical.
Full season subscriptions and flex ticket packages will be on sale soon through CarolinaTix. Subscription packages offer savings off single ticket prices, exclusive benefits and personalized customer service, including guaranteed priority and reserved seating. Flex packages allow patrons to receive up to $7 off the adult ticket price by purchasing six, ten or twelve vouchers good for the same number of admissions to any of Theatre Charlotte's 2013-14 season productions. For more information about subscriptions, visit www.theatrecharlotte.org or contact Theatre Charlotte's Box Office, 704-376-3777. Single tickets go on sale July 22, 2013.