There's a New Commissioner in Town
A few months into her new role, Jacqie Carpenter is trying to take the CIAA Tournament 'back to basketball'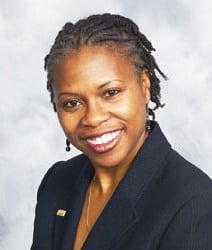 While the CIAA conference and its 12 historically black colleges and universities compete in a dozen different sports, its annual basketball tournament is by far the most well known of the bunch. The first CIAA basketball tournament was played in 1946, and soon after a rich tradition was built among the schools that competed and the alumni who returned to root for their teams in this competition.
When the CIAA Tournament moved to Raleigh in 2000, it experienced record growth and attendance. But when it relocated to Charlotte in 2006, those numbers were shattered year after year. Last year's attendance was reported at 197,000, with an economic impact of $50.5 million over the seven-day period in Charlotte.
But there have been growing pains. Many of the visitors included in that aforementioned total never made it out to a single one of the 20 CIAA basketball tournament games that week at Time Warner Cable Arena. In fact, since the CIAA Tournament has been held in Charlotte, the last few days in February and first few days in March have become synonymous with "party week," as more than 200 parties and events are put on by independent promoters, attracting tens of thousands of visitors and dozens of celebrities.
Jacqie Carpenter became the new commissioner of the CIAA in September, and she's ready to put the focus of the basketball tournament back onto the game itself. That's how it was in her previous roles, in which she spent nine years working for the NCAA, as director of championships and alliances, director of the Division I Women's Basketball Championship, and, lastly, on the leadership team of the Division I Men's Basketball Championship, known as March Madness and the Final Four.
She brings that big-league experience, but she's also rooted in the CIAA—two decades ago she graduated from Hampton University, where she also was a member of the basketball team. I talked to her about her plans for the CIAA Tournament in 2013 and beyond.
I know every year the CIAA Tournament has a theme. What does the 2013 theme of "Back to Basketball" represent?
We want people to get into the building; we just want people to support our student-athletes. There's no tournament without the players, so when we get back to basketball, we get back to the basics of why we're even here. We're here because we got 12 member institutions, 24 teams—men and women—that want to showcase their talent, and trying to win a CIAA Tournament, and trying to get into the nationals, the NCAA Division II Tournament.
When I was an athlete with CIAA, I played at the Norfolk Scope, I played at the Richmond Coliseum [previous sites of the tournament]—you couldn't find a seat. It was all about the games. Whether the teams were good or we were bad, it was all about the atmosphere in the venue. And if we can get people to realize that the reunion is still within the venue. And what's outside is still good—we want you to enjoy that, too. But let's get back to why we're here.
One of the changes you've made is to sell single-day tickets for the Tuesday and Wednesday games, whereas in the past people had to buy the weeklong ticket books.
I think our goal is to try to tap in locally as much as we can. I'd love to see us get more people who may not be able to afford or want to pay that much for a ticket for the whole week. Bring your kids, bring your grandparents, just bring yourself and get exposed to the tournament the first couple of days.
There's one more year left in the CIAA's contract with Charlotte as the host city. What can we expect moving forward?
We're in the process of putting our bid packet together for bidding out for the future tournament, with a financial structure and operational structure that works for the city and that works for the conference. It has to be a win-win for both sides. The tournament, six years ago, was very different under that leadership. But I'm coming in with a whole different attitude on how the partnership should be. And Charlotte's been good; they've been great partners thus far. I'm just going to bring in some things that maybe they hadn't thought about for this event. They might do it for other events, but for this event, particularly, what the needs are and how we can continue to grow it in the right way.
What was it like helping coordinate the NCAA basketball championships?
The Final Four is an amazing event. I'm going this year, the 75th anniversary. It's one of those tournaments where you look at the staff of people you work with, at the time it was 14 of us that put on March Madness. So every game you see in March and the Final Four, that was us. People don't know [what it takes to put it together]. When you get to the Final Four and you watch these young men who are on the court, and you see 76,000 people sitting in the stands. And you're like, I did all of this work and it means everything. Because at the end of the day, you're providing an opportunity for young people who wouldn't have that platform if it wasn't for the NCAA, or if I didn't have a part in it.
What do you bring from that experience to the CIAA?
It's definitely a collaborative effort. You can't work in silos in managing such a massive event. I tell people that this tournament is a mini Final Four, or a women's Final Four—I worked for them, too. It has the magnitude, it has the body, it has the economic impact. The difference is how it's structured financially and operationally. So all those things I learned from the NCAA, I'm not reinventing the wheel. I'm going to take pieces that I think make since for the CIAA and try to incorporate those.
The CIAA Tournament has added more of its own social events to the schedule, like the bowling party and old-school skate party. But the week is now dominated by hundreds of parties by outside promoters. Does that concern you?
I think once we get through this year—initially we were going to try to do a meeting with promoters, and that's an important piece but some other things rose up on the list of priorities to manage. We don't have an event "clean zone" to protect things that are within the purview of the city. And until we get that into place like the Super Bowl and the Final Four do, those things are kind of hard to fight. But what we will fight is if you're using our name or you're using it in a forum where you're making money off of it, then we'll deal with it. We've got legal representation and someone managing that. It's a task and we'll work on it piece by piece and do the best we can this year—we're going hard now, don't get me wrong. And then next year, as we go through the bid process we'll address that as well. We need to have a certain amount of space to control in the sandbox. You'll need approval to get into the sandbox; otherwise you'll need to go outside into the beach. [Laughs.]
Follow Jarvis Holliday on Twitter @HollidayInk.

Visit www.charlottemagazine.com/ciaa for our comprehensive coverage of the events and parties surrounding the 2013 CIAA Tournament.