'They All Got Guns, and They're Stupid'
A gang violence resurgence in Charlotte—and elsewhere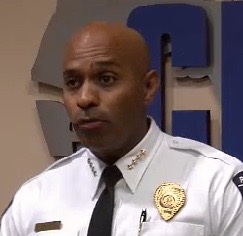 Just last week in Columbia, Richland County Sheriff Leon Lott announced that his department was "declaring war" on gangs after a sharp and only partially explainable rise in gang violence (from The State):
There are some 800 gang members in Richland County, and just about all of them either have guns or access to guns, Lott said.
"There are just a bunch of punks out there with guns not caring who they shoot," Lott said. Motives for such shootings include gang members feeling disrespected or believing another gang member "snitched" on them, he said.
"They all got guns, and they're stupid. They don't realize what happens you pull that gun out and start shooting."
Charlotte-Mecklenburg Police Chief Kerr Putney was just as blunt a few minutes ago, at a news conference to update the public on a series of shootings over Labor Day weekend that left five people, including a seven-year-old boy, dead.
Police, he said, are still trying to figure out exactly what happened and why. But investigators believe for now that the violence stemmed from "two groups beefing back and forth" over disagreements in nightclubs: "Just stupid stuff, actually." The flurry of violence was the worst in recent memory in Charlotte, dredging up recollections of the bad old days of the 1990s, when the crack cocaine epidemic made the city's murder rate explode.
So if crack was the prime mover then, what's the cause now? Nobody seems to know. Putney spoke vaguely about possible "retaliation for previous issues between these groups" but didn't come close to explaining the deeper cause, if there is one. What we do know is that gang violence appears to be on the rise in 2015, and not just in Charlotte but around the country (from U.S. News & World Report):
"We don't see a drop in the key gang magnitude indicators," James Howell of the National Gang Center said. "In the past five years we've seen an 8 percent increase in number of gangs, an 11 percent increase in members and a 23 percent increase in gang-related homicides."
Howell, a senior research associate at the center, said this is a significant contrast to the overall decline of violence nationwide. He believes the increase in gang violence may be symptomatic of larger gangs breaking up into warring factions. This violence is especially seen in large cities.
"A serious threat when you're talking about homicides and the proportion, overall gangs are responsible for 16 percent of all homicides, but 25 percent in cities with a population of over 100,000," Howell said. "About 85 percent of serious gang activity is concentrated in metropolitan areas in the United States."
It's been two years since a judge granted the city a civil injunction against the Hidden Valley Kings, one of Charlotte's most notorious gangs, that seemed to contribute to a drop in crime in the neighborhood. But the injunction expired after a year. Putney wouldn't address whether the violence over the weekend was the product of any HVK splintering or even any official gang, or whether any of the victims was connected to gang activity.
Except for one, Putney told the reporters, and it's awful that he felt the need to even say it: "I know for sure that the seven-year-old is innocent."