Things I Learned About Oysters That You Can Learn Too
Sea Level's monthly tastings promise oysters and knowledge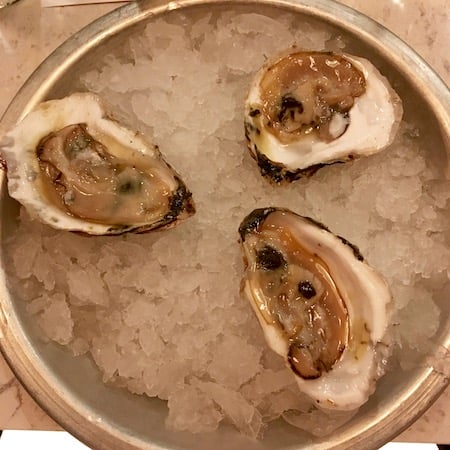 Uptown's Sea Level restaurant takes pride in a chalkboard listing the varieties and prices of oysters it serves. Owner Paul Manley does his best to source everything sustainably, and when asked, he'll gush over the Duxbury and how it's difficult to get because chefs in Boston like to keep the shellfish for themselves.
One Monday a month, Manley, pictured left, likes to share as much knowledge as guests will allow at an hour-and-a-half tasting class. For $40, guests will get five oyster courses (varying from two to three oysters a plate), drink pairings, and small plates between each course. With each course, Manley will tell you about that specific oyster and oysters in general. Here is a sample of what you can learn:
The water left in the shell is called liquor.
Oysters are like trees; you can tell how old they are from the number of rings on the shell.
Oysters that come from calmer waters are less meaty and comparatively flat, while oysters that come from rough waters tend to have a deeper shell.
Turns out, there's a lot you can learn about oysters in 90 minutes. The promise is 40 oyster facts, and those are just a few. If you want to learn the other 37 (I wasn't counting, but it definitely seemed like more), the next classes will take place on Sept. 12, Oct. 17, and Nov. 14.