Things to Fix Before the DNC: Those Things on South Tryon Street
Each month leading up to September's Democratic National Convention, Jeremy Markovich profiles one aspect of Charlotte that needs fixing up.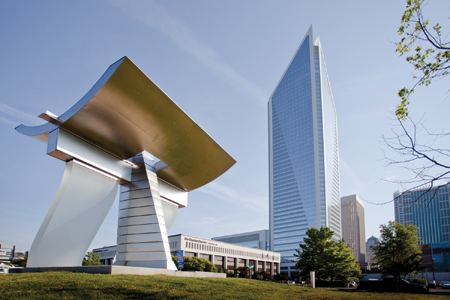 As Aristotle said, "the aim of art is to represent not the outward appearance of things but their inward significance." We're not sure that helps us explain those two monuments on either side of South Tryon Street as you head into uptown. The monuments, which went up in 2010 and glow in the dark, are… well, we're not sure what they are. They're definitely, uh, well, hm.
Will They Be Fixed? The Queen's Table paid for them, and since they're a group of donors who anonymously fund random acts of art-ness around Charlotte, good luck getting them to spill the beans. So, short of an anonymous donation of shrouds to cover them with, best just to keep one's eyes on the road. Oh, and delegates, check out that shiny Firebird up ahead!
Related: