Think Pinky's
Pinky's Westside Grill has all the ingredients to become a Charlotte favorite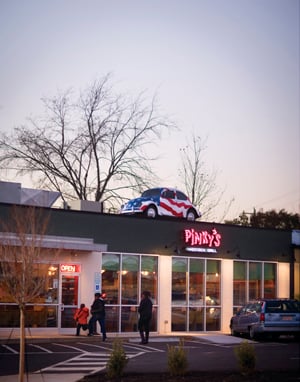 There's a red, white, and blue VW bug on the roof of Pinky's Westside Grill, and the menu features items like "Da Pimp" pimento cheese sandwich, but don't be fooled. This bright and funky spot with the funny name in an old Wesley Heights auto shop is serious about serving good—and fairly cheap—food.
Before we get to that food, though, let's get the obligatory Penguin talk out of the way. Pinky's Westside Grill is owned by Greg Auten, who was previously a chef and co-owner at the famed Penguin Diner in Plaza Midwood. In September, when "Penguingate" broke with the announcement that the historic restaurant would be taken over by a franchisor, there was talk of Auten returning (he'd left several months before to open Pinky's). But he stuck with Pinky's, and the city's dining scene is one restaurant better for it.
While you'll find some familiar Penguin-esque dishes at Pinky's (think: crispy fried pickles served on paper plates with a disposable container of creamy ranch), there are also a variety of creative sandwiches, fresh salads, and unexpected options like fish tacos and falafel. The tacos feature beer-battered tilapia topped with spicy ranch and cilantro-honey slaw. That same slaw is offered on one of the restaurant's more unusual choices, the Ding Dong Style burger. The burger, topped with crunchy peanut butter, the cilantro-honey slaw, and hot Sriracha sauce, sounds strange, but the unexpected Asian-influenced mix of sweet and spicy with the juicy meat is delicious. Sides for the burgers and dogs, such as sweet potato fries, fried squash, and waffle fries, come in hot heaps in paper baskets—perfect for sharing.
Not that you'll need to do much sharing at Pinky's. The most expensive thing on the menu is the dish of three shrimp tacos, coming in at $10.95. For the most part you'll find items like the Viking Corndog ($2.95), Grilled Greek Pita ($3.95), and the five-ounce "Pterodactyl" beef burger ($3.75). In other words, this is the place to come hungry—and preferably not on a diet—which is exactly what we'd expect (and hope for) from a guy from The Penguin.
Pinky's
Westside Grill
1600 W. Morehead St.
704-332-0402
$, L, D, FSB
www.eatatpinkys.com